Mahindra Excellence in Theatre Awards and Festival Will Be Back For its 18th Edition in March
The festival runs 23rd - 29th March 2023.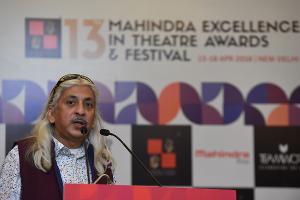 The Mahindra Excellence in Theatre Awards (META), now in its 18th year, continues to applaud the finest in Indian theatre and set benchmarks for excellence. Instituted by the Mahindra Group with the objective of becoming a significant platform for theatre across regions, states and dialects in India, META is Indian theatre's most definitive award that recognises all aspects of the stage, including playwriting, set, costume and light design, direction and performances.
As the world grappled with a pandemic between 2020 and 2021, the show didn't stop for META and saw the META stage going virtual with magnificent productions showcased online for theatre-lovers and connoisseurs. In 2022, the festival came back with a physical showcase of four award-winning plays from META 2020, the 15th edition. In 2023, META will be back to where it belongs - the stage - with business as usual! META 2023 is now open for entries and will select ten best productions from the received submissions to be staged in New Delhi in March 2023, following which the winners for META 2023 will be judged by the META Jury. The winners will be announced at a glittering award show. The festival will close submissions by 7th February, 2023.
Promoted by the Mahindra Group as part of its cultural outreach programme and produced by Teamwork Arts, a pioneering arts and entertainment company, META annually rewards and recognises the best theatrical productions and performances of the year, along with their makers and facilitators, providing a major boost to the country's theatre industry. Over the years, META has given voice to diverse themes ranging from contemporary and pressing social issues, mythology, religion, gender, caste and politics through the plays it has showcased.
Jay Shah, Vice President and Head of Cultural Outreach, Mahindra Group, said, "The Mahindra Group is delighted to bring back the Mahindra Excellence in Theatre Awards in its physical form and we urge all the budding and accomplished theatre groups of the nation to submit their entries for a chance to be invited to the nation's capital for the festival. This opportunity has propelled many theatre groups to international fame in the past. Come and be part of the most coveted recognition for theatre in our country!"
Sanjoy K. Roy, Managing Director at Teamwork Arts, said, "India's annual theatre gala awards - META is back for its 18th edition of the programme, showcasing the best of Indian theatre from all around India. The entries are open, please don't miss the chance to be a part of the largest theatre awards of the nation."