Interview: Sahar Zaman On Remembering The Legend Talat Mahmood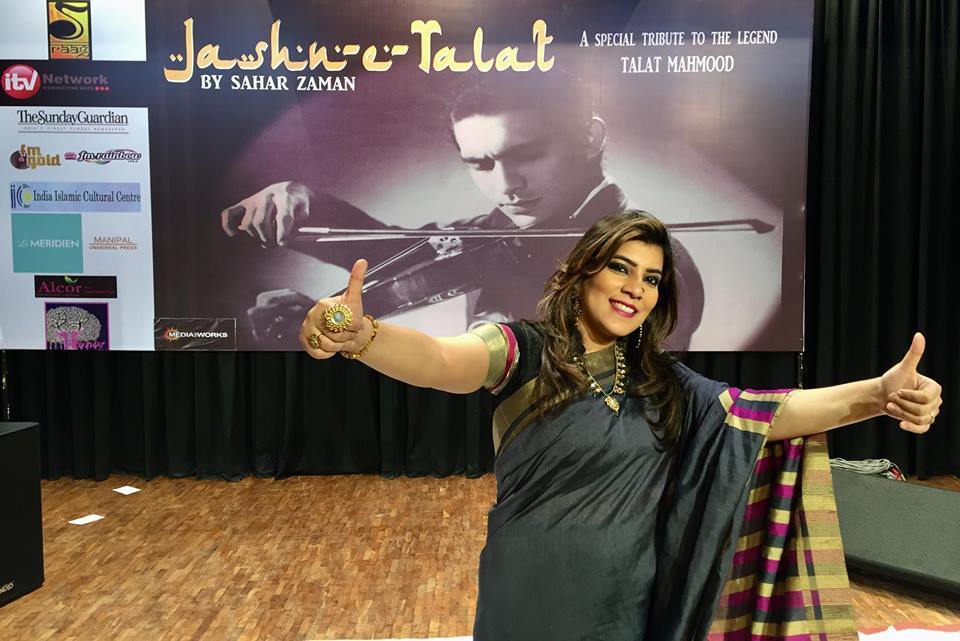 Wearing many hats as a professional including Political Newscaster, Arts Journalist, Curator, Designer, Media Entrepreneur and a owner of a design brand for Home Décor Line and Jewellery, called Chamak Patti, Sahar Zaman is also spearheading a campaign to revive the historic musical legacy of India.
Recently she organized unique tribute to her grand-uncle Talat Mahmood, involving music, dance and visual arts.
1. You have been trying to preserve the legacy of our music. Talk to us about your efforts?
In my recent most effort to re-introduce vintage music to our youngsters came on a very personal note. My grand-uncle Talat Mahmood was a very famous singer and one of the most significant pillars of the Golden Era (1940-1970) of our Indian Film Industry music. Known as the 'King of Ghazals', he was the first to bring the genre to mainstream music in the film industry. I felt strongly about re-introducing his music to today's youngsters. And it's important to be humble about this effort. He was a very famous man but the children today neither know his name nor his music. It is a treasure trove we are sitting on and letting it fizzle away. In my own little way, I am literally helping our youth re-discover what already exists.
2. Why is it important to educate the youth about the music of our previous generations?
It's our legacy, its our foundation. Without understanding this, you cannot move ahead. You can enjoy or create new genres of music but our legacy is what makes our foundation strong to move ahead with as much confidence. Our legacy adds depth to today's music and arts. And you never know which aspect of vintage music can make a comeback as a contemporary form!
3. Growing up what artists have influenced you and why?
I grew up in a house with eclectic music tastes. I inherited the love for jazz and oldies from my mom, apart from the fact that she was mad about the Beatles and Cliff Richard. My brother introduced me to Andrew Lloyd Webber and SD Burman. My dad told me about Begum Akhtar's ghazals and added that Shirely Bassey is hot! And then there were those from my generation - Alka Yagnik, Celine Dion, Mariah Carrey, Udit Narayan, Backstreet Boys, Norah Jones and so many more. Having spent my early years in Kuwait, I was also introduced to Arabic music. That's when Amr Diab, Khaled, Fairuz and Umm Khulthum got diced into my ever-growing music repertoire. Much later, my husband introduced me to Argentine folk music and African Soul. But it's the Golden Era of the Hindi film music that had a constant, uninterrupted presence in my life. This meant that songs from the early 50s upto the 70s surrounded me, irrespective of what the current chartbusters were. Lata Mangeshkar, Mohammed Rafi, Mukesh, Asha Bhonsle and Hemant Kumar songs were all instantly identifiable but Talat Mahmood was extra special to me. He was a significant part of the Golden Era of the Indian music industry, and delivered several memorable hits from the 40s to the 70s. Known as the 'King of Ghazals', he was the first to bring the genre to mainstream music in the film industry.
4. Talk to us about the tribute to Talat Mahmood. What are your memories of his music and how emotional was it to organize this evening?
He was known for his velvet voice and gentle emotions emoted in his songs. I went to colleges and shopping malls with this endeavour. There were singing competitions conducted in colleges across Delhi where students sang only Talat Mahmood film song and private Ghazals. In shopping malls, kids did surprise flash mob dances on his vintage music. There response was stupendous. Not only were people pleasantly surprised, the young students got hooked to his voice and music. These ground events then culminated to a grand finale called "Jashn-e-Talat by Sahar Zaman" , where we had a combination of short listed college singers as well as established singers performs his songs on stage. I added the aspect of multi-arts performance to make this a cultural extravaganza. For the first time, a tribute to a singer of yester-years did not just include songs performed, but classical Kathak dance, Salsa dance and LIVE portrait art done to his music! I have done the first show in Delhi and now I plan to take this across the country with the same formula. It's been a non-stop effort for the past 4 years and a lot of expenditure from my own pocket too. Since I'm not in the profession of doing music events, it took a lot of learning on the front of curating, marketing, promoting and executing the show single-handedly. I have obviously learnt a lot of new skills in the process and made some great friends with performers, artists and supporting partners in this journey.
Zofeen Maqsood is a lifestyle and entertainment journalist with over a decade of experience. She has written for some of biggest newspapers in the Indian subcontinent and for American publications.... (read more about this author)