Review: The Dark Side of TRUE WEST
4th Wall Theatre Company (formerly Stark Naked Theatre Company) has hit the ground running this season with its opening production of Sam Shepard's Tony-nominated play, TRUE WEST.
---
TRUE WEST explores a dualism of personality, our light and our dark side, sibling rivalry, art as commerce, and what defines a man. Sometimes funny, sad, and frightening, the play never ceases to stir emotions from the audience. The story is interesting, timeless, and was well-told by Kim Tobin-Lehl. Of all the fantastic shows coming this season, this is one you don't want to miss.
The first thing I noticed walking into the theater at Spring Street Studios on opening night was the stage lighting. It was subtle but engrossing. It was seamlessly infused alongside the story that night, and it's no surprise why. Two time Tony-nominated Kevin Rigdon is the Lighting Designer. He is currently Associate Director of Design at the Alley Theatre in addition to having started his career as Resident Designer at Steppenwolf Theatre and designing their production of TRUE WEST with Gary Sinise and John Malkovich. Despite that, this is a different production all its own. The play is framed by darkness outside, coyotes howling, and incessant crickets, further bringing us into the emotionally dark place where Austin (Nick Farco) and Lee (Drake Simpson) find themselves. The stage was split down the center, each side reflecting the siblings' clashing personalities.
The left side was delicately lit with warm colors, accented with plants, a large window, and Austin's typewriter at a table. The left side encapsulated a sense of hope, positivity, work ethic, confidence, and life. Austin is bright, energetic, youthful, well-spoken, and is an up and coming writer getting ready to pitch his screenplay to Hollywood producer Saul Kimmer (Philip Lehl).
The right side was cold, lit with blues, a refrigerator housing Lee's seemingly endless supply of beer, closed cabinets, a kitchen sink with a tiny window just above it. The right side brought out destitution, desperation, negativity, laziness, hopelessness, and the dead. Lee is the opposite of Austin. He's a wash-up, a deadbeat, a desert-wandering alcoholic who steals televisions.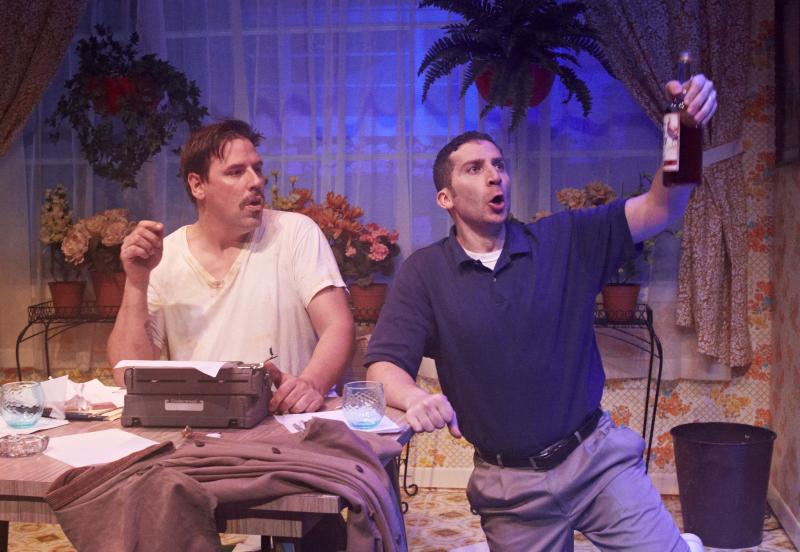 The two worlds collide as Lee sabotages Austin's chance at getting his original screenplay produced, getting his own story green-lit instead, a western. Kimmer wants Austin to write Lee's western. Austin's seemingly quaint and well-put-together life turns to drunken frenzy as he begins to question his identity as a writer and as a man. With Austin being of no use, Lee takes it upon himself to attempt the arduous task of writing the screenplay.
The two siblings drink the night away and each begins to merge into the other brother's world. After intermission, we find that Austin has moved into Lee's world. He's now on the right side of the stage, and in an attempt to emulate his brother, lays with toasters he stole, now drunk and incoherent. Lee is now on the left side of the stage attempting to type out some semblance of a screenplay, but he's neurotic, frustrated, and succumbing to frequent outbursts.
Despite their converging, something doesn't sit quite right. Austin still dons his preppy clothes, neat haircut, and is an awkward drunk. The outlandish, drunken, and crime-ridden life doesn't suit him. Same goes for Lee. He cannot fully grasp how to take on such a monumental task as writing a Hollywood script, much less in a state of drunkenness, where much focus is needed. Their surroundings match the emotional tumult that has occurred. The kitchen and dining area are in chaos. The floor is covered in trash, cabinets open and emptied, a mess of kitchen supplies, a trashcan fire, a plethora of working toasters, and dying plants.
The performances were outstanding, and I couldn't imagine a better cast for Houston audiences. Nick Farco was perfect as Austin. His subtle haughtiness and later bitterness rang true. I felt Farco's fear when Drake Simpson swung his golf club menacingly. When he got the news that Kimmer was going with Lee's story instead, I felt Farco's emotional journey of shock, disappointment, pride, denial, and finally a sense of failure and desperation. Drake Simpson was frightening, funny, and delightfully unpredictable. He was Lee. Everybody knows someone like Lee (as portrayed by Simpson), that family member that you love, sometimes are embarrassed by, have hope for, but a little scared of. His portrayal was so real that I felt I knew him. Philip Lehl was Saul Kimmer, and despite his short time on stage, he shined as always. Lehl played Kimmer as a smooth talking, money hungry, Hollywood producer. He can make you smile, but he can also give it to you straight, however harsh, at a drop of a hat.
As the play unfolded, I realized Austin and Lee were facets of Sam Shepard's personality, of everyone's personality, of my own personality. We have the light, positive, and hard working side to us, and we have that dark side that we rarely let come out to play. The dark side in each of us emerges when artistic risks need to be taken, when we need to do something we've never done before, when we need to push ourselves outside of our comfort zone, past our boundaries. It's how we grow; it's catharsis. We each have a dark side, and if we let that dark side take control every now and then, it yields some interesting changes.
---
TRUE WEST continues through Friday, September 30 at Studio 101, 1824 Spring Street. All evening performances begin at 7:30 p.m. Sunday matinee is 3 p.m., September 25. For information, please call 832-866-6514 or visit 4thwalltheatreco.com. $15-$49.