BWW Review: THE DOYLE AND DEBBIE SHOW Sees Red People at Stages Repertory Theatre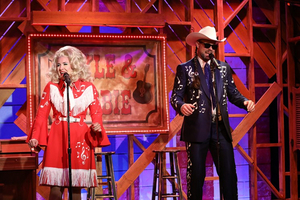 Stages Repertory Theatre has decided their silly summer musical this year should be the Nashville sensation THE DOYLE AND DEBBIE SHOW. It's a not so subtle attempt to bring back the ravenous audiences who adored THE GREAT AMERICAN TRAILER PARK MUSICAL. Some people will love this one, but I found it theatrically stunted and a bit offensive in that it would be funnier if I were far more conservative. It will play best with people who unapologetically sport their MAGA hats and follow certain Twitter accounts without remorse. Ironically it is meant to be a satire of this audience, but they may be the show's most ardent fans. Doyle and Debbie are out to make theater great again!
---
THE DOYLE AND DEBBIE SHOW allows the audience to witness the return to the stage of country music's not so legendary duo of Doyle and Debbie. Apparently Doyle is somewhat of a legend who disappeared after his second Debbie divorced him eleven years ago. He has become sober, but is still fighting demons of his daddy's death. In the skit here Debbie is a new girl who has been on the road with him for six weeks. She's a single mom who has kids waiting in the car, and she seems far more talented than her partner. Yet she is willing to put up with his neurotic behavior to become a country star. We watch them for an hour and a half as they belt out hits such as "Whine Whine Twang Twang" and a salute to the "greatest country in the world".
I had heard a lot of hype going into THE DOYLE AND DEBBIE SHOW. It won some Chicago Theatre awards, and it has enjoyed an extended run in Nashville as a tourist attraction. But frankly I am not sure why it's such a sensation. Much is promised if Doyle breaks his sobriety, and of course.... he does. Nothing happens because of it. There is an intimation that a Debbie ghost may appear at some point. She never does. Nobody in the show goes from A to B, and there is zero plot or character development. Instead the audience is treated to Weird Al Yankovic style parodies of George and Tammy songs like "When You're Screwing Other Women (Think of Me)". It's dumb, it's obvious, and it gets boring by the end. I mean I love a good NASCAR love song about stock cars, but 90 minutes of it is tedious.The playwright is most noted for his contributions to the Ernest movies if you remember those, and the humor here is about on par with ERNEST GOES TO JAIL. It should be the length of a skit, but it is stretched to an entire play.
Don't blame the actors. Luke Longacre and Chelsea Ryan McCurdy are super talented, and they breathe more life in this thing than it deserves as the titular duo. They handle the parody songs with a certain panache that is skillful, but makes you wish the two were given better material. Chelsea is a far better singer than this thing requires, and Luke Longacre is a more skilled funnyman than the script delivers. Even Travis Kirk Coombs who plays the band leader has more dynamism than his role asks for. They all turn in as good as they can, and as usual Stages features some of the best talent in the city. And the sets and technical aspects are on point as usual too. The company and the production aspects are wonderful, but they aren't working with much.
I am not sure why director and artistic director Kenn Mclaughlin chose this one. He states in the program show notes that THE DOYLE AND DEBBIE SHOW is "destined to become a summer classic of entertainment". If you think a satirical show with songs like "I Ain't No Homo", "Barefoot and Pregnant" and "Fat Women in Trailers" is going to be a high point of the season more power to you. The biggest laugh of the evening came from when Doyle proclaimed America was doomed to be plunged into a state of sad socialism. People almost cheered. It illustrates the weird dichotomy that most artists are rather liberal yet most audience members are conservative. THE DOYLE AND DEBBIE SHOW plays to the audience rather than the artists. It may be meant to be a critique, but it comes off as a celebratory cabaret of where America is today. If you're happy to "lock her up" or "send her back" you'll clap along with glee. If you aren't quite there you may be baffled why you sat through this. In the end for me I didn't find the show funny, and it felt far too long. It made me want to make a political donation to the Bernie Sanders campaign.
THE DOYLE AND DEBBIE SHOW will run at Stages for the rest of the summer through September 8th. You can purchase tickets at their website www.stagestheatre.com or by calling the box office at (713) 527-0123. Be aware the show runs 90 minutes with no intermission. Several audience members were confused by an announced break by the actors, and they ran for the restrooms right as several important things were about to happen.
Photo by Amitava Sarkar
Related Articles View More Houston

Stories

Shows