Honolulu Theatre for Youth Announces World Premiere of New Musical PETER POP PAN
Peter Pop Pan will open to Honolulu audiences on March 24th at 7pm at Tenney Theatre.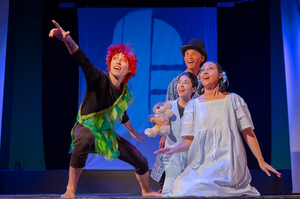 Honolulu Theatre for Youth (HTY) has announced the world premiere of Peter Pop Pan by the HTY Ensemble from the J.M. Barrie novel Peter and Wendy, with music and lyrics by Matt Mazzella. The original musical will be created in a devised process which will include HTY's entire Resident Ensemble. The production reimagines one of the great classic stories of children's literature in a way that will be inclusive and meaningful to Hawaiiʻs immensely diverse audience and multi-cultural community.
HTY Artistic Director, Eric Johnson, shared, "The characters, writing and technical solutions have sparked the imaginations of generations of children (and theatre makers) who have turned the story into a global classic, and it is a global, contemporary telling that we are looking to create for our audience.The original story is also ripe with outdated gender and cultural ideas that beg to be revisited and who better to revisit them than a company of indigenous and BIPOC artists?"
The production will feature an original pop music score that will include gamelan instrumentation to give the music a unique Southeast Asian flavor. Joining the HTY team are Balinese master artists, I Made Moja and I Made Widana, who will collaborate with the company on visual elements, Balinese shadow puppetry, movement, and music. The vision of the show includes the use shadow puppetry mixed with live performers to make the story and shadow characters come to life. The production will become part of HTYʻs body of work with master artists, inside and outside the ensemble, who have dedicated their lives to non-Western performance styles.
The show is directed by HTY Artistic Director, Eric Johnson and features Resident Ensemble member, Matt Mazzella, in the title role of Peter. Mazzella also serves as composer and music director for the production. The show features Resident Ensemble members Hermenigildo Tesoro Jr., Serina Dunham, Pōʻai Lincoln, Annie Lokomaikaʻi Lipscomb, and Jarren Amian. HTY Resident Designer, Chesley Cannon helms the overall conceptual design of the show as well as lighting design. Eric West is designing the set and props, and Iris Kim is designing costumes. Cannon, West, and Kim will also collaborate on designing puppets for the production. Paul James Prendergast joins the team to design sound.
Peter Pop Pan will open to Honolulu audiences on March 24th at 7pm at Tenney Theatre followed by performances on March 26 at 2pm, April 2 at 2pm, April 8 at 4pm, April 16 at 2pm, and April 23 at 2pm (ASL Interpreted performance). The performance is recommended for ages 4 years old and up and runs approximately 1 hour. Tickets may be purchased online at www.htyweb.org or by calling 808-839-9885 ext 720. HTY Members receive tickets for shows as part of their membership. More information on becoming a member of HTY can also be found on HTYʻs website: www.htyweb.org.
---
Join Team BroadwayWorld
Are you an avid theatergoer in Hawaii? We're looking for people like you to share your thoughts and insights with our readers. Team BroadwayWorld members get access to shows to review, conduct interviews with artists, and the opportunity to meet and network with fellow theatre lovers and arts workers.
Interested? Learn more here.
---