BWW Review: MARRY ME A LITTLE at Marigny Theater
After his extensive Stephen Sondheim cycle at Chatelet, which began with A Little Light Music in 2011 and ended with Passion in 2016, Jean-Luc Choplin is now going on with his introduction to the French public of his favorite Broadway composer at the Marigny Theater, presenting a lesser known song catalogue made of cuts from the master's earlier workers, woven under a themed story of a couple who never gets to meet up.
Brainchild of Craig Lucas, who starred in the 1980 original at the Off-Off-Broadway theatre The Actor's House, Marry Me a Little was never really supervised by Sondheim, who only gave Craig the permission to use his songs, most of which are track songs from Company, Follies, A Little Night Music, and his university-days first work Saturday Night, which up to that point had never been produced.
The score of this revue is actually mixed bag with numbers that have become cabaret classics-such as "Can That Boy Foxtrot?" (Follies), "So Many People" and "A Moment with You" (Saturday Night), "Marry Me a Little" (Company), and "There Won't Be Trumpets" (Anyone Can Whistle), the latter two having since been reintegrated into the shows they were cut from-together with songs such as "Silly People", cut from A Little Night Music, which would have probably been better off left in the trunk. Same for "Happily Ever After", a song so downbeat that one clearly understands why Sondheim was asked to drop it, coming up with the classic "Being Alive" in its place.
True, minor Sondheim is still sometimes better than anyone else's top hits and it's good to discover in this show such ditties as "Pour le Sport" and "The Girls of Summer", which don't even belong to any of his musicals. There is nothing wrong with an intimate show with just two characters and a pianist, but one could have done without the interminable silence preceding the first song. Maybe the director Mirabell Ordinaire was trying to make this piece contemporary also by including cellphone, which add nothing to the piece. Nor does the grim single set by Philippine Ordinaire.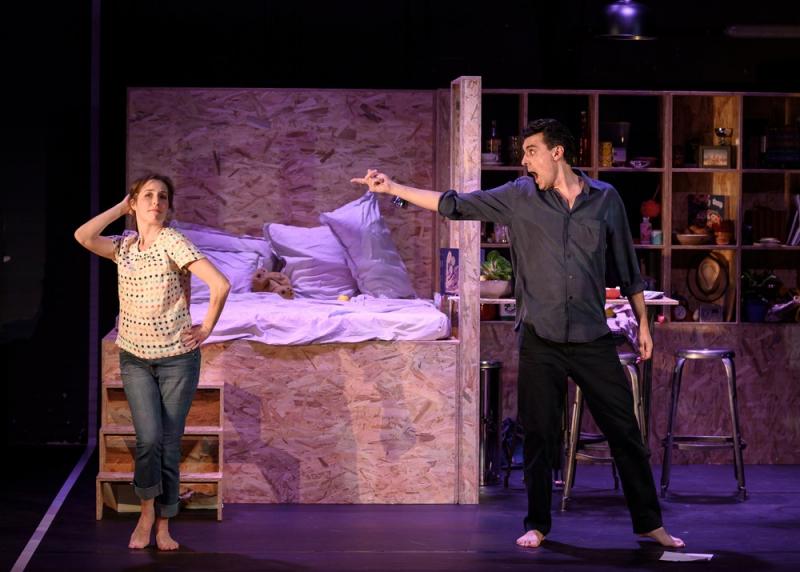 All that wouldn't have mattered if there had been more chemistry between He and She, who are both more than competent singers and who do justice to the songs vocally, but are nonetheless a bit cold, making their imaginary romance quite unintriguing.
Coming from the world of opera, Quebec-born Kimy McLaren was better cast as Cinderella in Into the Woods with a voice clearly too operatic for comedy numbers like "Can That Boy Foxtrot?". Damien Thantrey as He at the Chatelet in both A Little Night Music and Kiss Me Kate is better at acting out the songs, particularly the title one, but there is also something uninvolving about him.
As a piano player, Charlotte Gauthier has many interactions with the couple, but these don't amount to much and don't make their imaginary romance any more interesting.
Clearly Side by Side or Putting It Together would have been better choices as song catalogues to further educate French audiences of the greatest living composer, if only because they are fun and of course contain more of Sondheim's best work. That said, this one-hour one-act remains a pleasurable experience, even if only die-hard fans of the master will fully appreciate this curiosity piece, playing in Marigny's studio until the February 24th, with Guys and Dolls opening in the theater's main house March 13th.
Related Articles View More France

Stories

Shows