BWW Review: HUCKELBERRY FINN at Théâtre De La Huchette
After the Trophy winners La Poupée Sanglante and Comedians!, to mention but a couple, Franck Desmedt has brought another jewel the tiny but cosy Thétre de la Huchette.
If the very good and successful musical adaptation of Tom Sawyer at Thétre Mogador last year was definitely a family affair, this twin musical Huckleberry Finn is clearly for a more mature audience, decidedly much less politically correct. Even Mark Twain's Huck was much darker than his light-hearted Tom Sawyer, which was always geared toward younger readers.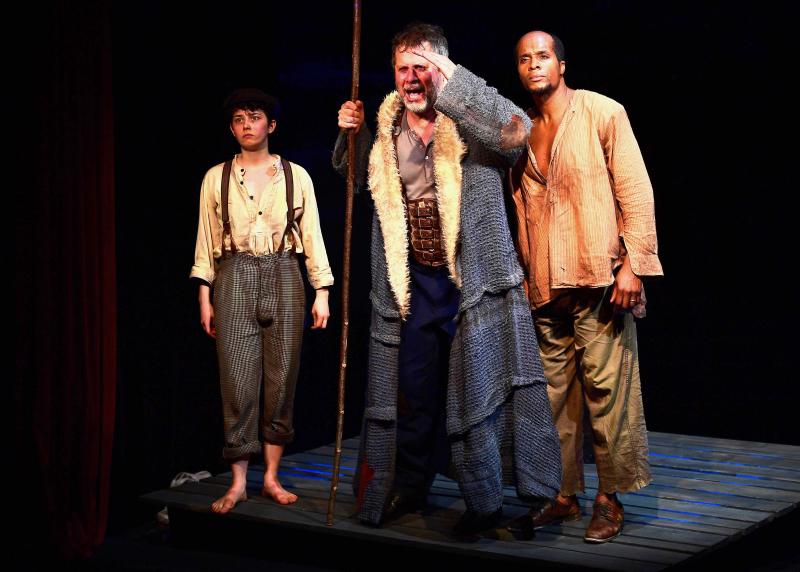 Though I was not looking forward to seeing Huck portrayed by a woman (in the Peter Pan tradition), casting one brings out a most interesting twist in the end, when Huck has to dress up as a girl to play Juliette in a little production of Shakespeare's Romeo and Juliette. Perhaps unintentionally, but effectively, this becomes the second musical in history after Victor, Victoria! (sadly, yet to be seen in France) in which a girl pretends to be a boy pretends to be a girl! At times we almost forget the excellent Morgane L'Hostis is actually a girl and this gives his relationship with the creepy Master of Ceremonies, aptly played by Alan Payen, a new provocative edge.
Like his friend Tom Sawyer, Huckleberry Finn is somewhat ambiguous. Both boys roll along with their adventures off-handedly, but Huck has already seen a lot in his childhood, which is probably why there's no room for Tom in the hard-knocks life of this musical.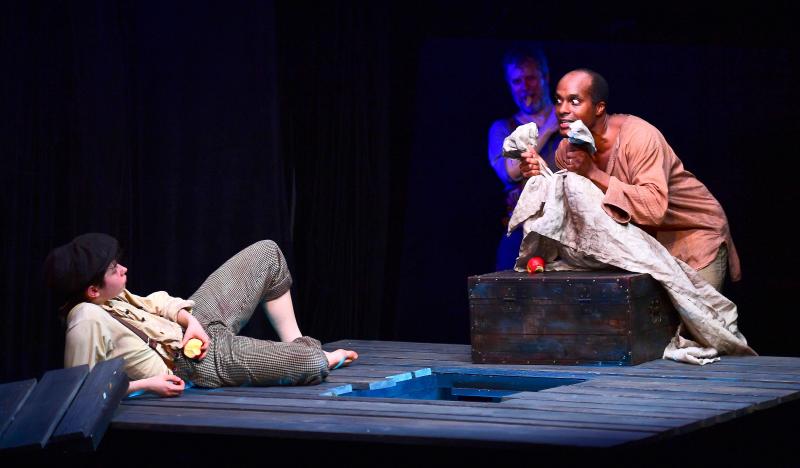 Huck's story unfolds alongside a different friend, an adult African American called Jim, expertly played by Joël O'Cangha, who has also faced his more than his fair share of hardships too--and that story has a lot of panache. There are no slow, idle moments on the stage, and the actors shift seamlessly from acting to playing and back again. As for the singing, the songs don't just entertain, they tell the story. The music provides the sound effects too: The actors, to the audience's wonder and delight, use their bodies like percussive instruments. We even see what can only be called tapdancing, expect that it's done with bare feet!
These songs composed by Frend Fresson and Régie Yves Thuillier, together with their underscore of sound effects, transport us to New Orleans without much need for visuals (although the set designs by Sandrine Lamblin do infuse a bit of poetry into this world of bullies). We almost expect to see a harmonica player or a trumpet player emerge from the background. Throughout Huck and Jim's escapades, you can almost smell the Cajun spices. This jambalaya combines technique and artistry into a generous dish with multiple flavors: hot, bitter, sour, but most of all sweet.
But what's most magical about Huckleberry Finn isn't the local color of its score and songs, nor its innovative choreography, but rather its masterful execution, which makes the audience feel as if it's witnessing a small Broadway-caliber production, so rare in a country where musicals tend toward exaggerated singing and dancing (but the clever use of puppetry is clearly a nod to The Lion King!). It confirms that the French are always best at creating small scale musicals than big spectacular ones (which we won't talk about here!).
(photography courtesy of Philippe Escalier)