BWW Review: COMPAGNIE DU VINGT TROIS Presents FOOL FOR LOVE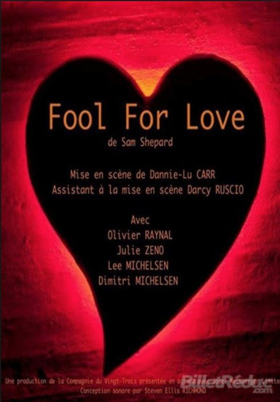 Our heritage might define us, but it doesn't get to define itself. Over the past decades we've witnessed as heroic archetypes turned dated, or even villainous. We've watched as the emotional collateral of a masculine old guard has been given a platform. From this vantage point such voices have shifted the focus from the passions of privileged men, to the scars of those left in their wake. Fool For Love by Sam Shepard is an aggressive portrayal of this passing. The play's location, a motel in the once wild west, is the embodiment of this contradiction: quotidian mediocrity, and mythic Americana. The Parisian Compagnie Du Vingt-Trois withholds not a drop of the emotional intensity of this piece in their performance at Avignon's Pixel Theatre.
The play begins with Eddie, a vagabond westerner complete with large belt buckle and duct tape repaired cowboy boots, returning to his former lover May. He has driven a long way to see her. He has taken a long time to see her. Her feelings can be described as mixed, but not muted. She switches on a dime between disgusted hatred, and passionate attachment. Eddie keeps his swagger. At the play's start, the intensity of the passion seems to be the only remarkable aspect at the work. There are hints at complications. May's boyfriend is on his way and an old man in a rocking chair downstage left breaks into the psychic space of the motel to tell anecdotes. May's boyfriend enters in like The Gentleman Caller from The Glass Menagerie. He is a promise of normalcy into this fragmented relationship. Then, a shoe drops. While referring to this as a "twist" seems inaccurate, I still feel as though the reveal is best left in the context of the performance. Though, what this moment does is reveal the emotional contours of the character actions like a light on a relief. The rest of the performance is gripping.
Dannie-Lu Carr's direction is strong and clear. She makes the passions of these characters full in an intimate space without making them comical or overwhelming. As the unsuspecting date, Dimitri Michelsen was sweet without becoming a pushover. As the specter in the rocking chair, Lee Michelsen presents us with everything this era thinks of itself. He lives in a kind, rose tinted nostalgia, and when that is torn away, his offense feels earned. Olivier Raynal shows us the transformation of masculinity towards compassion. He begins dismissing emotions, and ends in an act of tenderness. He executes this journey beautifully. Lastly, as the woman attempting to hold her own against the whims of men, Julie Zeno is unrelenting. It is an unmistakable challenge to make a character living at a constant ten seem convincing, and she does. Over the course of the play May turns from being another woman scorned, to a complicated and emotionally vibrant character and with her the play turns from high melodrama, to a passionate meditation.
Related Articles View More France

Stories

Shows