Interview: HOW TO DIRECT AND ACT COMEDY, Mika Nuojua
Comedic acting is not for everyone. It needs a distinct, different type of view of life as well. One has to see the amusement in oneself and in life situations.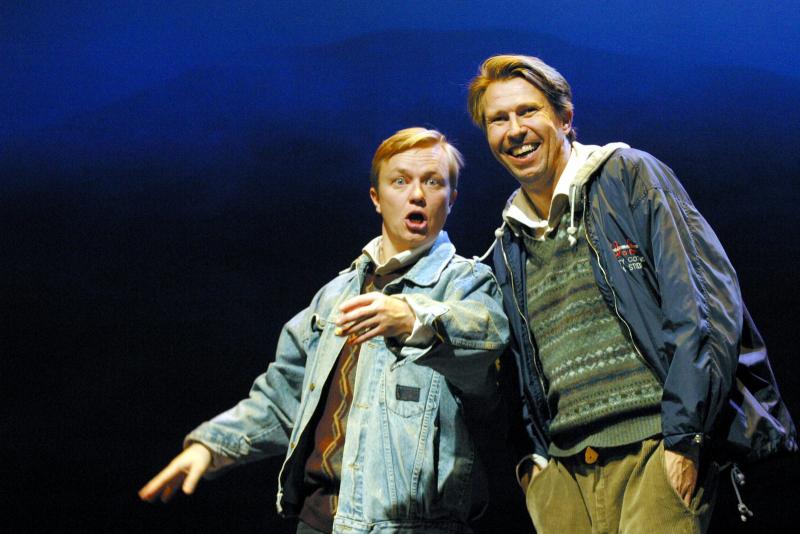 I call to Mika Nuojua, a successful director and actor, on the phone a little before Christmas. I congratulate him on the Robbery that Goes Wrong, which he directed for Kouvola City theatre (review here). Unfortunately there are now less show dates left due to Covid-19.
New productions are already planned for spring and the premieres are dated beforehand.
That's so unfortunate.
Tell us freely about yourself and your backgrounds on comedy.
I've done acting and other theater work around 30 years. And directed half of it. I've enjoyed doing comedies, it's such a fun style to perform in. You get to laugh yourself at the rehearsals and perhaps on stage too and most of all the audience gets to laugh!
The more reactions the audience gives the more enjoyable it is to perform.
I've noticed that myself as an actor but also as a spectator too. As a critic but also as a spectator I always try to express audibly the reactions I have, of course whenever suitable. Though there are times I'm the only one bursting in laughter... I have a very spesific taste on comedic timings and some well done gestures.
Can any actor become a comedic actor?
I'd say there are different types of people and also actors. That said, comedic acting is not for everyone. It needs a distinct, different type of view of life as well. One has to see the amusement in oneself and in life situations. You have to be able to set yourself to be laughed at, to see yourself as a comedic character so to speak.
What is it that makes a good comedy. I'm sure the text is important?
Absolutely, the texts and scripts are already comedic and as a director you have to search the good flow to it in peace. There are different types of comedy for example dark humor and farce. There are comedies that borderline drama. Dramacomedy as a style is the most variant one. It has emotions but also vibrant colors to it to play with.
What's the keypoint in directing comedy?
You have to start rehearsing it through the surprise-element. It's very important. The tempo has to be on point - and fast - so you are able to surprise! The punchline comes from behind the corner: comedy must not drag slow or have extra hiatuses. Of course you can use it as a powertool, for there might be a character who acts in slow tempo... The change of rhythms is the key of things! See, there can be different rhythms inside of a line, too!
Not a single line must repeat itself. Every line has to be its own show. And inside of each line there can be small, seperate minishows. It demands thought and cognition from an actor and thus every performance is a unique one. You have to ask yourself: how could I surprise the audience with this line?
I've heard before from good actors and directors of splitting of lines and moments on stage, but I still have to search on that thought and try it out for myself. It remains a little mysteric for me.
Mika goes on about the surprise element:
As an actor you can also get surprised by your co-actor so the situations stay active and fresh. You can imagine, for example, that every time is your first time! Keep the keenness and curiosity so that the performance stays "new" and the scenes stay sparky. Audience is very attentive to everything that happens on stage: if the actors love what they do and it shows (that the performance is meaningful to them), usually the audience will find it the same way also.
I asked a little more about the Robbery performance from the Autumn.
The Robbery that Goes Wrong is an escape parody, a farce. The humor in it is self-ironic. It is quite peculiar as a farce because it has several scenes or milieus to it, as if in a movie. Usually a farce has only one or two set designs or milieus to it.
Usually a good tip in scriptwriting a comedy is that you write what you want to see on stage. For example in one scene the rolecharacters view things from the building's (as is from the roof) so the actors "on stage" have to walk on an actual wall with wires. That design was straight from the script.
How do you direct action when you rehearse?
Naturally I do direct and give directions, but actors are all different and the scenes at hand are all different too. The visualisation happens from the auditorium (where the director sits while rehearsing).
As a director you've got to keep the stage in balance. When the rehearsal starts we usually go through the whereabout movements on stage, where actors come from and go to. Of course it may change in time.
In the long run the audience will become the director: they rule the timings and tempo with their reactions. You cannot know the timing of the punchline without an audience. At the rehearsals you can usually say that "okay if you (the actor) offer this (punchline) in this moment, it'll entertain the audience for sure!"
The actor's got to be awake and attentive so they can respond and act to the audience's reactions.
What it comes to the premieres of shows, a show is not yet quite ready then. After around 10 performances - I'd say - the actors have got enough experience with live audience that only then the show is "ready".
Usually the few last shows are one of the best ones because the actors have the feeling like "yes, I have these last times only to take everything out of the acting, all the delicious moments to make the audience laugh!"
As a director it's always delightful to go to see the last shows. I can see how actors have developed their characters and the scenes they're in.
When I directed the Play that Goes Wrong I remember how one actor had so much improvement in their way of having contact with the audience and playing with it. It was a sheer joy to watch, they had so great intake in their profession.
Finally, Mika gives out his final tip:
Whoever you are, when you take on a production you must have a feeling that it is an important piece. Only then it is enjoyable to watch from the audience.
Article: Rosanna Liuski
Photo: Tapio Vanhatalo, HKT