Review: REEFER MADNESS at Equinox Will Drive You Crazy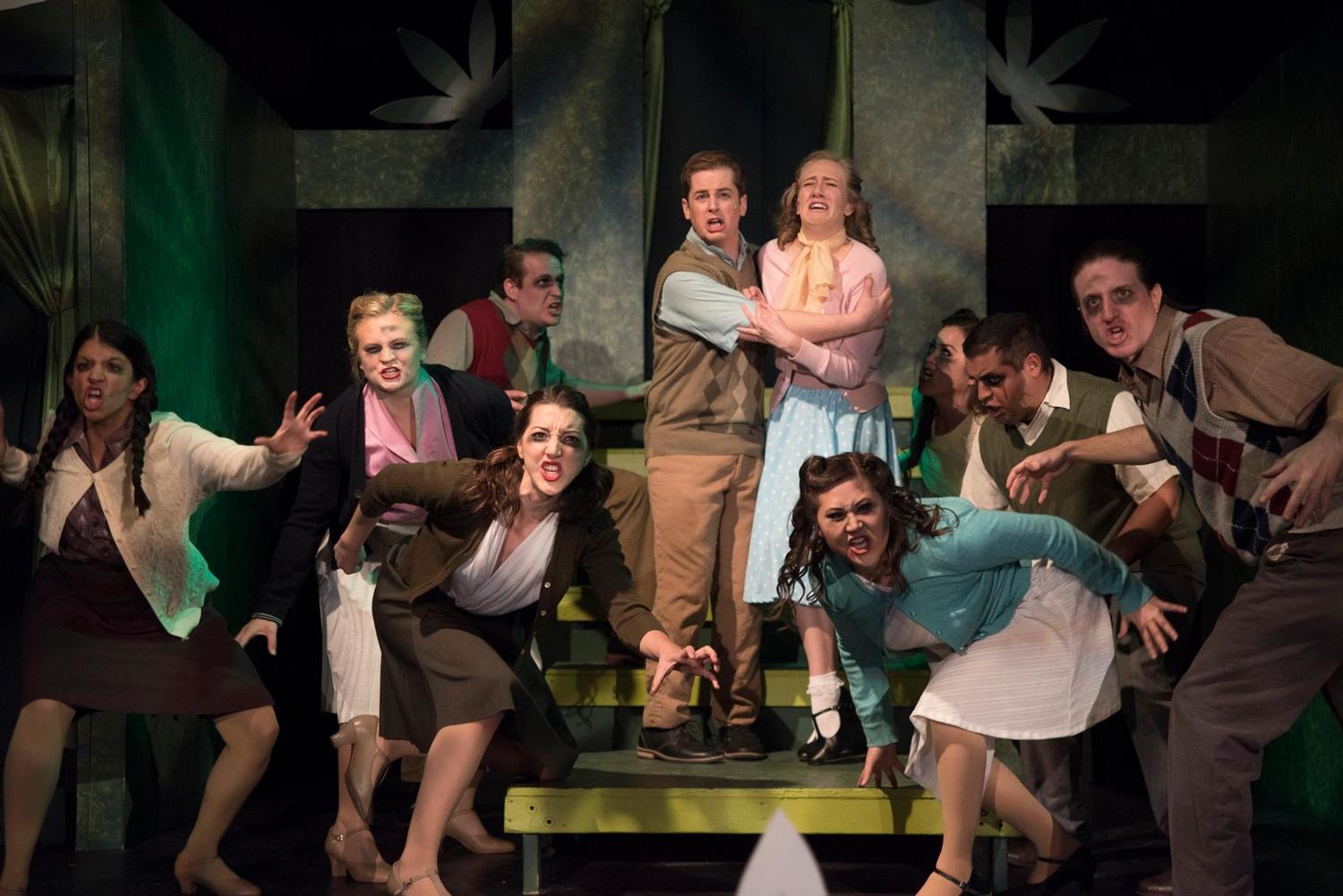 Theatre is an interesting thing. For most of the time, we strive for authenticity in our performance. Sometimes, however, a show comes along that calls for audacity and farce in order to give a strong performance. Such shows include Reefer Madness, which is Equinox Theatre Company's current production at The Bug Theater.
Originally a 1930s propaganda film, this parody musical follows the lives of Jimmy and Mary and their introduction to the devil's lettuce, leading them on a hysterical downward spiral filled with evil jazz music, sex and violence. Also a movie-musical, Reefer Madness is full of memorable songs and group numbers that will have any audience laughing.
Equinox's mounting of the show is, overall, solid work. The majority of the production's leading players are finessed performers, complemented by a fun and energetic ensemble. When you have a strong cast, however, the small stuff sticks out. The set design by Colin Roybal - also Director and Choreographer - was, although clear in concept, too literal in that the entire set was green, complete with two fog machine blunts. The show takes place in what I can only imagine to be the set of Leave it to Beaver on steroids, and I would have loved to have fully been taken into that setting. I would also encourage anyone who hangs curtains on a stage to hang them as if you are hanging them in your home: on a rod and floor length.
Costume Design by Cassie Lujan is fun and fits well into the time period. There are two moments when the cast comes out in lingerie that I wish would have been uniform across the ensemble, but otherwise Lujan's work is tip-top. Music Direction by Adam White is well-seasoned, with a strong pit orchestra and ensemble sound.
As the charmingly innocent Jimmy, Andrew Alber does a fine job in the role. He gives Jimmy an almost air-headed quality to his ignorance that is very endearing, as is the purity in his singing. As the newly pinned sweet heart, Emily Ebertz plays Mary with a strong sense of comedic timing. Her voice blended nicely with Alber's. Aimee Corley as Mae played the role in a way I had not really seen done before. Often this role calls for a big, belting soprano, but Corley delivers it with a classic-jazz soprano style that gives it new life. Another standout was Mae's sidekick, Sally, played by Anna Sturtz - a strong performer with an even stronger voice.
In terms of the audacity of the show, the cast and crew do a nice job in tying a nice little bow on the show. With one weekend left, time is running out to see this production! Performances will be April 6 through April 28 with shows Friday and Saturday nights at 7:30 PM. There will also be a pay-what-you-can industry night on Thursday, April 26. Tickets are $20 in advance/$25 at the door/$17 for groups of 6 or more in advance only. All performances will be at The Bug Theatre at 3654 Navajo Street in Denver. Tickets and more information available online at www.EquinoxTheatreDenver.com
Photo by Christine Fisk