BWW Review: THE LAST FIVE YEARS at Wilmington Drama League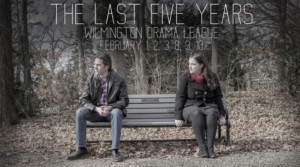 The Last Five Year, a chamber musical that gained a cult following since its premiere in Chicago and subsequent staging on Off-Broadway, lays bare the short-lived marriage of Jamie Wellerstein (Jason Tokarski) and Cathy Hiatt (Kendra Eckbold) in a unique way. The story is told by Jamie in forward motion of time (from the first date to divorce) while Cathy tells the story in backwards motion of time (from divorce to first date). The parallel storytelling meets in the middle for their wedding. The characters weave their stories without the other being physically present on stage, except for their wedding, providing the audience with a side by side comparison of their lives from their respective point of view. The show also chronicles Jamie's professional success as a hot, young 20 something novelist and Cathy's failures with her aspiring acting career. Spousal jealousy and resentment occupy a significant amount of the story.
Perhaps the hurt and damage of such events are too real for some. That seemed the case for the creator, Jason Robert Brown, given the show is based upon his failed first marriage and his first wife's legal attempts to block its premiere. Keeping that tidbit in mind, it comes as no surprise that the character of Jamie is written in a more productive light, while Cathy leans in to bitterness and resent. Because the show is only 90 minutes without intermission, and her story is being told in reverse, Cathy isn't afforded an opportunity to show herself as a young lady in love until late into the performance - almost too late. By the time Cathy arrives to the courtship, I was tired of her whining and complaining. When Jamie's infidelity is revealed, it comes as no surprise. Now, is that a fault in the story writing or in the performance? I have to go with performance.
Stage Director, Staci Garber, does a disservice to Cathy (and Ms. Eckbold) by starting the show with an overly aggressive anger in Still Hurting. Is Cathy not at all introspective about past events and behaviors? The character of Cathy requires detailed attention and nuance to overcome the inherent pitfalls of the one-sided script. Throughout the show, the audience is given firsthand knowledge of Jamie's abilities (schmoozing agents, completing readings, book signings, and even fandom, albeit from Cathy during A Summer in Ohio), while Cathy's forays are a few brief glimpse of failed auditions. Cathy's response to failure [in this production] is akin to a temper tantrum.
I found it easier to enjoy the production by closing my eyes and listening. Since the show has extremely little to no dialog, all one has to do is listen to the songs to follow the story. The clunky staging has no direct purpose and offers little to advance comprehension by those not familiar with the show. Again, keeping in mind the show is completely sung, the two actors must be up the challenge. Mr. Tokarski competently rose to meet the challenge. I am unsure if Ms. Eckbold was suffering from illness or just fell a little short or was misguided in the interpretation and delivery of the music. Music Director, Steven Soltow, assembled a collective of fine pit musicians, all of whom justly captured Brown's beautifully intricate yet approachable score full of memorable emotionally charged melodies.
THE LAST FIVE YEARS
Written and Composed by Jason Robert Brown
Stage Director - Staci Garber
Music Director - Steven Soltow
Wilmington Drama League
10 W. Lea Boulevard
Wilmington, DE 19802
302-784-3388
www.wilmingtondramaleague.org
Runs 2/1/19 through 2/10/19
Related Articles View More Delaware

Stories

Shows