BWW Review: SPRING AWAKENING at JustArt Theatricals, LLC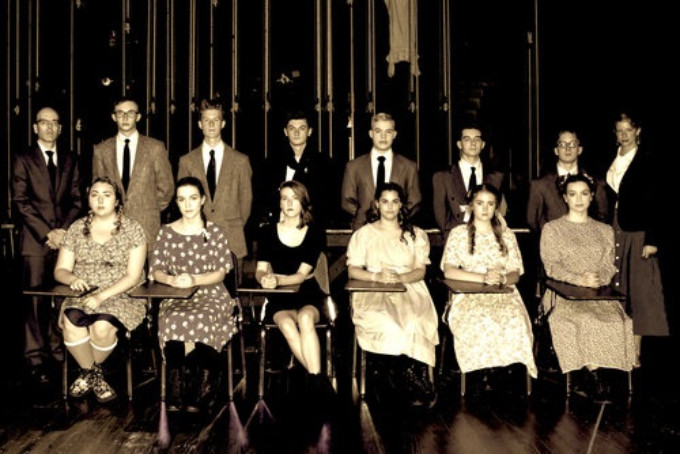 SPRING AWAKENING is widely known by Delaware theater junkies for being the show that garnered hometown hero, John Gallagher, Jr., a Tony award. It is known by others as a groundbreaking modern musical that speaks to generations in a voice which is painfully truthful.
Filled with deep, sustained emotion and awareness for both performer and audience member, it is a difficult production on both sides of the curtain. The powerful events of this (almost) modern rock opera require total sincerity, dedication and fearlessness in the execution. Dumbing down or, in the case of this production, lessening the sexuality, maturity and recklessness of the characters, in an unfortunate misstep.
While the event took place in the ample Spragg Auditorium, audiences for this production sat in chairs arranged in quasi-V formation, facing the backstage right wall. There were about 10 front row VIP seats designated as classroom seating which, as told to me by the Stage Director, Aaron Bogad, would, "carry with [it] some VERY intense audience confrontation/participation." The set design (Jacquelyn Kepley) consisted of two stair-stacked platforms on stage right, with a splattering of story related items (notebook paper, a white chemise) hung on the wall behind the rigging lines for the theater. The musicians were neatly tucked away, high up on the stage right catwalk. From the looks of it, this was plotting out to be an in-your-face, raw, gritty concept production.
The young artists comprising the cast ran the spectrum in terms of ability and skill. At times, they were in-synch with their respective characters, their cohorts, and the story being told, while at other times, there was a less focused delivery. Part of the confusion seemed connected to the staging: Adults who delivered performance for the better part of the show in front of the musicians (on the catwalk at the building's ceiling line) with stage lights behind them that obscured them from the audience, ensemble members acting with their backs to the audience, characters retreating into dark corners while engaged in a scene. The lack of facial expressions can be overlooked if the spoken word is artfully crafted to compensate. The profane emotions of SPRING AWAKENING should stab at all of one's senses. Breaking the "fourth wall" and other stagecraft elements must have true purpose and not be used as gimmicks. Having actors hide away (off-stage) when involved in a sexual situation, glossing over a same-sex encounter, denigrating the act of suicide, or generalizing a gathering of testosterone raged bullies demeans the work's integrity.
The music of SPRING AWAKENING often floods my internal playlist. I absolutely love it. Music Director, Caty Butler, is no stranger to modern musical theater scores, and her treatment of Duncan Sheik's music was on point. The young artist playing Moritz (Brendan Moriak) handled the required vocal nimbleness well enough. Lucy Vavala as Wendla and Jake Collins as Melchoir paired well together. Occasionally, a voice cracked or strained/vocal fatigue could be heard. SPRING AWAKENING is all-around demanding; each artist must be prepared to meet the vocal, physical, and emotional demands in order to execute a fully realized work. Some cast members were at least up for the challenge.
Lauren Suchenski provided graceful and fluid choreography reminiscent of various other productions. Costumes designed by Susan Everett conveyed an appropriate setting despite the unnecessary jumbled interjection of present day items, including fluorescent LED glow wire as armband accessories.
As for the theater company itself, JustArt Theatricals, a New Jersey company, currently organized as a for-profit professional theater, is a collaborative effort of the husband and wife team Aaron Bogad and Melissa Steedle Bogad. SPRING AWAKENING was chosen as its debut production, "...to offer a more professional experience to students of Salesianum, Padua and Ursuline."
I didn't officially interview Mr. Bogad, but rather reviewed JustArt's website, press release, and asked a few questions via email. Here is a condensed version of what Mr. Bogad had to say about his new theater company.
"What started as a collaborative effort between my wife and I was ready to launch.... I've been at Salesianum for two years, but am not deeply rooted in the local Wilmington community and looked forward to producing independently in the community to get a better sense of what is happening. I didn't think there was a specific need or gap in the local community, rather, I have been really struck by how Wilmington (and Delaware generally) has so much theatre.
I have seen in my work in both professional and academic settings that the most successful professional performers come from programs that challenge them. This seems simple. But a big part of what we're trying to do at Salesianum is to grow our arts and innovation programming.
...most intensely committed students are headed off to college and professional performing environments without, what I consider essential, training. I've been trying to find a way to offer more professional style training, with a more aggressive schedule, more challenging content, and more adult themes to our top level students while not alienating the less experienced student. It seemed like a great opportunity to achieve this end for our students by partnering with my own professional company that was in the process of launching independently of my work at Salesianum. This was a great symbiotic opportunity. Sallies had a need for an upgraded educational experience and my company benefited by being able to effectively "soft open" our debut production.
We, as a company, are dedicated to the idea that art can, and should, have a socially conscious, justice oriented, intention. We believe in creating art that helps to bring balance to an unsteady world. On this particular production there was a tuition component for our performers, but this is because of the unique arrangement we had with Salesianum (and by extension, Padua and Ursuline).
This production attempted to highlight the voice of young people. Their investment in the piece and their honesty in expressing their hopes and fears through the show can stand as an example to their peers and as a wakeup call to the adults in their lives. We feel like Spring Awakening is ultimately a statement about how the things that haunt us, forms us. We are created by who we have been and who we have known and we, as a company, are no different.
We echo Melchior's demand "Watch me, just watch me, I'm calling, and one day all will know." This call for engagement and attention is what we, as JustArt, are attempting at this stage of our development as a company."
SPRING AWAKENING
Book & Lyrics by Steven Slater
Music by Duncan Sheik
Stage Directed by Aaron Bogad
Music Directed by Caty Butler
JustArt Theatrical
Performing at Spragg Auditorium
1801 N. Broom Street
Wilmington, DE 19802
https://justarttheatricals.com
Related Articles View More Delaware

Stories

Shows