BWW Review: SOUTH PACIFIC at Candlelight Theatre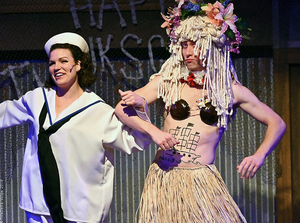 Such a serendipitous time to stage SOUTH PACIFIC at Candlelight; a 1949 legendary musical theatre piece consciously written to speak to racial divide; brown skins vs white skins. And yet, 70 years later, we reside in a country riven by a racist president.
I ask you two questions: 1) how prescient were Rodgers & Hammerstein and 2) what have we learned?
The plot is based on James Michener's 1947 Pulitzer Prize-winning book, TALES OF THE SOUTH PACIFIC. Although book editor Michener could have avoided military service in World War II as a birthright Quaker, he enlisted in the U.S. Navy in 1942, (No bone spurs he). Michener was assigned to write a history of the Navy in the Pacific.
Rodgers and Hammerstein believed they could write a musical based on Michener's work that would be financially successful and, at the same time, send a strong progressive message on racism. The issue of racial prejudice is candidly explored throughout the musical, most controversially in Lt Cable's song "You've Got To Be Carefully Taught", sensitively interpreted by Andy Spinosi.
Remember now, the original show premiered in 1949, way before MLK and LBJ. Especially in the Southern U.S., its racial theme provoked controversy, for which its authors were unapologetic. (Would that contemporary Congressional Republicans have similar spine).
The audience is greeted with a lush island set designed by Jeff Reim with a colorful projection of the island of Bali Ha'I in the distance.
Let's face it, in wartime and on occupied Pacific Islands, romance - and more -happens in as much time as it takes Usain Bolt to do 100 yds: Nellie Forbush (Colleen Clancy) sings a delightfully charming "Cockeyed Optimist" and next thing you know this effervescent naïf from rural Arkansas falls desperately in love with the older and sophisticated Emile de Becque (Peter Campbell); Lt Cable is introduced to Liat (Joy Lynn Pringle) and that evening and into the next morning, they are sharing more than coconut milk cocktails.
It is known Broadway lore that R & H wanted Mary Martin to star in '49. She demanded in her contract that Nellie and de Becque (operatic star Ezio Pinza) never sing together due to his overpowering pipes. Campbell as de Becque is gifted with an outstanding French accent and his background in opera baritonily serves up "Some Enchanted Evening" and "This Nearly Was Mine". However, this is musical theatre, not stand-in-one-place pontificating opera. One wishes there was more chemistry with Nellie in the former song and more compassion, feeling and tenderness in both. We recognized this empathy unequivocally in Lt. Cable and Liat.
Far and away the most natural performer on stage was Bloody Mary (Angelica Feliciano). Consistency of character creates both trust and comfort in the audience. Her "Bali Ha'I" gave us a visceral sense of the mystery and magic of the island. Her duet with Liat "Happy Talk" was a poignant and vibrant analysis of optimism for all of us...." if you have no dream, how can you make a dream come true".
Coming off of the side-splitting rubber-faced Max in LEND ME A TENOR, Jared Calhoun continues the hijinks as Luther Billis, mouthpiece for the Seabees and wheeler-dealer extraordinaire. Created by Hammerstein as comic relief from the admitted racial overtones of the two sets of lovers, Billis leads his merry band in a rousing "There Is Nothin' Like A Dame" and "Honey Bun". (The tat on the stomach is genius)!
Lighting Designer Matthew Kator did a wonderful job, most especially in two scenes: luscious reds for Bali Ha'I and amorous greens for "Some Enchanted Evening". Period costumes by Timothy Lamont Cannon were excellent.
Fun Fact: In London's West End opening in 1951, Sean Connery and Mary Martin's son Larry Hagman (DALLAS) were Seabees
P.S. Oscar Hammerstein is looking down wishing we had heeded his words and been not so carefully taught.
Photography by Tisa Della-Volpe
Through August 25 Candlelight Theatre 302.475.2313
Fiftieth Year Reunion Party Sept 2.
Next Up: CATCH ME IF YOU CAN - September 14