Click Here to Visit the College Center

Blogs are the opinions of the authors and do not necessarily reflect the opinions of BroadwayWorld. BroadwayWorld believes in providing a platform for open and constructive conversation.

Student Blog: Into A New Life: Why I Miss 'Great Comet'
Please, please give it a revival.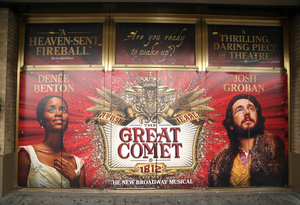 On Sept. 3, 2017, "Natasha, Pierre and the Great Comet of 1812" closed on Broadway.
There was a lot of controversy at the time, including criticisms over replacing Okieriete Onaodowan (Hercules Mulligan/James Madison in "Hamilton") with Mandy Patinkin in the role of Pierre. Those circumstances, combined with financial struggles, ultimately led to the show's closure four years ago.
Like many fans, I was devastated not only by the show's end but by the circumstances surrounding it. I empathize with those who saw the act of replacing Onaodowan with Patinkin as indicative of the larger problem of a lack of diversity on Broadway, a systemic and obvious issue that has haunted the industry since the beginning and is in desperate need of rectification. We need to hold Broadway producers and power-brokers accountable and continue for BIPOC, LGBTQIA+, and other marginalized voices to be amplified.
Still, I mourn the show even to this day. I had the immense privilege of seeing it twice on Broadway: the first time on the recommendation of a friend, and the second time was a few days later as part of a program I attended in the city.
It remains the most incredible show I've ever seen, and until someone comes up with a Taylor Swift jukebox musical, that's unlikely to change for me. (That's a great idea for a Broadway show, by the way, but that's another article).
Before "Great Comet," I didn't have a singular favorite show. If asked, I'd list off "Wicked," "Les Miserables," "Chicago," "Hamilton," and "Evita," but I couldn't give just one answer.
But now, the answer is easy. This show is my absolute favorite of all time.
Why? What is it about this musical that made me fall in love with it to the point that I'd easily relegated shows I'd adored for 16 years (at that point) to a second-tier category? What made "Great Comet" special?
It's a weird, weird show. Only one song has a discernable rhyme scheme, "Dust and Ashes," and it's based on a slice of Leo Tolstoy's "War and Peace," which is not an obvious choice for musical source material. It combines a variety of different genres, including folk, R&B, electro-pop, and others. It's sort of like dipping french fries in a milkshake: the combination shouldn't work, but it just does.
"Great Comet" ensnares all of your senses, especially when you see it live. When you walk into the theater, you notice seats on the stage, as well as several seats with their own small tables. The stage is made up of overlapping circles and a couple of staircases that lead into the audience. Before it starts, the ensemble passes out pierogies; during the song "Letters," they give out small slips of paper to a few lucky audience members containing funny or flirty messages, and during "Balaga," everyone gets a small egg shaker to shake to the rhythm of the song.
Many of these ideas were inspired by writer and composer Dave Malloy's trip to Moscow, where he attended nightclubs and was eager to incorporate some distinctly Russian elements into the experience of the show.
And while all of these choices certainly lend themselves to making the show uniquely innovative, the true genius of the show lies in the writing and storytelling. Every time I listen to "Great Comet," I come away with new insight from the show. The characters are interesting, and they remain relatable and engaging despite having originated in a mid-19th century Russian novel.
Although it didn't last long, "Great Comet" still made an impact on Broadway. Despite only winning two Tony Awards in 2017, it was the most nominated show of the night, having been up for 12 awards. It was the Broadway debut of the lovely Denée Benton, who played Natasha; it was also how Lin-Manuel Miranda discovered Phillipa Soo when the show was off-Broadway. Ironically, Benton also went on to play Eliza in "Hamilton" on Broadway after "Great Comet" closed.
"Great Comet" fans are lucky to have both the Broadway and off-Broadway cast recordings; there are also professional shots of some of the songs, as well as the recent reunion of the cast and creatives that supported Ars Nova, where the show premiered in 2012.
There is much to be grateful for, not the least of which is the show's existence at all, plus the possibility for a revival in the future that might bring it more recognition; there was even a production of the show in South Korea this last spring.
For now, all we can do is hope for it to blossom into the new life it deserves.