BWW Reviews: FIREFLIES at New Haven's Long Wharf
Matthew Barber's new play, Fireflies, is making its world premiere at the Long Wharf Theatre, and it is perfection. Barber, who adapted Enchanted April for the stage, wrote an equally beautiful and moving play based on Annette Sanford's novella, Eleanor and Abel.
Eleanor Bannister (played by Jane Alexander) is a straight-laced retired school teacher who is respected by everyone in the small South Texas town of Groverdell (population 1,472 in July 1995). Her peppy and snoopy neighbor, Grace Bodell (Judith Ivey) warns her about a drifter named Abel Brown (Denis Arndt) who tends to approach women who are alone. Grace is so concerned that she engages the help of sheriff Eugene Claymire (Christopher Michael McFarland), who happens to be one of Eleanor's former pupils.
Let me stop for one moment. Not one of these characters is a cardboard stock character and every performer is thoroughly credible. It may sound peculiar that Eleanor was spotted lurking around the honeymoon cottage behind her house in a nightgown without shoes or underwear, and during the second act, she impulsively donates all her clothes to charity. It's up to interfering Grace retrieve some of them, but the audience is convinced. It isn't all that surprising that Eugene was once a kid who got into minor trouble, but turned his life around, and the audience is fine with that. As for the enigmatic Abel who cashed $2,000 in Eleanor's check for remodeling her cottage and skipped town before explaining his family situation -- of course, it must be true. The glue in this story is a mixture of amiable characters and their purity. The actors can tease out every facet of their characters without resorting to stereotypes.
Adding to this stellar cast and wonderful book is Gordon Edelstein's flawless direction and his expert design team. Alexander Dodge's set is a realistic interpretation of a dated house with an owner who is reluctant to step into the future and Philip Rosenberg's lighting both complements the set and sets a lovely mood that fosters the transformation of Eleanor's house and personal life. Kudos also to costume designer Jess Goldstein for her wardrobe choices for each character. Claire Zoghb's stunning program cover captures a younger barefoot Eleanor standing in the house she grew up in, ready to let her future drive off without her.
Don't miss Fireflies at the Long Wharf Theatre. The play runs through November 5 at Long Wharf Theatre, 222 Sargent Drive, New Haven. Hopefully, it will make its way to Broadway with this terrific cast and crew intact. For tickets call 203-787-4282 or visit www.longwharf.org.
Photo by T. Charles Erickson
Sherry Shameer Cohen is an award winning parachute journalist and blogger who is always looking for more challenging work. Her articles and photos have appeared in Connecticut Magazine, Greenwich M... (read more about this author)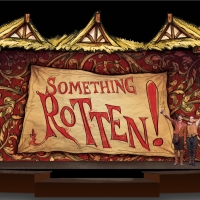 Previews: SOMETHING ROTTEN! at Westhill High School

November 14, 2022

You won't believe the performers are students in this otherwise professional production of a Broadway favorite.
---
Review: LEND ME A TENOR at Music Theatre of Connecticut

November 6, 2022

Ken Ludwig's hilarious Lend Me a Tenor is thrilling audiences at Music Theatre of Connecticut. If you've seen this show before, you really need to see this production. The book is strong and clever enough to survive any ensemble and any director, but this production features an all-professional cast and exceptional direction by Pamela Hill.
---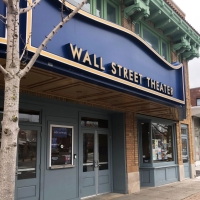 Feature: Top Talent at Wall Street Theater in Norwalk

October 7, 2022

Are you looking for a terrific place to go for date night, girls' night out, birthday celebration, or just have a great time? Then it's time to discover the Wall Street Theater in Norwalk. BroadwayWorld was curious about it and popped in to see one of its shows in the BMW of Darien Comedy Series lineup. It blew us away!
---
Interview: LIZZIE KLEMPERER now teaches singing lessons in Fairfield County

September 18, 2022

Meet Lizzie Klemperer, professional performer, voice teacher, and new Connecticut resident. All three things are important to people in Westchester and Fairfield County who love musical theatre.
---
Review: THE FANTASTICKS at Powerhouse Performing Arts Center

September 17, 2022

What did our critic think of THE FANTASTICKS at Powerhouse Performing Arts Center?
---