Interview: Daniel C. Levine of WORKING at A Contemporary Theatre Of Connecticut
Great theatre strikes a chord with an audience when it touches on a truth we might overlook or take for granted, because we might pass by it every day. Those great, hidden moments of truth and connection explode onto the stage in ACT's third (only third!) production. For a new theatre, A Contemporary Theatre of Connecticut is certainly ahead of its time, with its reimagined rendition of Working, a musical from Stephen Schwartz ("Wicked," "Pippin," "Godspell"). "Working" celebrates our search for meaning and satisfaction in everyday life.
Based on Studs Terkel's book of interviews with American workers, "Working" captures the everyday working lives of the people that make up our country. Daniel C. Levine, ACT's artistic director has worked with Schwartz to adapt Working to the town Ridgefield, incorporating local stories of the working lives of its community members. I spoke with Levine about his bold new take on this extraordinary work.
You've done a remarkable job specializing "Working" for The Town of Ridgefield. What first inspired you to collect the local stories?
I knew that Stephen's original concept was to pay tribute to the worker that is often times overlooked, or undervalued. And, I thought, "You know, I wonder if there's a way for me to sort of riff on that idea and make it more of a local story. The people that I interact with on a daily basis, or a weekly basis, in Ridgefield. So, I brought that idea to Stephen. Stephen is such an amazing, generous person and artist that he said, "Yeah, I think it's great to make it really appropriate for this community." And, if I could figure out a way to tell their stories in an authentic way, and incorporate it somehow into the show, than he was all for it.
Theatres are now making great efforts to capture untold stories of marginalized communities, and ensuring that everyone feels their voice is heard. How did you make sure the specific people you targeted in the Ridgefield community would represent a diverse range of stories?
It was really important to me to think about those people that I interact with on a weekly basis that maybe I don't think about, or that I haven't said, "You're doing a great job" to. So, one day I happened to be at the CVS, and there's a particular lady at the CVS named Nettie. I find myself always going to her register because she's so friendly. When I left CVS that day I thought, "Oh, that's who I need to know. I need to know what she does. I need to know where she lives, and what does she think about her job? What were her dreams as a kid? Is she happy? Is she unhappy? What's her family like?" It was those people that I felt like I needed to find and to interview. So, it was really just the people that I see, that work hard, that do a great job, and do it with a smile on their face, that I wanted to put together. I tried to make it well-rounded. We had the tree climber because I wanted somebody that was really physical, and that had to do manual, physical labor, and the mason. Then I had people behind registers, like Nettie. I had people behind a steering wheel like, Wayne the limo driver. I wanted a business owner too. I tried to get a wide range of representation of different jobs, different genders, and different ethnicities in Ridgefield.
What was especially nice was how each story transitioned into the next. How did you find the commonalities in each story that inspired you to sequence them as you did?
I didn't want Working to be a series of standalone vignettes. I wanted to connect each character to the story before and the story after it.
How did you interview these people?
I asked a series of questions that led them to really open up and to tell their stories. Sometimes, we spoke for 45 minutes, sometimes I interviewed them for two hours. That led to really open, honest, and detailed conversation.
You weaved all of these conversations into a story that really connected. Tell us a bit about your interviewing process. How were you able to capture such candid stories?
First of all, it's about making people feel comfortable, and making people forget that there's a tape recorder or a camera near them. That's what Studs Terkel was so skilled at. Which, was where all this came from in the first place. Once they felt comfortable, they started opening up, talking to me like a real person, rather than just answering questions.
Each story was such a joy to watch, and to hear what made people so happy to do what they do. What were some questions you asked to capture the "spark" in people, why they love doing what they do?
I would ask, "When you were in middle school or high school, what did you dream of being back then? Did you think you were going to be a tree climber? Or, did you think that you were going to be a famous soccer player? Did you think that you were going to have a family? What did you think about when you were in eighth grade?" And that led to, "Huh, actually when I was in eighth grade, I wasn't even in school. I only went to school up till fifth grade." And then that would lead to new stories. When they started talking about something that they're passionate about, that was the common thread: these people are all passionate about their work, whatever it is. That's when they light up.
It was just a matter of me helping them get to that point. And then as soon as we landed on something that they were excited about, you know, their whole face changed, and their eyes changed, and their voice changed. There was a total excitement about wanting me to understand what their experience was like.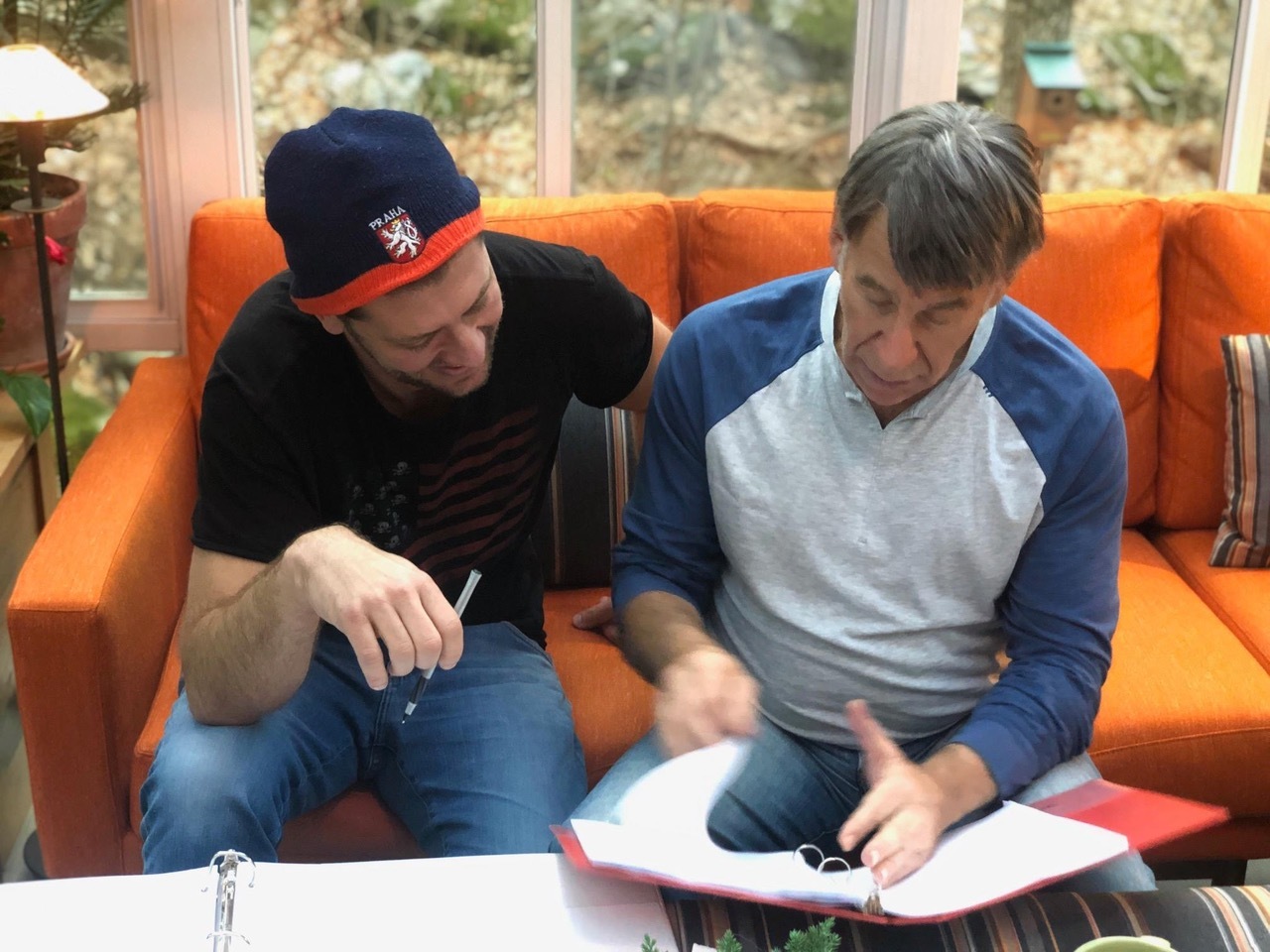 When you were interviewing people, did any surprising stories or remarks come up that led you in a new direction? What was the most surprising part of any of these interviews that you found?
The most surprising interview was with the waitress. I picked her because I have breakfast there every Saturday, and she's always my waitress, and she's always smiling, and she's always funny, and she's always quick, and she's always running around. I think that she's got the best personality ever. and a hard working employee. But, in the middle of that interview, when we were talking about the restaurant, I just happened to say, "Do you have any children?" And, everything changed. That's how we developed the whole story that you heard, "My son is 22 years old. I left him when he was just six years old. And, I miss him, and I'm very sad. See, you think that I'm happy, you see me in the diner and I look happy, but inside I'm very sad. I think I'm very, very sad."
Was it a difficult decision to include that story in the production?
At first I thought, "Is this too sad to include in this musical?" But, I think that I would be doing a disservice if I didn't include it. It did change a little bit of my trajectory, and how I wanted to tell the stories, but I think in a positive way.
What really made these stories come alive was your use of multimedia and projected images on screens. How did you decide to collect and use all of this footage?
ACT is still a brand new theater. This is only our third production. So, media and video is not something that we had already installed in our theater. It was an idea that I had specifically for Working. It was challenging getting these systems in place. the interview process was two-fold. It was me interviewing them, and just getting an audio , and then, me sending a camera crew to their job, to actually film them.
What made the show especially seamless was how your actors interacted with the multimedia footage.
I had ideas about, for example, the tree climber. Like, "I want to see 12 different images of him at work, on 12 different surfaces, or 12 different TV screens." And then when the actor playing the tree climber pushes them together, on a certain word, I wanted it to explode into one big image. The challenge was all about pre-production, and having a very clear vision.

Your cast was extremely versatile, playing a range of nearly 30 characters. So, were you looking for anything specifically when you were choosing these actors?
I wanted six people to play all of these roles. We had over 700 people audition for, Working. What was important to me is versatility. One actress who had to play a 70 year old teacher, also had to play a very energetic waitress.
Choreography was definitely a key part of telling this story. How did you work with your choreographer to make these scenes come alive?
Chip [Abbott] and I had many pre-production meetings. Chip didn't want it to feel "dancy," He wanted it to be based on real life movement, so the audience would feel that these are these real workers, these real characters, these real people in an elevated or escalated movement from their every day movement."
Stephen Schwartz is also one of your theatre's artistic advisors. What has it been like working with Stephen on his musical?
He's a very generous artist. He is not precious with his material. If he thinks, "Oh, this might work really, really well, maybe even better, I'm all for it." I'll bring him an idea, and he'll say "I'll tell you right now. This will work really well, and this won't work at all so you should not even think about it. And, this, let's talk about." He knows exactly what works and what doesn't work. And, that's I think that's one of his gifts; is that he knows how to find talent, and nurture that talent. He won a special Tony award for nurturing a future artist.
What was it like for the people whose stories you've share to see the production?
A couple of them ... like, it took a few seconds for some people to fully comprehend that, that was them on the screen. It didn't register at first. Then all of a sudden they're like, "Oh my God, that's me." And it just ... they are so thrilled. And, you know a lot of them were really sort of concerned before. Like, "Oh, am I going to look okay, make me look good. Am I going to sound stupid? Am I going to sound intelligent?" And, I asked them all, I said, "Just trust me that my goal is to honor you and to pay tribute to you and your hard work. And, if you can just trust me, I promise that it will be thrilling for you, and for the audience." And, I think I've achieved that.
One of the most poignant moments in the show, is the song "Fathers and Sons," which you completely made new by featuring three local high school students' stories. What gave you that idea? And, what was that like talking to them?
"Fathers and Sons" was one of my favorite songs in Working. I wanted to find a way to bring America's future ... the next generation of workers into the show somehow. And, I thought that before, Fathers and Sons, was a great way to have these kids in it. So, I interviewed three kids from Ridgefield High School and I was blown away really, by their honesty and the pressure that they're feeling - getting a job, or owning a house, or having a family. Then, it just happened that a couple of them started talking about their relationships with their fathers. And then one of them, I didn't know, his father lives in China, as you heard. Because, he makes more money in China than he does in America. And, that's why their family is separated. And, I thought that, that's the perfect lead in to, Fathers and Sons. It was important for me to make sure that the next generation of workers had a voice in the show.
Do you find that after the show, people end up talking about their own jobs? Has anyone said anything to you about how these stories affected them?
Yeah, we're getting a lot real thank you's. "Thank you for doing this. This is an important show. How can we get everybody to see this?" And the workers that I chose are really thrilled, which is awesome. My goal was to bring attention to these people.
It sounds like you've made quite an impact. How do you think the message of Working will continue to affect your town?
I think that the town is really shifting, and really understanding, "Wow, I need to slow down and look who's around me. And, not only maybe count my blessings because I don't have to do some of the things that other people have to do. But respect, and honor, and look people in the eye, and say, 'Thank you.'" It's sparked something, which is great.
So, obviously you've started something really big with this. What are your plans for this? Can you see yourself expanding on these local stories, or adapting your show for other towns?
This production will certainly end on March 10th. But, what Stephen is really excited about is that, he feels that this was such a successful production, that he feels as though this could feasibly be a template for other regional theaters, other productions to follow.
That would be a great way for other towns to also pay tribute to their overlooked members, as you have. You must be really proud of how you've adapted this musical and made it not only engaging, entertaining theatre, but so immediately relevant.
Daniel: It's been a true labor of love. The goal was to really pay tribute. I'm really proud that we took a chance on this musical. It's been one of the most fulfilling shows that I've ever directed.
ACT's production of Working has certainly sparked something, and this reworked musical is not to be missed. See it for an unforgettable night of theatre, and perhaps an unexpected glimpse into a day in the life of someone you might interact with every day.
Tickets are on sale now at actofct.org for "Working" which runs at the ACT (A Contemporary Theatre) of CT from February 14 - March 10, 2019. ACT of CT is located at 36 Old Quarry Road, Ridgefield, CT. Visit actofct.org for further information.