BWW Review: SNS Puts a Unique Stamp on Sondheim's ASSASSINS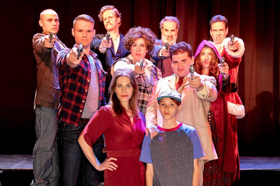 There's enormous pressure in reviewing the Short North Stage's most recent production, ASSASSINS. Imagine looking out onto the stage where John Wilkes Booth brandishes a pistol at the audience only a few feet away while the balladeer (Patrick Beasley) sings, "Some say it was your voice had gone, some say it was the booze. Some say you killed a country, John, because of bad reviews" in the song "The Ballad of Booth."
Fortunately, neither the voice of Booth (Travis Smith) nor any other members of the 11-person cast in the Short North Stage's production are diminished. Each one of the actors tells a different story of those misguided souls who tried to kill the President of the United States. The two-act, two-and-a-half hour musical opened on May 31 and runs through June 24 at the Garden Theatre (1187 North High Street in downtown Columbus).
ASSASSINS has had a mixed life for a Sondheim musical. It lasted only 73 shows on Off-Broadway before closing in 1990. The show was rescheduled for a revival at Roundabout Theater Company on Broadway in 2001 but producers got cold feet in the wake of the Sept. 11 attacks and shelved the show until 2004. The revamped production of the show, which starred Neil Patrick Harris as the Balladeer/Lee Harvey Oswald, captured five of the seven Tony Awards it was nominated for including Best Revival and Best Featured Actor in a Musical (Michael Cerveris as Booth).
The musical could be described as a light-switch musical. Similarly to his INTO THE WOODS and SWEENEY TODD, Sondheim switches the mood of this musical from dark songs as "Something Just Broke" and brooding characters like Leon Czolgosz (played by Nick Lingnofski) to the outrageously upbeat "The Ballad of Guiteau" and riotous portrayals of Sara Jane Moore (Vera Cremeans) and Lynette Squeaky Fromme (Megan Valle), who tried to kill President Gerald Ford within 17 days of each other in 1975. Valle and Cremean's take on preparing to shoot Ford while downing cans of Tab and taking out buckets of KFC is one of those surreal musical moments you never forget.
Director Gina Handy Minyard assembled an outstanding cast and put some unique thumbprints for this version of the show. Scott Emerson plays Charles Guiteau, the man who killed President James Garfield, with a wild-eyed abandon. Todd Covert reprises his role of Sam Byck, who planned to kill President Nixon by hijacking a plane and flying it into the White House, from a 2014 Red Herring production of ASSASSINS.
Rounding out the list of unsuccessful assassins are Steven Michael Mooney as Giuseppe Zangara, the would-be shooter of Franklin Roosevelt, and Skylar McNeely as John Hinckley, who tried to take out President Ronald Reagan in 1981,
Minyard adds some distinctive touches, casting Melissa Brobeck as the proprietor, who supplies the assassins with the courage and weaponry needed to take down the president, and Leia Gersing as a youngster who seemingly has an endless cache of pistols in a student's backpack. Brobreck provides a seductive inner voice that spurs on the shooters. The inclusion of Gersing almost seems to be a commentary on how easy it is to get guns in America.
However it is the haunting "Something Just Broke" that provides the show's signature stroke. Brobeck stretches out a sheet on a clothes line, which becomes a movie screen. Images of the Kennedy assassination segue into footage of the recent Las Vegas tragedy and school shootings at Sandy Hook, Columbine, and Santa Fe.
The song then blends into a reprise of "Everyone Has the Right to be Happy." As the lines "Free country means that you get a voice. Scream and holler! Grab 'em by the collar! Free country means you get to connect" reverberate of the Garden Theater walls, the circle of assassins spread out to reveal Gersing holding a pistol aloft and firing.
Perhaps, it's a warning shot to which we all should listen.
The Short North Stage presents Stephen Sondheim's ASSASSINS at 8 p.m. May 31-June 2, 7-9, 14-16 and 21-23 with 3 p.m. matinees on June 2-3, 9-10, 16-17 and 23-24. Call 614-725-4042 for details.
Related Articles View More Columbus

Stories

Shows