Youth Music Culture Guangdong Musicians Rise To The Challenge Of A Beethoven Marathon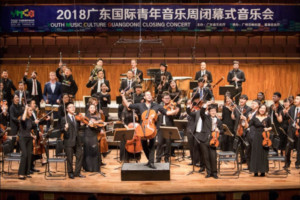 The second annual Youth Music Culture Guangdong (YMCG) drew to a close on January 19th with a six-hour marathon concert "from Beethoven to the Unexpected." Young musicians performed a total of 30 works, including chamber music and improvisation performances. The marathon's culminating masterpiece was Beethoven's Symphony No. 3 ("Eroica") under the baton of Music Director Michael Stern with faculty, including Artistic Director Yo-Yo Ma, at the back of their respective sections.
The Beethoven marathon presented a significant challenge for the young musicians. Nevertheless, Yo-Yo Ma believes they embodied and exhibited courage. "Music brings people courage and hope. Here in Guangzhou, the people and the musicians all have courage." Ma was delighted Guangzhou engenders a "safe" environment for musical creativity, providing the space to organize such a bold experiment as a musical marathon. In this setting, there was no hierarchy separating faculty, fellows, and YMCG musicians: they all learn from each other.
Under the guidance of the Maestro Long Yu, Chairman of the YMCG Artistic Committee and Music Director of the Guangzhou Symphony Orchestra, Shanghai Symphony Orchestra, China Philharmonic Orchestra, and Beijing Music Festival, the second annual YMCG invited 15 top artists and scholars to join the faculty, including Edgar Meyer, Pamela Frank, Wu Man, and Silkroad Ensemble members. YMCG Founding Partner from 2017, Volkswagen Group China's AEP-China, continued to support this year's project.
Youth Music Culture Guangdong (YMCG) is nine days of exploration, conversation, and performance, dedicated to the creation of creative and flexible musicians, who think actively about why their music is needed and how to serve that need. The YMCG faculty conducted chamber music masterclasses, coaching, Silkroad improvisation workshops and Beethoven's Symphony No.3 rehearsals with young musicians. In total, more than 200 sessions were held during the period. Artistic Director Yo-Yo Ma says, "I believe that any musician or artist should not only be technically proficient, but also be mindful of the power of their art and the need for it in the world."
YMCG was open to musicians and students between the ages of 18 and 35. 65 students and 6 fellows attended this year's initiative. YMCG is presented by the Department of Culture of Guangdong Province and organized by the Guangzhou Symphony Orchestra and Xinghai Concert Hall.