Click Here to Visit the College Center

Blogs are the opinions of the authors and do not necessarily reflect the opinions of BroadwayWorld. BroadwayWorld believes in providing a platform for open and constructive conversation.

Student Blog: Midterms and Musicals
As I am writing this, I am sitting outside looking out at the lake, despite it being a toasty 61 degrees outside today.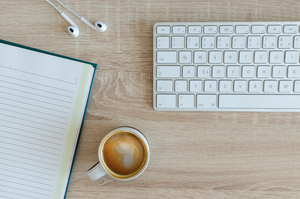 This is my first year at college. It can be both exciting and at the same time anxiety-inducing. After finally getting through the fear of move in, a new fear has formed: midterms. While I had semester exams throughout high school, those only accounted for a small portion of my grade. If I didn't do amazing on those, I had grades from other assignments throughout the semester that served as a cushion. That is not the case now. Now my midterms can count from 15% of my grade to 30%, and I have very few assignments that can serve as a cushion. It's a scary thought to deal with and leaves me feeling panicked, frantically studying as I try to give myself the best chance to pass these exams. In order to cope with this stressful time, I've developed some different ways to deal with the stress. I'd like to share a few different ways of how I cope with these stressful times, and maybe my methods could help whoever is reading this as well.
The first way I have been coping with the stress of midterms has been writing. While writing this blog post I can just focus on getting my thoughts down into words, rather than worrying about the coming exams. I also write narratives. I put myself into a different world, express my emotions through different characters and allow myself to be somewhere not here. It helps too to find a place other than my dorm room, where I do most of my studying, to write. As I am writing this, I am sitting outside looking out at the lake, despite it being a toasty 61 degrees outside today. The changes of setting helps me to separate what I consider "me time" from the time I am studying. Writing this blog post and writing creatively is still something that I consider productive, but it is something productive that I enjoy.
A little less productive way I handle stress is watching musicals. It's probably not surprising that I am a musical lover when I am a student blogger for Broadway World, but I have loved musicals for as long as I remember. In a similar way to writing, watching and listening to musicals allows me to put myself into a story that isn't my own. I usually switch between two comfort musicals. The first being The Phantom of the Opera (25th-anniversary cast) and the second comfort musical is Hamilton. Luckily both are easy for me to watch without having to go to the theater, because the 25th-anniversary recording of The Phantom of the Opera is available on Prime, and Hamilton is available on Disney Plus. Neither of these are necessarily happy musicals that would make sense for being a comfort musical, but watching musicals give me a sense of calm. For the two-plus hours that the musical lasts, I don't need to think about anything other than what is happening on my screen.
These are just two ways that I am dealing with the stress of my upcoming midterms, and hopefully, once I can feel proud of how I did on them. I am by no means a pro at college midterms, and the ways that I deal with my stress probably won't work for everyone. But I hope that maybe someone who reads this will decide to try writing, or rewatching their favorite musical the next time they feel stressed.