Click Here to Visit the College Center

Blogs are the opinions of the authors and do not necessarily reflect the opinions of BroadwayWorld. BroadwayWorld believes in providing a platform for open and constructive conversation.

Student Blog: Favorite Songs Ranked
I decided to list out what I think are my ten favorite songs (1 being the top favorite), along with some commentary.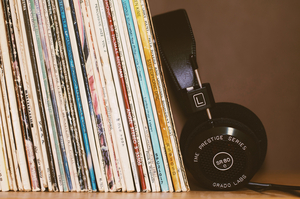 After viewing my Spotify Wrapped, I noticed how much my music tastes changed from the beginning of the year to now. Up until July, I was primarily listening to songs from musical soundtracks, but after that, I began to listen to other styles of music. However, the musicals greatly skewed my Spotify Wrapped. To remedy this problem, I decided to list out what I think are my ten favorite songs (1 being the top favorite), along with some commentary.
10. "The Last Time" - Taylor Swift: Red (Taylor's Version)
I wouldn't say that I am a huge Taylor Swift fan. I go through phases of listening to a few of her songs, and then not listening to them at all. However, this song hits differently to me than all her others. I have never gone through any type of breakup, yet I somehow am able to relate to this song.
9. "Ordinary Day" - Ben Barnes: Songs for You
Did I originally listen to this song just because I loved Ben Barnes in Shadow and Bone? Yes. Do I now listen to it because it is a good song? Yes. This song makes me think of so many books and makes me think of the feelings I want to convey when I am writing short stories.
8. "From the dinner Table" - Harry Styles: Harry Styles
7. "Fine Line" - Harry Styles: Fine Line
6. "Falling" - Harry Styles: Fine Line
All three of these Harry Styles' songs remind me of one of my favorite books, and now I can't stop listening to them. I think I am slowly becoming a Harry Styles fan.
5. "Rise Up" - Ben Barnes: Songs for You
I don't listen to this song often, but as the title suggests, it is an uplifting (yet sounds sad) song. The main theme is to "rise up" past the things that are bringing you trouble.
4. Silhouette" - Aquilo: Silhouettes
I first listened to this song my Freshman Year of high school (four years ago) and no matter how many different "repeats," or "favorites," etc. playlists I make, this one always ends up on it. It is a song that I can constantly listen to, and never grow tired of it.
3. "Kill Our Way to Heaven" - Michl: Michl
My friend played this song one day, and it immediately went onto my "Repeats" playlist on Spotify. His response to when we told him how good the song is: "I only listen to Bangers." This song matches the vibes of some of my favorite books, like many others on this list, and has now become one that I listen to regularly.
2. "I Found - Acoustic" - Amber Run: Pilot EP
Once again, I found this song because of a friend. She had her playlist on while we were cooking pumpkin bread, and I had to stop what I was doing because of this song. It reminded me of my favorite books and movies, as well as feeling relatable, even though I have never had an experience like what the song was about. It is truly a beautiful song, and I cannot stop listening to it.
1. "Achilles Come Down" - Gang of Youths: Go Farther in the Lightness
I found this song because of BookTok in February. Ever since then I have listened to it whenever I am driving to school or to work. Now it is always one song I set to play when I am listening to music. It is a sad song, but it has some uplifting quotes that have helped to get me through tough times. This song was also my topped played on my Spotify Wrapped, as I listened to it a total of 223 times this past year.