All-Male Ballet Company Les Ballets Trockadero De Monte Carlo Return To The Auditorium Theatre
Returning to the Auditorium Theatre for the first time in 25 years, the world's leading all-male ballet company remains en pointe and on point.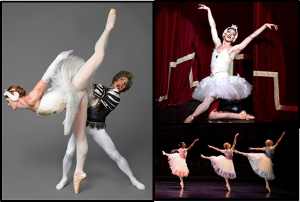 The Auditorium Theatre (Chicago's landmark stage at 50 E Ida B. Wells Drive) presents Les Ballets Trockadero De Monte Carlo, known by their fans as "The Trocks," in a one night only performance Saturday February 11, 2023 at 7:30 PM.
As the world's leading all-male ballet company, Les Ballets Trockadero De Monte Carlo proves that men too can be beautiful, graceful - and hilarious - while dancing on tiptoe, or en pointe. The Trocks blend drag, satire, comedy, and rigorous technique to both parody and lovingly pay homage to classical ballet aesthetics. Performing the male roles and the female roles en travesti, or in drag, The Trocks tackle everything from ballet's most enduring choreography like Swan Lake to modern dances and commissioned works.
Every member of The Trocks performs under both a male and a female persona each with its own name and backstory like Anya Marx, the proprietress of America's only mail-order course in ballet; Minnie Van Driver, who has a strong sense of movement; and the Legupski Brothers, who are neither Russian nor related. Company dancers perform every role authentically whether their character demands a tutu or extra tendus.
"Here at the Auditorium Theatre, we take dance seriously!" says Auditorium Theatre CEO Rich Regan, "which is why we are excited to present The Trocks - who are both serious dancers and seriously hilarious- to our audiences. The Trocks will spark delight for studied ballet aficionados and dance newbies alike."
The Les Ballets Trockadero de Monte Carlo program includes*:
Le Lac Des Cygnes (Swan Lake, Act II)
Music by Pyotr Ilyich Tchaikovsky
Choreography after Lev Ivanovich Ivanov
Swept up into the magical realm of swans (and birds), this elegiac phantasmagoria of variations and ensembles in line and music is the signature work of Les Ballets Trockadero. Perhaps the world's best-known ballet, its appeal seems to stem from the mysterious and pathetic qualities of the heroine juxtaposed with the canonized glamour of 19th century Russian ballet.
Cast:
Benno - Tino Xirau-Lopez (friend and confidant to)
Prince Siegfried ­- Dmitri Legupski (who falls in love with)
Swan Queen - Varvara Laptopova (Queen of the)
Swans - Artists of the Trockadero (all of whom got this way because of)
Von Rothbart - Yuri Smirnov (an evil wizard who goes about turning girls into swans)
Go for Barocco
Music by J.S. Bach
Choreography by Peter Anastos
Stylistic heir to Balanchine's Middle-Blue-Verging-On-Black-and-White Period, this ballet has become a primer in identifying stark coolness and choreosymphonic delineation in the new(neo) neo-new classic dance. It has been called a wristwatch for Balanchine clock-time.
Cast:
First Movement (Moderato) - Eugenia Repelskii and Helen Highwaters with Minnie van Driver,
Ludmila Beaulemova, Maria Clubfoot, and Grunya Protazova
Second Movement (Adagio) - Eugenia Repelskii and Helen Highwaters
Third Movement (Allegro) - All
Paquita
Music by Ludwig Minkus
Choreography after Marius Petipa
Staged by Elena Kunikova
Paquita is a superb example of the French style as it was exported to Saint Petersburg in the late 19th Century. Choreographer Petipa commissioned Ludwig Minkus, to write additional music added to the original work. The resulting Pas de Trois and a Grand Pas de Deux are the only fragments of Paquita that have been preserved. The dancers display a range of choreographic fireworks, which exploit the virtuoso possibilities of academic classical dance, enriched by the unexpected combinations of steps.
Cast:
Ballerina and Cavalier - Nadia Doumiafeyva and Jacques d'Aniels
Variation 1 ­- Maria Clubfoot
Variation 2 - Minnie van Driver
Variation 3 - Elvira Khababgallina
Variation 4 - Ludmila Beaulemova
Variation 5 - Varvara Laptoova
Variation 6 - Nadia Doumiafeyva
*Program subject to change without notice.
Les Ballets Trockadero De Monte Carlo performs at the Auditorium Theatre Saturday February 11, 2023 at 7:30 PM. Tickets are $30-$76 and are now available at auditoriumtheatre.org or by calling 312.341.2300, or at the Box Office at 50 E Ida B Wells Drive in Chicago, IL. Click here for phone and in-person hours.
Discounted tickets for groups of 10 or more people are available. The Auditorium Theatre offers $20 student rush tickets to full-time college students and $5 tickets to young people ages 13-19 with Urban Gateways' Teen Arts Pass program. The Auditorium also offers a Student Savings Club for both college and high school students. The Auditorium Theatre's ADMIT ONE program offers complimentary tickets to Chicago-area community groups.