BWW Review: AN EVENING WITH GROUCHO at Gretna Theatre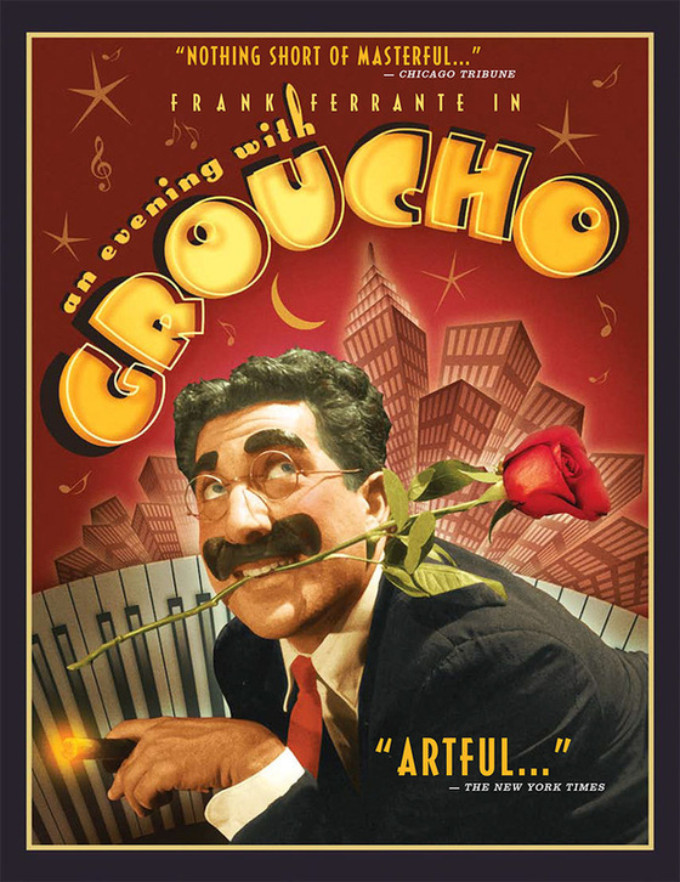 My recent experience at Mt Gretna's production of An Evening with Groucho proved to be a perfect reminder of how a single individual can make or break your night at the theater.
Frank Ferrante stars as Groucho Marx in a wonderful one-man show about the comedian's life and times. At the beginning of the show we see Ferrante come out as himself, and apply the greasepaint, tousle his hair, and bite his cigar as part of the transformation. It was a remarkable metamorphosis with his voice, his mannerisms, and his facial expressions without flaw.
Groucho shares some stories from his life including how the Marx Brothers got their nicknames, how their stage shows differed from their movies, and why Margaret Dumont was such a joy to work with. Along the way, he peppers the monologues with famous lines from the movies such as the classic one about shooting an elephant in his pajamas.
He also sings many of his famous (and not so famous) songs like "Hurray for Captain Spalding" and "Lydia the Tattooed Lady". For the most part these songs were fresh, fun and welcomed. However, a few of the lesser known ones seemed to drag during the second act.
In addition to being an excellent Groucho impersonator, Ferrante also has a razor sharp wit when it comes to improvisation. He spent a substantial amount of time interacting with the audience in character. Two of my favorites bits involved him stopping the show to buy a coffee for a sleepy audience member, and an off the cuff comparison between Mae Wes's chest and two bald men.
An Evening with Groucho was great, but I would be remiss if I did not also talk about another individual who put a damper on my theater experience.
I arrived on the grounds of the outdoor parking lot at 6:55pm for the 7:30 show. I waited patiently for the parking lot attendant to catch my eye and point me towards the direction that I needed to go. After several minutes of avoiding eye contact, she walked up to the window and said in a condescending tone "The lot is full. Next time you'll learn to get here earlier".
I was both put off by her rudeness, but also confused as to how arriving 35 minutes prior to curtain was considered running late. The attendant did not give me any alternatives for parking, so I was on my own. I drove around, and finally parked on the side of a busy road like many others. I was not so much worried for my own safety, but more so for some of the elderly audience members who were forced to park in this potentially dangerous area late at night.
For next year, I recommend that Mount Gretna either limit ticket sales to parking capacity or have a clearly marked alternative location for parking overflow. In either case, please ensure that your staff are both knowledgably and courteous. A single person has a greater impact than you might think.
The show runs through August 26. Tickets and more information can be found on the theater website. I have no clue how early you need to arrive to park in their lot.
Related Articles View More Central Pennsylvania

Stories

Shows