Review: THE WIZARD OF OZ is an Astonishing Acrobatic Adventure at Syracuse Stage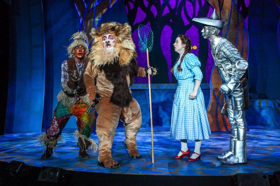 The holiday production at Syracuse Stage is always a family favorite to look forward to and this year is no different. Syracuse Stage and the Department of Drama have joined forces with New York City-based 2 Ring Circus to bring a twist on the iconic story of The Wizard of Oz. Cleverly directed by Donna Drake, The Wizard of Oz comes to life with all the familiarity of the 1939 film starring Judy Garland, but with a unique infusion of acrobatic arts into the story and choreography. The end result is truly hypnotizing.
L. Frank Baum story about Dorothy's journey down the yellow brick road and those she meets in the land of Oz comes to life in the musical production featuring music and lyrics by Harold Arlen and E. Y. Harburg, along with background music by Herbert Stothart. This version was adapted by John Kane for the Royal Shakespeare Company and is based on the classic 1939 film. The musical also features dance and vocal arrangements by Peter Howard with orchestrations by Larry Wilcox.
The choreography and acrobatic maneuvers that 2 Ring Circus provided bring the story to an entirely new level, and it is for the better. 2 Ring Circus founding members Ben Franklin and Joshua Dean dazzle us with their acrobatic creativity. Along with Donna Drake's detailed direction, they enable some very unique and fabulous performances throughout the show.
Take, for instance, Glinda as a trapeze artist. She is played by the 2 Ring Circus member and Syracuse University Department of Drama alumna Lani Corson. Glinda comes and goes on a hoop with dramatic flips and turns. Corson is breathtaking in the role as she effortlessly and gracefully performs acrobatic moves in the air, even while singing. Her strength, grace, and comedic charm are assets for portraying both Glinda and Aunt Em. Ben Franklin also stars as The Emerald City Guard spinning 28 hula-hoops at once while still walking. The performance I attended on opening night did feature a stray hula-hoop rolling offstage; however, Franklin kept on going and performed very professionally. Franklin also portrays Uncle Henry and a crow. Franklin is a true entertainer.
Linda Buchanan's scenic design brings the iconic story to life utilizing every inch of the stage to create Dorothy's farm, Munchkinland, the Emerald City, and all the other familiar places. Herrick Goldman's lighting sets the tone for many of the scenes and adds a lot of dramatic flair.
Jessica Ford's costume design and Dave Bova's wig design bring the familiar characters to life in a unique way. The costume design incorporates clothing that highlights the circus-like elements of the production. Glinda typically wears a huge overpowering ball gown, but here she wears a short bubble skirt and a crop top that perfectly match her mauve colored hair. Dorothy still has the traditional blue and white checkered dress and, of course, the ruby red slippers.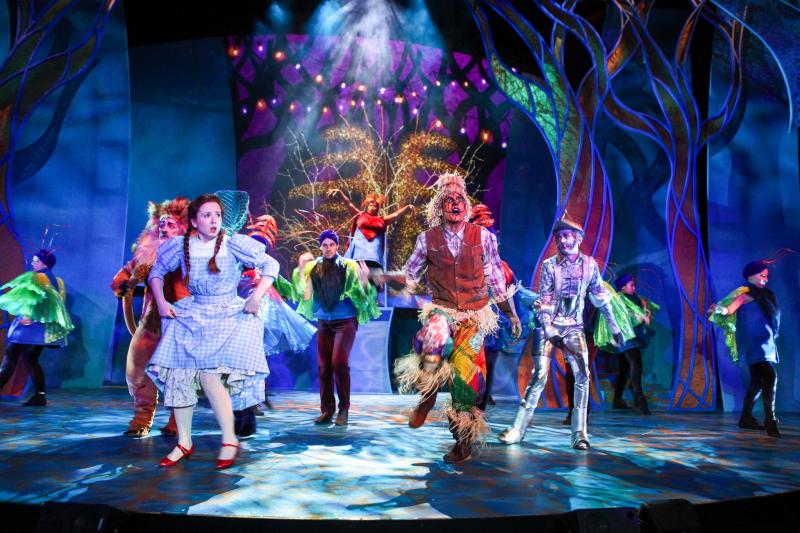 Another wonderful thing about the Syracuse Stage holiday production is that it showcases students of the fabulous Syracuse University Department of Drama performing side by side with professional Equity actors. This production ups the ante even more with the inclusion of trained circus performers. The students have such an amazing opportunity to learn not only from professional actors, but also the circus performers. They learn some acrobatic moves to add to their resume.
The students make the most of their time in the spotlight. Kate Jarecki, a sophomore, stars as Dorothy Gale and she does not disappoint in the iconic role. Jarecki's vocals are mesmerizing as she sings "Over the Rainbow" and skips merrily down the yellow brick road showing off her wide-eyed confident charm. Her sweetness and intellect shine through every moment she is on the stage.
Crawford Horton, a junior musical theater major, plays the Scarecrow longing for a brain. He is highly comedic in the role and shows off his unforgettable dance moves in "If I Only Had a Brain" while being taunted by the crows on a bar above. Horton steals the spotlight with every dance move and line.
Drama Department student Tucker Breder charms as the Tinman, especially as he performs "If I Only Had a Heart." His confidence, effortless dancing, and powerful vocals ensure a highly memorable performance. His powerful vibrato shines in each note. He performs with such mature professionalism.
Brian Michael Hoffman, a professional actor, plays the Cowardly Lion. He confidently struts about the stage in "If I Were King of the Forest" and performs "If I Only Had the Nerve" hilariously and dramatically. Hoffman elicits nonstop side-splitting laughter from the audience with each and every squeal, roar, and line.
Professional actor and Professor of Practice in Syracuse University Department of Drama, David Lowenstein, entertains the audience as Professor Marvel and The Wizard of Oz. His performance is an example of character acting at its best. Every move and every line is perfectly performed. Katherine Freer's projection design provides a pre-recorded close up of Lowenstein's face as The Wizard of Oz talking to Dorothy and her friends. His facial expressions in the projection are over the top and pure perfection. Lowenstein once again shows off his comedic abilities.
Amy Jo Jackson is confident, poised, and perfectly mean as The Wicked Witch of the West. She delivers spot on killer glares, snarls, evil laughter, and dramatic entrances and exits.
The ensemble is phenomenal in various role. They beautifully sing the classic songs "Ding, Dong, the Witch is Dead," "Yellow Brick Road," and "The Merry Old Land of Oz" along with the live orchestra brilliantly conducted by Brian Cimmet. The ensemble also performs intricate dance moves, as well as acrobatic moves in musical numbers such as "Poppies," the highly memorable "Jitterbug," and "Winkies March."
Last, but certainly not least, is Toto played by the adorable terrier named Dusty. He stole the show thanks to the animal director William Berloni. Toto is an obvious audience favorite.
The Wizard of Oz is a timeless family favorite classic story that is bound to conjure up fond memories. I have loved the movie since I was a young child watching it over and over again and performing the musical numbers in my parents' living room. To attend the show with my five-year-old daughter, who was dressed as Dorothy, was a lasting memory and one that can be treasured for years to come.
Syracuse Stage always chooses a production for the Holiday season that is perfect for families to attend and this production is no exception. It is a perfect Holiday treat - a definite must-see.
Running time: Approximately two hours and twenty-five minutes with one twenty-minute intermission.
The Wizard of Oz runs through January 7, 2018 at the Archbold Theatre at the Syracuse Stage/SU Drama Complex. Syracuse Stage and the Department of Drama team up with New York City-based 2 Ring Circus.
For information on 2 Ring Circus click here.
For tickets and information on this production and upcoming productions at Syracuse Stage click here.