BWW Review: Knowing is Only HALF THE BATTLE with DIY and Sage Theatre Companies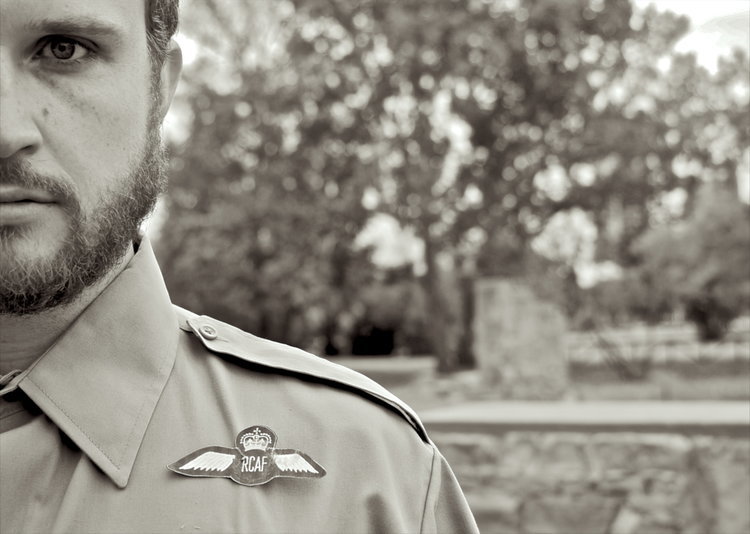 You step into a small, dark room devoid of sound, and the only light is illuminating your path to your seat as you enter the Motel Theatre at the Arts Commons (one of my favourite places to be because there is a theatre around every corner). The dim lights go black and suddenly there is a man standing at the end of the room. Well, two men actually. Sharing the body of playwright and actor Owen Bishop.
For about sixty minutes, the audience of Half the Battle is transported to WWII but nowhere on a map; instead in a place in between life and death where two men literally share a body. Together they talk, they fight, they learn, and they accept, leading to a very touching ending. With a little makeup, Alberta performer Owen Bishop plays both Adams and Davis, members of the Royal Canadian Air Force, operating as pilot and co-pilot over Europe at the height of the second world war - a unique show for upcoming Remembrance Day.
The show deals with a lot of subjects - especially regarding the fallout of war: those left behind, the government making decisions on behalf of the people, why men and women make the choice to serve their country knowing they may never return. Mainly, it deals with the men on the ground, who face the difficult choices and watch men die by their hands. It's about thinking you can fly above it all when in fact, all it does is give you a better view of the carnage you're reaping. It is two men talking about the way their world works - and perhaps there are parallels to be drawn by a contemporary audience.
With one actor, sixty minutes, and a relatively bare design, the only thing I can say about this production is: "wow!" Owen spent the entire show interacting with only himself and has created such distinct characters and voices. Newfoundland to Alberta and back again is not an easy task - and while it wasn't always perfect - it was incredibly well done. I so admire his focus and talent in establishing the men's personalities and physical quirks and maintaining them.
I love seeing collaborations between different theatre companies, local artists being featured, and new writers telling brand new stories. This show has all of it. I fell head over heels for the concept from the moment the stage lights came up, and that admiration only grew as I reflected on how just a few people came together to bring this production to the Calgary stage (Playwright, designer and actor Owen Bishop; Director Shelby Nicole Reinitz; Stage Manager Kristy Benz; Sage Theatre Mentor Jason Mehmel; DIY Communications Director Christi Dos Santos-Wing; and Sage Stepping Stone Producer Kaleigh Richards are credited with its creation).
When the house lights come up at the end of show, you're not sure how to feel; perhaps a sense of relief that everyone got where they needed to be. A feeling of regret at all the missed opportunities. A desire to know what happens next. Whether curiosity, satisfaction, or a feeling of sadness, you leave the theatre having learned something new and feeling like a weight has been lifted.
I would like to congratulate Owen Bishop for his amazing creation and wonderful character work.
Half the Battle is running until November 10th at the Motel Theatre and you can get your tickets at www.diytheatre.org/half-the-battle.