TI & TINY: THE FAMILY HUSTLE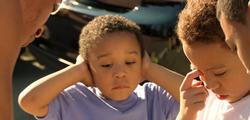 After proving that he still holds the throne, T.I., "The King of the South," continues to take on Hollywood with a recurring role on the Starz hit television series "Boss" and a new movie role starring alongside Jason Bateman and Melissa McCarthy in the upcoming "Identity Theft." Tip proves he is at the top of his game as he prepares to release Trouble & Triumph: A Novel of Power & Beauty, the follow-up to his successful book debut Power and Beauty, and his highly anticipated ninth studio album. Wife Tameka "Tiny" Harris is also making moves of her own this season by expanding her Pretty Hustle brand and working to take her group the OMG Girlz to a whole new level, all while designing a new lingerie line.
All six kids will be back this season, including music hopefuls son Domani and daughter Niq Niq. While Domani works on his rap game as a solo artist, Niq Niq will be making more hit music with the OMG Girlz. After a successful run on the "Scream Tour" and their first single "Gucci This (Gucci That)" blowing up on the charts, the girls are quickly taking the music world by storm.
With two successful parents and a group of kids equally hungry to make it in the game, the Harris family is ready to take on season two on "T.I. & Tiny: The Family Hustle."
Latest Tweets
| | |
| --- | --- |
| 2/28 @ 12:00 PM | VH1 - Dess opens up to Ceaser about how trying to make things right with his mom, Sky, went over. How would you go about… https://t.co/QdLeq1GkvY |
| | |
| --- | --- |
| 2/28 @ 10:00 AM | VH1 - #BlackInkCrew's Young Bae reveals the freehand piece she did for super fan, Jack, in honor of the friends he lost t… https://t.co/I9pTduPjAq |
| | |
| --- | --- |
| 2/28 @ 8:16 AM | VH1 - Get to know the queens of #DragRace Season 12 a little bit more before they sashay their way into our hearts! 🌈 Do… https://t.co/vOeqSHPE0y |
| | |
| --- | --- |
| 2/28 @ 5:43 AM | VH1 - Settling the debate: do you wash your legs in the shower? 🦵🧼 The couples in 2 Cultures, 1 Couple discuss personal… https://t.co/QWSzANLwPk |
| | |
| --- | --- |
| 2/28 @ 4:24 AM | VH1 - .@DennisNia ATE! and that's on #BlackGirlMagic 👑👏🏾✨ |
Latest Articles About TI & Tiny: The Family Hustle on VH1