Warner Bros. Studio Tour Hollywood Kicks Off Brand New Classics Made Here Tour & Exhibit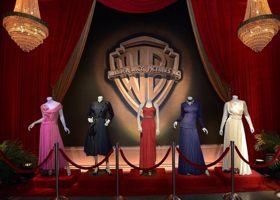 Warner Bros. Studio Tour Hollywood (WBSTH) announced a new addition to the Studio Tour in celebration of Warner Bros.' 95th Anniversary. Beginning May 4, 2018, the Classics Made Here tour and exhibit will take guests back to Hollywood's Golden Age with a tour focused on award-winning titles that have shot on the iconic Warner Bros. Studios backlot throughout the ages. Each tour is led by a specially trained guide, whose passion for TV and filmmaking includes extensive knowledge of Warner Bros.' classic library titles ranging from Casablanca, My Fair Lady, REBEL Without a Cause and TV shows such as Maverick, The Waltons and Batman plus many more. The two-hour intimate tour concludes at Stage 48: Script to Screen, where guests enjoy exclusive access to never-before-seen costumes and props from some of their favorite movies in the Classics Made Here exhibit.
Guests will then board their carts to visit famous backlots, historic sound stages and many of the studio's most famous landmarks. While no two tours are alike, this unique experience brings guests back in time to Hollywood's golden age to re-trace the steps of Hollywood legends, hear stories from behind the studio gates and learn the history of how Warner Bros. revolutionized the entertainment business.
Warner Bros. Studio Tour Hollywood has partnered with renowned film critic and historian Leonard Maltin to help curate and tell the story of classic Hollywood for tour guests. Best known for his famed Leonard Maltin's Movie Guide and its companion book, Leonard Maltin's Classic Movie Guide, Maltin teaches at the USC School of Cinematic Arts, appears regularly on Turner Classic Movies' programming, and hosts the weekly podcast Maltin on Movies with his daughter Jessie for THE NERDIST network. Additionally, he votes on films to be selected for the National Film Registry and was appointed by the Librarian of Congress to the Board of Directors of the National Film Preservation Foundation.
"Our Classics Made Here Tour and Exhibit highlights all the aspects of old Hollywood and brings our guests closer to the classic films and shows they love. We are thrilled to be able to add this new experience to our lineup of tours and give even more reasons for fans to come visit us," said Gary Soloff, WBSTH Director of Marketing.
At Stage 48: Script to Screen, the Classics exhibit pays homage to the legacy of Warner Bros.' footprint in Hollywood and, for the first time, offers a close look at rare, never-before-exhibited costumes straight from the films that memorialized them on the big screen. The exhibit features a re-creation of the Ascot Race scene from My Fair Lady with a costume worn by Audrey Hepburn and imagined by Oscar®-winning costume designer Sir Cecil Beaton. Also debuting publicly for the first time in 75 years are - Ingrid Bergman's costume worn in the famous, "Here's looking at you, kid" farewell scene from Casablanca. Humphrey Bogart, Edward G. Robinson and James Cagney costumes pay homage to the Gangster classics, and the REBEL Without a Cause scene features the original costumes.
The Classics Made Here tour will be available Fridays and Saturdays at select times beginning May 4, 2018 and offered in addition to our Studio Tour (a broad view of both classic and contemporary TV and film) and our Deluxe Tour (providing the ultimate fan experience). Visit wbstudiotour.com to book your tour.
Photo Credit: Charley Gallay/Getty Images for Warner Bros. Studio Tour Hollywood
Featured This Week on Stage Door
Shoutouts, Classes, and More from Your Favorite Broadway Stars
Related Articles
View More TV

Stories