Robert Pattinson, Sean Harris, & More Join Timothee Chalamet in Upcoming Netflix Period Drama THE KING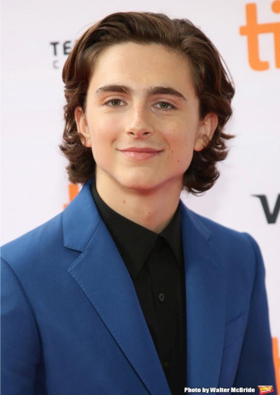 According to the Hollywood Reporter, Robert Pattinson, Sean Harris, Ben Mendelsohn and Lily-Rose Depp have joined Timothee Chalamet and Joel Edgerton in Netflix's upcoming period drama, The King. Sean Harris and Lily-Rose Depp will also co-star in David Michod's Netflix drama.
David Michod, the director behind Netflix's WAR MACHINE as well as crime drama Animal Kingdom, is helming the production, which begins June 1 in the UK, and wrote the script with Edgerton.
Plan B is producing along with Liz Watts, who produced the Michod's ANIMAL KINGDOM as well as The Rover. Edgerton and Michod are also producing.
Inspired by elements of Shakespeare's Henry IV and Henry V, a young, disgraced prince, Hal inherits the crown and must learn what it means to be a king, guided by his one true friend, Falstaff. Edgerton will be playing Falstaff; Chalamet will be playing Hal; Pattinson will be playing The Dauphin; Mendelsohn will be playing King Henry IV; Depp will be playing Princess Catherine; Harris will be playing William; Glynn-Carney will be playing Hotspur; McKenzie will be playing Philippa
Robert Pattinson started his film career by playing Cedric Diggory in HARRY Potter and the Goblet of Fire, a 2005 fantasy film. He later got the leading role of vampire Edward Cullen in the film adaptations of the Twilight novels by Stephenie Meyer.He appeared as a troubled young man in Remember Me (2010) and also starred in a romantic drama, Water for Elephants (2011). His performance as a tough, cold-hearted and calculating billionaire in David Cronenberg's Cosmopolis (2012), earned him critical praise. He also starred in The Rover, The Lost City of Z, Good Times, and Maps To The Stars.
Sean Harris is known for his roles as Ian Curtis in 24 Hour Party People, as Stretch in HARRY Brown, as Micheletto Corella in The Borgias, as Fifield in Prometheus and playing Solomon Lane in Mission: Impossible - Rogue Nation, a role he will reprise in the upcoming sequel Mission: Impossible - Fallout.
Click here to read the full article!
Photo Credit: Walter McBride
Related Articles
View More TV

Stories