DARCY To Make NY Premiere at Awards Closing Night of SR Socially Relevant Film Festival NY 2018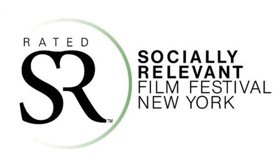 SR Socially Relevant Film Festival 2018(SRFF 2018) wraps up its Fifth Edition closing night with the brief Closing Awards Ceremony immediately followed by the feature film 'Darcy,' a twist on the coming-of-age trope, directed by Heidi Philipsen-Meisner & Jon Russell Cring. The feature was shot in New York and much of the film's cast and crew will be present on the closing evening. 'Darcy' screens at Cinema Village on March 22, 2018, at 7:00 pm. Tickets can be purchased via Eventbrite.
'Darcy' will be preceded by another New York-focused documentary short film, 'That was New York'. This documentary features Academy Award-nominated actor Eric Roberts and explores what makes up New York's essence including the changes in modern times. Earlier in the day, the award-winning Italian documentary 'Talien' will be screened. The rapidly-growing, social-issue based festival is now in its fifth year. SRFF is a multi-faceted event that embodies the cultural values of New York and the world. SRFF 2018 showcases 70 films across an array of platforms from emerging, international and local filmmakers. There will be several spotlight programs, industry workshops, and panels on different regions and issues. N.Y. PREMIERE
Darcy
Heidi Philipsen-Meisner & Jon Russell Cring
USA | 2017 | 96 min
It's summer break and fifteen-year-old Darcy works in her family's motel, a seedy operation on the edge of town. Sustaining the motel is the practice of taking in occupants who until only recently were incarcerated-an arrangement that Darcy's parents make with the Department of Corrections for a price.
Screens on Thursday, March 22, at 7:00 pm. N.Y. PREMIERE
That was New York
Bek Markas
USA| 2017 | 5 min Bek Markas a kid born and raised in New York City goes on a search to speak with his favorite characters who were once just like us trying to make it in this town when 'New York was New York'. Featuring Eric Roberts as an old-time New Yorker.
Screens on Thursday, March 22, at 7:00 pm.

U.S. PREMIERE
Talien
Elia Graziano
Italy | 2017 | 84 min
Italian, Arabic with English subtitles
Father and son take to the road in an old military truck-turned-camper to find new beginnings in old places. Aldo, 60, is Moroccan and his original Arabic name is Abdelouahaba. This film follows their journey back to Aldo's home as a cultural web unfolds upon the screen.
Festival Founder and Artistic Director Nora Armani says, "as much as SRFF is an international film festival, we always love to showcase the vast array of talented, socially relevant filmmakers and projects that are produced right here in New York." Among the other 67 Officially Selected films to be screened in the heart of Greenwich Village are a diverse mix of four narrative features, 14 documentaries, 39 shorts, 10 VR/360º films and more. There is also a script-writing
CONTEST
and readings of excerpts from finalist scripts. The films represent 35 countries. Visit www.ratedsrfilms.org for schedules, film synopses, and filmmaker bios. The Awards Ceremony and screening of Darcy at Cinema Village are followed by an afterparty at Doux Supperclub featuring appearances from International and NYC filmmakers, as well as industry guests and veterans. ABOUT SR SOCIALLY RELEVANT FILM FESTIVAL NY
SR Socially Relevant ™ Film Festival New York is a 501(c) 3 non-profit film festival founded by actress Nora Armani. The Mission of the SR Film Festival is to shine the spotlight on filmmakers who tell compelling, socially relevant™, human interest stories, across a broad range of social issues. The festival was created as a response to the proliferation of violence and violent forms of storytelling in media and entertainment. During its first four years, the festival showcased 207 films from 35 countries. The current edition features a new set of 70 films. Submissions will open in May. For more information about SRFF 2018 events and sponsors, as well as past festival editions and sponsors, visit www.ratedsrfilms.org.