Latest Articles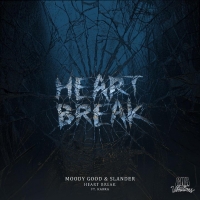 Moody Good & SLANDER Release New Single 'Heart Break'
by TV News Desk - November 05, 2019
Electronic music duo SLANDER (Derek Andersen and Scott Lang) today (November 5) expand the catalogue of their label Gud Vibrations with the release of a new single with a Moody Good & SLANDER collaboration a?oeHeart Breaka?? featuring KARRA....

INF1N1TE Releases Sensational and Addicting EP ENEMY
by BWW News Desk - April 15, 2019
Canadian bass artist INF1N1TE fires off on his Dim Makdebut EP, Enemy. Melodic vocals, invigorating sound design, and head-banging bass are on full display across three ballistic dubstep singles. Buy & Stream here. ...

Spring Awakening Music Festival Announces Full 2019 Artist Lineup
by TV News Desk - March 15, 2019
React Presents is thrilled to announce the full artist lineup for Spring Awakening Music Festival (SAMF) 2019! Following this week's headliner announce, over 60 incredible artists have been revealed to perform at the Midwest's largest all-electronic music festival, which will return to the Chicagol...

1NF1N1TE & Woofax Drop A Sonic Explosion On HEADBANGER
by BWW News Desk - January 22, 2019
With a sonic explosion of power chord dubstep, INF1N1TE & Woofax thrash their way to the front on their wobbling New Noise debut "Headbanger."...

Rampage Returns to Antwerp for 10-Year Anniversary
by TV News Desk - December 05, 2018
Rampage is the biggest drum & bass and dubstep party in the world and it returns to the Belgian city of Antwerp from March 29th to 30th for the 10th anniversary of the event, with another monstrous line-up featuring the likes of Excision, Andy C, Sub Focus, Wilkinson, Dimension, Funtcase, Dion Timme...
'UKF Dubstep 2016' Out Now on UKF
by BWW News Desk - December 02, 2016
A staple since its first edition in 2010, UKF's yearly UKF Dubstep compilation is back for 2016, featuring some of this year's most essential tracks from dubstep and beyond....