| | |
| --- | --- |
| BIO: Loudon Wainwright III grew up in the town of Bedford in wealthy Westchester County north of New York City, the son of Loudon S. Wainwright, Jr., a writer and editor at Life magazine and a direct descendant of colonial governor Peter Stuyvesant. Wainwright became a folk singer/songwriter in the late '60s, singing humorous and nakedly honest autobiographical songs. Signed to Atlantic Records, he recorded Album I (1970) and Album II (1971), accompanying himself on acoustic guitar, before switching to Columbia Records, for which he made the folk-rock Album III (1972), which featured the Top 40 novelty hit "Dead Skunk." Attempted Mustache (1973) and the half-live Unrequited (1975) did not continue that commercial success, though Wainwright's humor and engaging stage persona made him a cult figure and a concert favorite. Meanwhile, his songs were recorded by others, notably Kate (his wife, since divorced) and Anna McGarrigle, and Wainwright appeared in the off-Broadway show +Pump Boys and Dinettes and played a featured role on the successful M*A*S*H television series. He moved to Arista Records for T Shirt (1976) and Final Exam (1978), on which he was backed by a rock band, but departed the major labels for a more appropriate home on the folk-based indie Rounder for A Live One (1980) and Fame and Wealth (1983). Wainwright began to gain more notice in England than in the U.S., and he moved to London in 1985. I'm Alright (1985) and More Love Songs (1986) were co-produced by British singer/guitarist Richard Thompson. Therapy (1989) found Wainwright on the major-label-distributed Silvertone imprint and back living in the U.S., and he signed to Virgin Records' Charisma subsidiary for History (1992) and the live Career Moves (1993). Grown Man, his 15th album, was released in 1995, followed three years later by Little Ship. In 1999, there appeared a collection of topical, humorous songs Wainwright had been composing since the late '80s for National Public Radio, titled Social Studies; the following year, The BBC Sessions collected favorites and new compositions. The Last Man on Earth followed in 2001, and the live album So Damn Happy marked his debut for Sanctuary in 2003. Another studio album, Here Come the Choppers, was released in 2005. It was followed by Strange Weirdos: Music from and Inspired by the Film Knocked Up in 2007 and by Recovery in 2008. ~ William Ruhlmann, All Music Guide | |
Latest Articles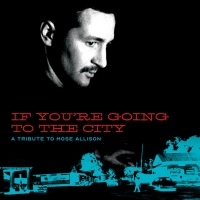 Frank Black and Iggy Pop Celebrate Mose Allison, Out Nov. 29
by TV News Desk - November 11, 2019
Today, on Mose Allison's birthday, Fat Possum Records releases two newly-recorded Allison tracks from IF YOU'RE GOING TO  THE CITY:  A Tribute To Mose Allison, out November 29. Pixies vocalist Frank Black has recorded 'Numbers on Paper,' while punk icon Iggy Pop puts his spin on the title track. IF ... (
more...
)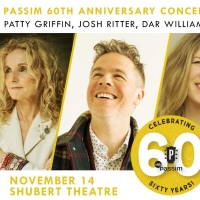 Patty Griffin, Josh Ritter and Dar Williams to Celebrate the 60th Anniversary of Passim
by TV News Desk - September 03, 2019
Grammy-award winner Patty Griffin will join Josh Ritter, Dar Williams, and special guests to celebrate the 60th anniversary of Passim with a benefit concert at the Boch Center Shubert Theatre on Thursday, November 14, 2019. Tickets go on sale September 6th at 10:00 AM at www.passim.org, at the Boch ... (
more...
)

Alice Howe Releases Debut EP VISIONS 5/17
by BWW News Desk - May 09, 2019
Alice Howe, the rising voice of modern folk in the United States, is set to release her debut LP, Visions on May 17th. Produced by iconic fretless bassist, Freebo (Bonnie Raitt, Crosby, Stills & Nash, Loudon Wainwright III, Maria Muldaur, Dr. John), the duo will perform on May 18th at McCabe's in Sa... (
more...
)

T Bone Burnett Teams With Jay Bellerose and Keefus Ciancia For The Invisible Light Trilogy
by BWW News Desk - January 25, 2019
April 12 marks the release of Acoustic Space, the first full-length installment in The Invisible Light trilogy helmed by Grammy- and Oscar-winning producer T Bone Burnett in collaboration with Jay Bellerose and Keefus Ciancia. The albums explore the idea that society has been subject to over a centu... (
more...
)

Chad Elliott to Release REST HEAVY: THE SUN STUDIO SESSIONS August 10
by TV News Desk - June 27, 2018
Iowa singer-songwriter, artist and author, Chad Elliott, independently releases Rest Heavy: The Sun Studio Sessions on August 10, 2018. Elliott's writing weaves love, loss and forgiveness into well-worn lyrics with timeless melodies. "Low, loose, and full of juice. This album's got a lot of life to ... (
more...
)

Dent May Kicks Off Summer Tour with Shannon Lay This Month
by TV News Desk - June 13, 2018
Dent May is taking his latest album Across The Multiverse on the road again. His summer North American tour kicks off with a show on June 28 in San Francisco with Michael Rault and will continue on across the continent and back over the next month with support from fellow Los Angeles songwriter Shan... (
more...
)

Andrew Combs Releases Cover of The Strokes' REPTILIA From EP 5 COVERS & A SONG out July 27 on New West
by TV News Desk - June 08, 2018
Indie-folk singer/songwriter Andrew Combs is engaging in the highest order of flattery - a collection of cover songs. The acclaimed NASHVILLE singer/songwriter announces his new EP 5 Covers & A Song with his version of The Strokes' 'Reptilia.' Brooklyn Vegan says, '...he [Combs] uses horns to re-cre... (
more...
)

The Schimmel Center To Present Tom Chapin and The Chapin Sisters 4/20
by TV News Desk - March 27, 2018
The Schimmel Centerpresents Grammy Award winning singer-songwriter and guitaristTom Chapin in a collaborative performance with his daughters, Lily and Abigail—The Chapin Sisters—on Friday, April 20, 2018 at 7:30 p.m. The concert features original and traditional songs by the acclaimed family roots g... (
more...
)

Suzzy Roche and Lucy Wainwright Reschedule Concert At The Sheen Center for Thought & Culture To February 16th
by TV News Desk - January 30, 2018
The Sheen Center for Thought & Culture (18 Bleecker Street, NYC) presents legendary folk and indie singer-songwriter mother-daughter duo Suzzy Roche and Lucy Wainwright Roche Friday on Friday, February 16 at 7:30PM. Tickets are $35 and available online at SheenCenter.org, by phone at 212-925-2812, o... (
more...
)
Chris Smither to Play City Winery NYC, 9/27
by BWW News Desk - August 04, 2015
Three projects mark songwriter's 50 years in music: Double retrospective CD, lyric book, and tribute album featuring Bonnie Raitt, Loudon Wainwright III, Josh Ritter, Dave Alvin, Tim O'Brien, Patty Larkin and others.... (
more...
)