TORA Announces 'A Force Majeure'
'A Force Majeure' will be released on September 3, 2021.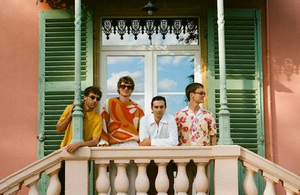 Tora has announced their new album A Force Majeure, following 2019's richly textured second album Can't Buy The Mood and 2017's lushly-layered debut album Take A Rest. They have also shared the album's lead single "Why Won't You Wait" -- a track about the fear of being forgotten in a long distance relationship, that sees vocalist Jo Loewenthal sing hypnotically with woozy notes filling the arrangement; guitar, synths and well placed percussion add definition and edge to the track. Hear the track here: https://bfan.link/Tora.
The accompanying visually-rich video was filmed in the border forests of France and Belgium in September 2020, directed by Bob Sizoo. The visual features Dutch model Gigi Ringel along with the band members of Tora and a centerpiece art installation conceptualized and designed by Rein Kooyman. Watch the "Why Won't You Wait" video here: https://youtu.be/d8w4YvEWo9k.
The band relocated from Byron Bay, Australia to Amsterdam in early 2020, set to make the city their base; an anchor around which a full year of European and American touring was to revolve. Soon after their arrival however, the threat of COVID-19 became a very real presence, forcing Tora to cancel their entire tour schedule, but also retreat into a strict new locked-down lifestyle. Though the opportunity to perform was taken away, the band's love for creating music remained and so, across the next eight months, Tora's focus became set on their new record, aptly titled A Force Majeure.
Over the course of their previous two albums, Tora has received support from respected members of the international music community including both Sir Elton John (Beats 1) and Annie Mac (BBC Radio 1). The band has also toured across Australia, the US and UK/Europe. They even found an adoring fan in Resident Evil and Fifth Element star Milla Jovovich. All of this on top of previous spots at Glastonbury, Splendour in the Grass, Reeperbahn (DE), The Great Escape (UK), Best Kept Secret (NL) and over 70 additional festival appearances across the globe.
A Force Majeure will be out on September 3, 2021.