Pussy Riot, The Voice Project and SITE Santa Fe Call Detained Artist Tania Bruguera
Maria (Masha) Alekhina and Nadezhda (Nadya) Tolokonnikova, founding members of Pussy Riot, along with Hunter Heaney, Director of the Voice Project, made a surprise call to Cuban performance artist Tania Bruguera who was arrested late 2014 in Havana. The phone meeting was held during the press conference following an event on May 7, 2015, hosted by SITE Santa Fe and Santa Fe University of Art & Design in New Mexico. Produced by SITE Santa Fe, a video of portions of this call can be watched HERE.
Founding members of the Moscow-based activist collective Pussy Riot, Masha Alekhina and Nadya Tolokonnikova, along with Hunter Heaney, Director of the Voice Project, reached out to Bruguera recently, and discussed her legal defense situation, the political climate in Havana, and the rights of artists-and the public-to freedom of expression. Showing solidarity with Bruguera's cause, the group compared prison circumstances, human rights issues, and the legal systems in Cuba and Russia to find remarkable similarities. This occasion was the first time that Masha and Nadya have spoken to Bruguera and they plan to work together to bring greater awareness of the topics at hand.
Cuban performance artist Tania Bruguera was arrested outside her home on December 30th 2014, on her way to Havana's Revolution Square, where she was to set up a microphone for Cubans to make their voices heard, one minute at a time. The purpose of the work, she said, was "to tell people in the street 'come and share with us your doubts, your happiness - whatever you think right now about what is happening in Cuba, and what is the idea of Cuba that you want?'" This event occurred just after the December 17, 2014 announcements that the US and Cuba were planning to "normalize" diplomatic relations after fifty years of embargoes.
Though Tania has been released from prison, the charges against her remain and her passport is confiscated - while the government constructs a case she is subject to constant surveillance, harassment and cannot leave the country for fear of being forbidden to return. She has been unable to find a lawyer to represent her in the upcoming trial, because of government control in the judicial system. Two New York Times articles explain her situation in more depth here and here.
In explaining Bruguera's predicament, the Voice Project's website states that, "Free speech and self-expression are not crimes, and should not be treated as such. Join the Voice Project and #YoTambiénExijo in speaking up for free expression and calling on the Cuban government to drop the case against Tania Bruguera."
Earlier that evening on May 7, 2015 SITE Santa Fe, in conjunction with Santa Fe University of Art & Design, hosted An Evening with Pussy Riot. Founding members of the Moscow-based activist collective Pussy Riot, Masha Alekhina and Nadya Tolokonnikova, appeared at the Greer Garson Theatre in conversation with translator Peter Verzilov (Voina) and Ellen Berkovitch, founder, publisher and editor of the West's contemporary arts online magazine Adobe Airstream.com. The phone call to Bruguera was made during the press event immediately following the conversation as a special gesture to the members of the media.
The earlier keynote program touched on topics including cultural freedom, feminism, freedom of expression, world politics, and arts and activism, and was followed by a Q&A with the audience. The conversation was held as part of SFUAD's Artists for Positive Social Change™ series, and also kicked off SITE Santa Fe's 20th anniversary programming. Launched in 2011, Artists for Positive Social Change is a university-wide series of events, courses, lectures and performances exploring a specific theme relevant to society and the work of artists who push the creative boundaries of their profession.

About The Voice Project:
The Voice Project defends freedom of expression and support activist-artists worldwide.
In the fight against oppression and injustice, the first step is having to the freedom to speak out, to raise one's voice, and it is the activist-artist who so often sounds the alarm and call others to join in action. These early responders to injustice and oppression need to be able to do so free from persecution and prosecution. Movements and issues ranging from the environment to equality and fighting global poverty are dependent on the individual's ability to advance these causes via this foundational human right; freedom of expression. Through music and other art forms, artists around the world utilize this right to freedom of expression to clarify, engage, question, and advance the causes which help advance our species. The goal of the Voice Project is to be on the front lines defending those who use their voice to speak out.
In this era of greatly increasing globalization, and what seems to be a concomitant marginalization of individual rights, there is increased pressure brought to bear to limit freedom of expression and prosecute those activist-artists who speak out, so Voice Project believes that today, this work is more relevant and more important than ever.

About Pussy Riot
Pussy Riot is a feminist protest art collective, which has been one of the world's most prominent activist groups in recent years, aiming to focus attention on creative freedom and human rights violations around the world. Founded in August 2011, the group became known for staging guerrilla performances in iconic public locations in Moscow. Footage from these performances were edited into music videos and posted on the Internet. The collective's lyrical themes and values include feminism and gender equality, LGBT and human rights, and democracy and freedom of expression.
About Nadya and Masha
Nadezhda (Nadya) Tolokonnikova and Maria (Masha) Alekhina are Russian conceptual artists and political activists. They are founding members of the art collective Pussy Riot. In August 2012, they were sentenced to two years' imprisonment following an anti-Putin performance in Moscow Cathedral of Christ the Saviour. Shortly after their release in December 2013, they announced the opening of Mordovia office of Zona Prava, their prisoners' rights NGO, and in September 2014 started their independent own independent news service, MediaZona, which has since partnered with The Guardian. They have spoken before the US Congress, British Parliament, and have appeared on stage with world leaders including Bill Clinton. In November 2014 they met with Julian Assange in London and became board members of his Courage Foundation. Tolokonnikova and Alekhina are Lennon Ono Grant for Peace recipients, and most recently, appeared as themselves with President Frank Underwood on season 3 of House of Cards.
About SITE Santa Fe
SITE Santa Fe opened in 1995 to present what was then the only international biennial of contemporary art in the United States, and one of only a handful of biennials around the world. From the very beginning, SITE established a commitment to a risk-taking and visionary perspective that continues to drive its programs today. Year-round exhibitions and educational programs encourage the creative and intellectual potential of the audience and uphold the region's tradition of fostering avant-garde art. As an institution with a year-round contemporary art program, SITE hosts an Art & Culture series of lectures and performances, as well as an extensive education and outreach program for local schools, all of which attract over 20,000 local, national and international visitors annually. Since its launch, SITE has presented over 75 exhibitions-including nine biennials-of works by over 500 international artists.
https://www.facebook.com/PussyRiot
http://www.twitter.com/pussyrrriot
#YoTambiénExijo
Photo credit: Kate Russell
More Hot Stories For You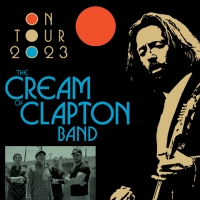 The Cream of Clapton Band Will Tour Europe and the United States in 2023

December 4, 2022

When Eric Clapton's 'Heaven Band' toured from the mid 1980s to early '90s, bass player Nathan East said the quartet came up with the name "because it was it was some of the most fun we ever had." Almost four decades later, another quartet of stellar musicians with familial ties to the original group have formed The Cream Of Clapton Band and will hit the road with that same fun-loving spirit to perform The Very Best of Eric Clapton in March 2023.
---
Photos: Dua Lipa, Jack Harlow, Selena Gomez, H.E.R., Imagine Dragons, and More Attend VARIETY HITMAKERS

December 4, 2022

Yesterday, Variety hosted its sixth-annual Hitmakers celebration looking back at the year in music and recognizing the writers, producers, publishers, managers and executives who helped make—and break—the 25 most-consumed songs of the year, as measured by Luminate. Check out photos here.
---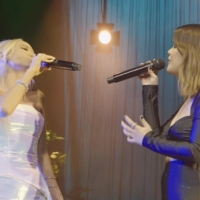 VIDEO: Watch Kristin Chenoweth and Country Star Maren Morris Sing 'For Good' from WICKED

December 4, 2022

Maren Morris surprised audiences by bringing out Kristin Chenoweth to join her for a performance of 'For Good' from WICKED during the final show of Morris's Humble Quest concert tour at Nashville's Bridgestone Arena. Watch the video here.
---
Dave Stryker Organ Trio, Kurt Elling And More Coming Up At Birdland, December 6 - December 18

December 2, 2022

Get all the details on all of the exciting jazz programming at Birdland Jazz Club and Birdland Theater running December 6 through December 18.
---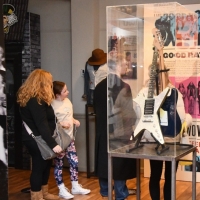 The Long Island Music & Entertainment Hall of Fame Now Open to the Public

December 2, 2022

The Long Island Music & Entertainment Hall of Fame has announced the Grand Opening of the non-profit organization's first physical facility, and Long Island's very first Hall of Fame, on November 25th, 2022, at 97 Main Street, Stony Brook Village, NY.
---