Michael Johnathon Tackles Racism with New Song 'The Statue'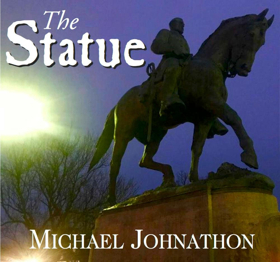 Singer/songwriter Michael Johnathon, host of the internationally syndicated television and radio music series "WoodSongs Old-Time Radio Hour," is wading into the growing conversation about racism with his new song, "The Statue" (PoetMan Records).
Listen to the song below!
One of ten tracks on his upcoming album "Dazed & Confuzed," "The Statue" was partially inspired by the 2017 demonstration by white supremacists in Charlottesville, Virginia. On its surface, "The Statue" seems to be about the controversy over Confederate monuments. However, Johnathon says the song is about much more than its title.
"It is not a song about literal statues; it's about the symbols of racial violence, injustice and the political divide remaining between people and races, all over the world, including America," he said. "It's a lyrical condemnation of prejudice and racism and the hurt it causes."
An accompanying music video combines surreal, dream-like images, merging past and present, North and South, black and white. In it, we see a white woman and an African American slave girl in a Civil War-era cabin. The child is shot during the height of battle and the woman wraps her in a Confederate flag. As both emerge from the cabin into the modern era, the woman sees all the issues fought during the Civil War still being fought on the streets of America. She carries the child down a Main Street through a crowd of gawkers, all recording the action with their smartphones. Finally, the woman lays the girl's lifeless body at the base of a statue of General Robert E. Lee. Interspersed throughout the video are shots of Michael Johnathon singing, with fire burning in front of him.
"Many towns refused permission for us to film. That's how controversial this issue still is," Johnathon said. "We finally did the cabin shots in an historic cabin in Union, West Virginia, and we shot exteriors discreetly in Paris, Kentucky, and in Charlottesville."
Johnathon was inspired to write "The Statue" following the demonstration in Charlottesville, Virginia, in 2017, which turned deadly when an avowed neo-Nazi drove his car into a crowd of counter-protesters. The demonstration was the result of a plan by city leaders to remove a statue of Civil War General Robert E. Lee from a local park. To this day, the statue remains in its original location.
"The Statue" is available on iTunes, Spotify and other digital outlets.
For more information, visit www.MichaelJohnathon.com/dazed.
Related Articles View More Music

Stories