Mark Erelli Releases Wistful 'Not Quite Christmas'
His new EP, Jackpot, will be released in February.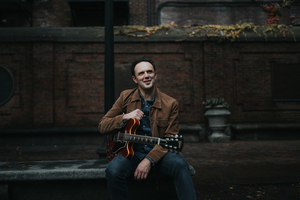 Singer-songwriter Mark Erelli knows that even in the most normal and prosperous of years, the holidays can be a sad and lonely time for some - and this year has only complicated how we're all feeling about the holiday season. So when he woke up on Thanksgiving with a new holiday song in his head, it was indeed a surprise. Written with some of this year's specific circumstances in mind, "Not Quite Christmas" is out now.
"I have had the phrase 'it's not quite Christmas without you here' in my songwriting notebook for over a decade," Erelli says. "I couldn't think of anything to add to the wistfulness of 'I'll Be Home For Christmas' or the loneliness of 'Blue Christmas,' so I never got around to fleshing out the idea. Sitting in my dark living room on the precipice of a potentially even darker winter, I realized that our new normal had presented me with a whole host of imagery to weave into a new twist on a holiday song. The biggest challenge was making the song not so specific that it only applied to this particular year."
"It might not feel quite like Christmas this year, but maybe this song will help take the edge off for those who need it the most," he says.
While "Not Quite Christmas" wraps up 2020 for Erelli, he'll begin the new year by releasing an EP, Jackpot, in February.
Erelli has forged a colorful career by making the art of "being everywhere all the time" seem effortless. It's hard to think of another artist who seems equally at home serving as a sideman for GRAMMY-winning artists like Paula Cole, Marc Cohn, and Josh Ritter, or producing albums for Lori McKenna, as he does writing and producing his own material, like last year's "By Degrees," on which he was joined by a host of voices including Rosanne Cash and Sheryl Crow. That song was nominated for "Song Of The Year" at the 2019 Americana Music Awards and served to reintroduce Erelli to a wider audience. In March of this year, Erelli released Blindsided, combining the exuberance of his signature sound with the wisdom that comes with over 20 years of songwriting, capturing an artist at a point in his career where he is clearly digging deep and swinging for the fences.
Listen here: