Interview: K-Pop Powerhouse Performers ONEUS Talk Music, Reflect On Their Career, and More
I sat down with Seoho, Leedo, Keonhee, Hwanwoong, and Xion ahead of their Reach For Us Tour which kicks off on January 12 in New York!
K-pop powerhouse performers ONEUS launch their first world tour today, January 12, in New York City. The 14-city North American leg will end in Sao Paulo, Brazil on February 15th. After a triumphant US tour last year, which packed theaters all over the country, the group is back to prove they're still the most electrifying act on the world stage today.
Ahead of the tour's first stop, I had the pleasure to sit down with the group's five members - Seoho, Leedo, Keonhee, Hwanwoong, and Xion, to discuss everything from the tour, their impressive four-year career, and what they still would like to accomplish!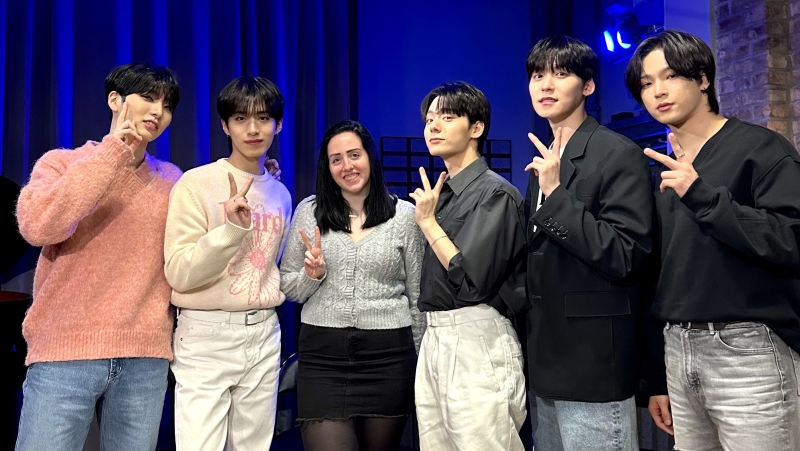 ---
First off, welcome back to the US! How does it feel to be back?
Keonhee: It's been a year since we came to the states, and on one side, we're very excited and energetic to be back for this tour, but at the same time, we prepared so much so there's some pressure that we do have. But overall, it's very positive and happy pressure!
The last time you were here was for the Blood Moon Tour last year, what makes this tour different from that one?
Hwanwoong: Last tour was amazing, but we were more focused on performing the perfect pitch, perfect choreography, and perfect stages. This time, we're more focused on sharing the space with the fans, communicating with the fans, connecting with the fans. We want to really make the concert with the fans together. When our fans leave our concert, we want them to feel 'wow, we had a great concert together!'
What are you most looking forward to on this tour?
Seoho: Last time, during the concert, COVID was bad, so everybody had to have masks on. The only thing that we could see was the fans' eyes. By looking at their eyes, we had to figure out how they felt, because we couldn't see their entire face. We want to see our fans faces, and we believe that fans also want to take their masks off as well to be able to enjoy the show properly. This time, the mask is no longer mandatory for the concert, so it will be good for us to see fans' faces out in the open. It feels like we can enjoy more together and exchange feelings and thoughts through facial expressions.
Do you have any favorite places to visit when you're in New York?
Leedo: On the bus, we thought a lot about New York and Xion actually said "this is our third time being here, but we've never seen the Statue of Liberty up close." It would be great if we could have the chance to visit that.
What are each of your favorite songs to perform live?
Seoho: 'LUNA' is my pick because, especially for this tour, we changed the intro a little bit, and because of that change, it feels like we can send the message even more strong to the fans about the song.
Xion: 'Come Back Home' because it's a very wild song, with a lot of big performance moments on stage. I feel like this song has the most high decibel support from the fans at the concert. It energizes us.
Hwanwoong: 'No Diggity' is very fun to perform on stage, but at the same time, it challenge us physical limitations, because it's very intense. We have to put everything into the song, so it's tough but at the same time, when the song is done, we can hear the fans talking to themselves saying "wow, that was an amazing performance" so it feels like it's a must-perform song for me.
Keonhee: 'To Be Or Not To Be' is the song that I always want to perform. It "tastes well" when we perform it because the melody plays a big role, as well as the performance itself. Whenever I sing this song, I'm very satisfied by myself.
Leedo: 'Stupid Love' really helps us to enjoy performing together with the fans, especially. We really enjoy ourselves when we perform this song.
You guys also just celebrated your fourth anniversary, congratulations! What have been some of the most memorable moments from your career so far?
Keonhee: During the past four years, there have been many good things that we experienced together. But it feels like the time has made the team come together as one. Every year, the team got tighter and tighter. We feel very happy about that. Every year, it feels like we want to look forward to next year. In my personal opinion, that means that right now is happy, but we're also expecting more happiness next year. At the same time, we think there is more for us to improve, and more for us to be better at next year. But overall, it's a happy process that we're having right now.
If you could go back in time and talk to your younger self from before you debuted, what would you say?
Leedo: Just keep going! Fighting!
Seoho: If I got a chance to talk to myself when I was a trainee, I would teach my younger self to find the right path. I had some occasions where I went around the path, but I would tell myself the direct, fastest, way I could go forward. I would teach myself the knowledge I have now to make us be able to debut faster.
I know you all play a part in the writing process for your music, can you talk a bit about what that process is like?
Seoho: There are many diverse ways that we produce songs. Number one, is just myself starting from zero and going to one hundred, doing all of the producing. But also there are times where we talk to our producers in-house. Sometimes we ask for them to work with us in the beginning. But I especially enjoy doing everything myself from zero to one hundred.
Where do you typically get your inspiration for your concepts, your lyrics, or just your music in general?
Leedo: It really depends on the mood of the song. But, especially for 'Same Scent', I wanted to use something that really happens in reality, so that the listeners can fully understand the song.
Are there any new concepts you want to try for future eras?
Keonhee: We have done many different concepts every time we release a new album. With that experience, whenever a new opportunity comes, we're not afraid to challenge ourselves. We think about how we can show a different side of ourselves with a concept we may have already done. We're just exploring ourselves. All of the concepts we've done up until now have really built our reputation and the group as a whole.
Looking to the future for ONEUS, what are some things you still want to accomplish that you maybe haven't done yet?
Seoho: When you have a big goal that you establish, sometimes you may not fulfill that goal 100%, but you still get there little by little, 30%, 50%. For me, it's always important to have a big goal to start with. This year, I'm hoping for not only the US fans, but for the entire world to know who ONEUS is. Not necessarily the entire population, but maybe half!
Keonhee: In Korea, it's a tradition every year to have a K-pop festival in December on TV where every artist performs together. This time, ONEUS got to perform and we had Korean traditional clothing on. Performing that stage was super electric. There was a lot of support from the fans for that stage. It's a very big stage in Korea, so we were very happy for the opportunity. Not only in Korea, but everywhere, we want to perform on bigger stages. That's one of our biggest goals. Also, since this is our third tour in the states, and we plan to have more tours in the future, we would love to perform on some of our favorite TV shows over here. Like, The Kelly Clarkson Show, Jimmy Kimmel Live!, all of the late night shows. That's a big goal we have.
Before we wrap up, do you have a message you want to tell your fans?
Leedo: We love you.
Keonhee: This is our third time coming here for a tour, and every time we come here, we have different mindsets. We always have a goal we want to accomplish. This time, like always, we want to show our fans better performances. We also want to connect with our fans, and give them a great message when they leave the show. So, to our fans, thank you so much for waiting for us for a year. We want to pay back the love that you always give us.
Xion: We just celebrated our fourth anniversary and, looking back, everything was possible because of Tomoons. This year we will continue to give you good music, good performances, and a lot of concerts. Please wait for us and we will try our best!