Film Composer Nan Schwartz to Release New Symphonic Music Album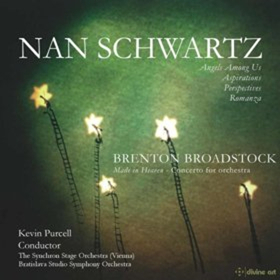 The world premiere recording of original symphonic music by Grammy® Award-winning composer Nan Schwartz has been released on the Divine Art label (DDA 25165, March 16, 2018). Kevin Purcell conducts the 83-piece Bratislava Studio Symphony Orchestra (Slovakia) and Synchron Stage Orchestra (Vienna). The recording features four works by Ms. Schwartz: Aspirations, Perspectives, Romanza and Angels Among Us, with solo contributions from the Who's-who of New York's finest jazz musicians.
Nan Schwartz is a Grammy® winner, five-time Grammy® nominee and seven-time Emmy® nominee. Best known for her work as a Hollywood film composer/arranger, Ms. Schwartz states, "My orchestral listening taste leans toward sophisticated harmonic music coupled with beautiful soaring themes, and I have always loved the music of Ravel, Walton and Shostakovich. With those composers as inspiration, I sought to craft 'through-composed' pieces in which the music is continuously developed in a non-repetitive way. With the emphasis on the architecture, climactic moments, releases and emotionally satisfying melodies, I brought my own harmonic sensibilities which are clearly rooted in the jazz tradition."
About Ms. Schwartz's music, conductor Kevin Purcell says, "In my world, she is the first in line of 'music by a living composer' whom I would willingly conduct on any day; and equally, she is the last in a long line of the legendary American composers and arrangers whose legacy remains at the forefront of the music that shapes our lives. For conductors, like myself, seeking to capture the hearts and minds of people with classical music, Nan's music is a revelation and the perfect gift to symphony orchestras trying to build new audiences."
Included on this set of premiere recordings is the Australian composer Brenton Broadstock's Made in Heaven - Concerto for Orchestra, a paean to the iconic 1959 jazz album 'Kind of Blue' from Miles Davis.
DIVINE ART (DDA 25165):
NAN SCHWARTZ/BRENTON BROADSTOCK
ORCHESTRAL MUSIC
SYNCHRON STAGE ORCHESTRA
BRATISLAVA STUDIO SYMPHONY ORCHESTRA
KEVIN PURCELL, CONDUCTOR
Nan Schwartz
1 Aspirations [11:25]
Guest soloists: Harry Allen & Lee Musiker
2 Perspectives [9:38]
Guest soloists: Jon Delaney & Lee Musiker
3 Romanza [4:50]
Guest soloist: Dimitrie Leivici
4 Angels Among Us [15:47]
Guest soloist: Mat Jodrell
Brenton Broadstock
Made in Heaven - Concerto for Orchestra
5 I. So What [5:09]
6 II. Flamenco Sketches [8:45]
7 III. Blue in Green [5:19]
8 IV. All Blues [6:04]
Total playing time: 67.20
Album released on CD and on all digital platforms (HD audio, standard CD and MP3 quality)
Nan Schwartz's family legacy includes a father who played with the Glenn Miller Orchestra and performed on nearly every Frank Sinatra recording, and a mother who performed such chart-topping hits as "Chicago" and "On the Sunny Side of the Street" for musical legend Tommy Dorsey before going on to work as a studio singer for Frank Sinatra, Dean Martin, Judy Garland, Henry Mancini, and Sonny and Cher, among others.
Ms. Schwartz, however, didn't immediately set out to follow in her parents' footsteps, instead opting for a career in television production. A skiing accident was the catalyst that brought her back to the world of music. While on the mend, she began private studies to pursue her secret ambition: film scoring, a profession previously inaccessible to women. Utilizing her lifelong devotion to music and her experience studying piano and singing professionally from an early age, Nan embarked upon a successful career that has seen her score and orchestrate music for countless memorable television series and films, including In the Heat of the Night and Argo.
Award recognition quickly followed Nan's pioneering efforts in the industry. She has received a record seven Emmy® nominations, a Grammy® win for her elegant and sophisticated arrangement of "Here's That Rainy Day" for Natalie Cole, two 2014 Grammy® nominations (Gianmarco and Amy Dickson), and a 2013 Grammy® nomination (The London Symphony Orchestra). A proponent of melodic, harmonically-rich music, Nan's unique style has made its mark in film, television, the recording industry, as well as on the concert stage. Her diversity and depth of experience in many musical forms - themes, songs, episodic television, and film - from all-electronic projects to hundred-piece orchestral settings, have helped create her reputation as one of the world's most talented composer/arrangers.
Related Articles
View More Music

Stories