David Messier's 'TV is Better Than Love' Video Debut with Paste Magazine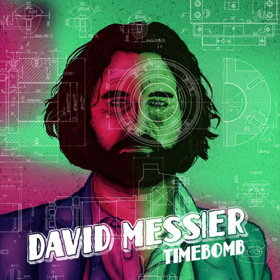 The multi-talented, Austin based artist David Messier is set to release his sophomore album this fall. A Trustee of the Recording Academy, Messier, is an esteemed music industry leader, accomplished producer, entrepreneur, singer and songwriter. Austin Chroniclehas hailed Messier as an "expanse of talent and ideas" and KUTX said, "Messier is a hurricane force of music." With all of his successful moments, he likes to live by the ethos that life is always happening in front of you, and doesn't often look back. So, when it came time to write the forthcoming album, he uncharacteristically and quite unexpectedly, captured his most reflective moments. The new album, Time Bomb, is one of his most honest introspective creations to date and it is due out November 2nd.
Messier has an extraordinary ability to hear music in everything. And not just the rhythms that occur in everyday life, full songs can come crashing in unexpectedly, melody, lyrics and all. The raw creative energy is something he can't control and must record even simply on his phone. It was from these recordings that Messier found the inspiration for the new album, Time Bomb. He partnered with longtime bandmate, Dave Madden to help fine tune the songs and worked with Andre Cantave, studio engineer, to capture them. It took Messier 22 days to write and record the album at Same Sky Productions, his recording studio in East Austin. The album was mixed by four time Grammy award winner Chris Shaw (Bob Dylan, Wilco, Weezer, Modest Mouse, Public Enemy).
The 11 tracks on the album are all standouts. Among them is the lead single, "Television is Better than Love." It is a playful track and a commentary on our cultural obsession with TV. Messier says, "It's a play on binge-watching. How we are all consuming in such massive quantities. I wanted to make a playful love song about television, and the chorus is the harsh reality, television is better than love." While recording this track Madden came into the studio with an old TV, Messier recalls, "I looked at the TV and said, "Let's record it!" And we ended up using the television as a drum on the recording. The three of us played the TV, banging on it, turning it off and on, and dragging a stick across it, like a güiro." The TV/instrument has an appearance in music video for "Television is Better than Love."
"Time Bomb," the title track, is a guitar heavy track based on a Wurlitzer lick from Messier's phone recordings. The track continuously builds tension by changing keys seven times. Messier explains, "Life is a time bomb. We all walk around with little clocks counting backwards above our heads that no one can see - Who would want to?! I don't want to know."
The last single to be released ahead of the new album will be "It's Alive." True to Messier's distinct music style, "It's Alive" takes a dark turn when a lie is no longer just words. It can feel like it takes on a life of its own. He says, "Telling a lie is like creating Frankenstein's monster. You create it in an underground lab and then try to bring it out into the world and it doesn't go so well." "Viper" is a Tex-Mex rock ballad that spins a story of murder and love. Messier wrote "Mansion" for his wife and sings about building their life together, a beautiful ditty that they danced to at their wedding. "Get Over It" is a reflection from a time when boozing and drugs were the way of a young Messier's rockstar lifestyle. Reflecting back, Messier says, "I got out of hand, I was difficult, it went on way too long and did a lot of damage. And I remember thinking everyone was overreacting." Messier explains, "I've got to be honest and say how I felt at the time and I felt like saying "Get Over It!" It's not entirely how I feel about it now but there will be other songs for that."
"I don't have much of a rearview mirror. I didn't realize it at the time, but this is the most self-reflective record I've made." - David Messier
He will be supporting his new record with performances around central Texas in listening rooms near you. Be sure to follow him here, and watch for his upcoming performances here.

November
02 - Austin, Texas @ Waterloo Records
03 - Austin, Texas @ One-2-One Bar
Connect
Track Listing:
"Television is Better than Love"
"I Want You to Move Me"
"No Escape"
"A Man Who Love You"
"It's Alive"
"Just Like Me"
"Time Bomb"
"Get Over It"
"Numbers"
"Viper"
"Mansion"