Country Music Newcomer Jason Owens Releases Debut Single FIRECRACKER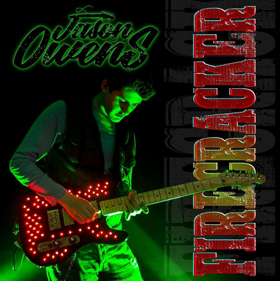 What does a guy do, when his girlfriend is too hot to handle? If he's Jason Owens, he writes a song.
"Firecracker" is the debut single from the 22-year-old country artist, who says he was inspired by a girl he once knew in high school. However, he admits that he might have exaggerated the sexiness of the story a little bit, just for fun.
Check out the music video here: https://youtu.be/EUGPIrtC_UA
"The song is about this girl who acts all prim and proper during the day, but at night she likes to party," he said. "It's like she has two different personalities."
Owens became interested in learning to play the guitar at age 10, when he heard Brad Paisley.
"I was in the car with my mom, and Brad Paisley's 'The World' came on the radio," he said. "I told my mom that's what I wanted to do for the rest of my life; I wanted to play the guitar like that."
Owens has attracted a following since he was a teenager, at his shows and on social media platforms, playing mostly fairs and festivals across the country and occasionally taking trips to Nashville. At age 15, he became lead guitarist for a teenage band called Jetset Getset, which the Country Music Association (CMA) named among Who New to Watch in 2013. However, they broke up three years later, when some of the members started going away to college.
Recently, Owens had the unusual distinction of appearing on national television, before he had even released a record. Former Arkansas governor and presidential candidate Mike Huckabee invited Owens to appear on his show on TBN, after the singer became the target of cyberbullying, because of a misunderstanding involving a music executive with a similar name. On "Huckabee," Owens sat in with the house band, Tre' Corley & The Music City Connection, as well as with the Oak Ridge Boys, who were the featured musical guests.
"That was a great experience," Owens said. "Governor Huckabee and crew were incredibly nice, and so were the Oak Ridge Boys. It was an honor to meet them."
"Firecracker" is being distributed to country radio stations through Play MPE and is available for download through iTunes, Amazon, CDBaby and elsewhere.
Information about Jason Owens is available at www.JasonOwensMusic.com.