Brooke Annibale Releases Video for Title Track Off New Album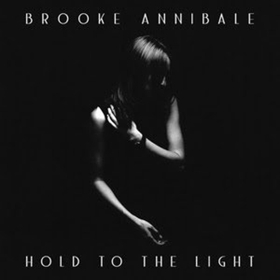 Singer-songwriter/guitarist Brooke Annibale recently released her third full-length album Hold To The Light. The new record marks several major departures for the Pittsburgh native in terms of both songwriting and production. Brooke sheds a few layers of her folk-acoustic skin and introduces a new indie-pop direction offering a Fusion of textured electronic and traditional instrumentation centered around her stunning voice and keen, soulful lyricism. Today, Brooke released the official video for the album's title track which was filmed in Colorado while on tour this summer.
Watch "Hold To The Light" Video below.
"I wanted to draw from the visual aspects of the lyrics and play with different forms of light," stated Brooke. "I did a residency program with The Music District in Fort Collins to shoot this video. The team we worked with really embraced the concept of trying a lot of ideas out to see how they would look. We decided on shooting the Fort Collins sunrise, so we got up at 4:30am and drove up to Horsetooth Reservoir. We arrived just in the nick of time and caught the most amazing sunrise. It was absolutely perfect. I haven't seen many sunrises in my life, so this was pretty special, and to get it on camera was even better. It fit the mood and vibe of the song perfectly."
The songs on Hold To The Light develop like Polaroid photos: each reveals a memory suspended between the perspective of the past with all its wistfulness, pain, and joy, and the revelations of the present. Produced by Sam Kassirer (Josh Ritter, Lake Street Dive, Craig Finn) at his Great North Sound Society in Maine, Hold To The Light features contributions from seasoned artists Zachariah Hickman (Ray Lamontagne, Josh Ritter) on bass; Josh Kaufman (The National, Josh Ritter) on accompanying guitars; Sean Trischka on drums; and Matt Douglas (Sylvan Esso, Mountain Goats) on woodwinds. Brooke's thoughtful, layered songwriting anchors the production to explore a range of narratives working through themes of seeking truths, letting go, and reconciling the past with the present.
Hold To The Light has been embraced by Uproxx, Billboard, Under The Radar, The Wild Honey Pie, and Glide Magazine among many others.
Catch Brooke on her west coast tour this month with The Ballroom Thieves. To purchase tickets, visit www.brookeannibale.com/shows.
Tour Dates:
10/11 - Los Angeles, CA @ The Moroccan Lounge *
10/13 - San Francisco, CA @ Bottom of the Hill *
10/14 - Ashland, OR @ Ashland Folk Collective *
10/18 - Seattle, WA @ Tractor Tavern *
10/19 - Portland, OR @ Mississippi Studios *
10/20 - Bend, OR @ Volcanic Theatre Pub *
* - w/ The Ballroom Thieves