Aerosmith Announces 17 Additional Dates For Their Las Vegas Residency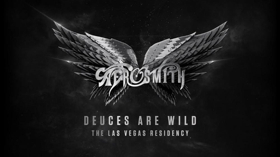 Due to extraordinary demand, Aerosmith has announced 17 additional dates for their Las Vegas residency at Park Theater at the new Park MGM resort. America's all-time top-selling rock 'n' roll band will launch AEROSMITH: DEUCES ARE WILD Saturday, April 6, with several of their 18 previously announced shows already sold out.
Aerosmith's Las Vegas residency, promoted by Live Nation and MGM Resorts International, will bring you face to face with America's Greatest Rock 'N' Roll band in one of the most immersive, state-of-the art audio and video technology experiences in Las Vegas. The show features never-seen-before visuals and audio from Aerosmith recording sessions including a partnership with THX and L-Acoustics to deliver the world's first THX Certified live performance presented in L-ISA Immersive Hyperreal Sound.
Aerosmith has teamed up with veteran show director Amy Tinkhim (Paul McCartney, James Taylor), show producer Steve Dixon (Guns N' Roses, Justin Timberlake) and GRAMMY Award-winning producer Giles Martin, known for creating the soundscape for The Beatles LOVE by Cirque Du Soleil in Las Vegas. Also joining the creative team is production design studio Fireplay and international special effects studio Pixomondo, known as the visual wizards behind Game of Thrones. AEROSMITH: DEUCES ARE WILD is set to be the band's greatest spectacle in their stunning 50-year history.
With the new dates comes another exciting way to experience the Vegas extravaganza with the addition of the world's first THX-certified On-Stage VIP Section. Fans purchasing tickets for this On-Stage VIP Section will be able to join Aerosmith in their exclusive VIP Bar area, featuring an unparalleled onstage vantage point seated in the middle of the action. Fans will also have, for the first time ever, privileged access to studio-quality audio direct from the Aerosmith mixing board via MIXhalo audio technology through their own pair of THX Certified 1More Triple Driver in-ear headphones. Ticket holders for the previously announced set of dates will be offered the first opportunity to upgrade to the On-Stage VIP experience for their respective show date. For information on all available VIP packages including meet & greets visit ticketmaster.com/aerosmith.
Members of Aerosmith's "Aero Force One" paid fan club will receive access to an exclusive presale beginning Wednesday, Feb. 13 at 9 a.m. PT.
Citi® is the official presale credit card of Aerosmith's residency at Park Theater. As such, Citi® cardmembers will have access to purchase presale tickets beginning Thursday, Feb. 14 at 10 a.m. PTthru Citi's Private Pass® program. For complete pre-sale details, visit citiprivatepass.com.
M life Rewards loyalty members as well as Live Nation and Ticketmaster customers will receive access to a presale beginning Friday, Feb. 15 at 10 a.m. PT. To join the M life Rewards program, or for more information, visit mlife.com.
All presales end Friday, Feb. 15 at 10 p.m. PT. Tickets starting at $75 go on sale Saturday, Feb. 16 at 10 a.m. PT. VIP packages and on-stage seating will also be available. Tickets can be purchased at all Ticketmaster outlets or online at ticketmaster.com/aerosmith. All shows are scheduled to begin at 8 p.m.
The 17 new dates going on sale are:
September 2019: 21, 23, 26, 28
October 2019: 1, 3, 6, 8
November 2019: 14, 16, 19, 21, 24, 26, 29
December 2019: 1, 4
A very limited number of tickets and VIP packages are available for the following previously-announced performances:
April 2019: 6, 8, 11, 13, 16, 18, 21, 23, 26
June 2019: 19, 22, 24, 27, 29
July 2019: 2, 4, 7, 9
AEROSMITH--Steven Tyler (vocals), Joe Perry (lead guitar), Brad Whitford (guitar), Tom Hamilton(bass) and Joey Kramer (drums)--are a living piece of American music history, having sold over 150 million albums worldwide and been inducted into the Rock and Roll Hall of Fame. They are the recipients of countless awards including four GRAMMYs, eight American Music Awards, six Billboard Awards and 12 MTV Video Music Awards among many other honors. Proving that they can cross genre-boundaries with ease, these rock legends have even taken home a Soul Train Award for Best Rap Single for their remix of Run DMC's "Walk This Way." With scores of multi-platinum albums, AEROSMITH continues to inspire generations to get their wings, get a grip and just push play. It is no wonder why they are one of the most beloved bands of all time.