BWW Exclusive Interview: Georgia Shreve Discusses Her Upcoming First Solo Multimedia Concert at Carnegie Hall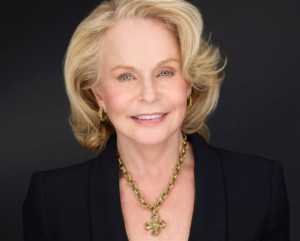 Georgia Shreve, the New York based composer and writer, is sitting in the living room at her piano, a Steinway classic grand in walnut, of her Upper East Side home closely scrutinizing a score she is working on of her latest orchestration. Georgia works best in daylight amply provided by three walls of high windows. The muted tones of cream and celadon in the room provide a serene backdrop to work in.
Her intense deep green eyes carefully study a passage she has just finished, running through her mind how it fits in with the music which immediately precedes and follows it. It is an intricate and often laborious process she knows intimately from a lifetime of artistic creation. There is silence. There is contemplation. And finally, there is inspiration. The intense work behind the inspiration. It's always been that way for Georgia for as long as she can remember.
In a recent interview in the living room of her New York City home dressed in a coral colored Michael Kors suit and sitting on a Swedish Art Deco chair, Georgia discussed her career and her upcoming first solo multi-media concert at Carnegie Hall's Zankel Hall which will take place on Thursday, May 17, 2018. The concert will debut three new works by Georgia and feature the Manhattan Contemporary Chamber Ensemble.
Georgia has lived in New York most of her life. "Growing up, I lived in a house filled with books which was inspiring and stimulating. I studied ballet as well as piano, and later, classical singing," she recalls.
Georgia began her creative work as a child having started writing early. She wrote her first short story at the age of nine and her first poem when she was ten. "I am very fortunate that since childhood I have been able to have great creative concentration and work in 'flow'. It is like being under a spell in which ideas pour out and nothing distracts me."
Georgia went on to earn degrees from Stanford, Brown, Columbia and PENN. Her poetry and fiction have been published in magazines such as the New Yorker, New Republic, New Criterion, and her short story, The Countess of M-, was awarded the Stanford Magazine Fiction Prize.
As her journey as an artist evolved, her studies were a major turning point in her life. "I was inspired by studying creative writing at Stanford, Brown and Columbia with many brilliant authors," she says.
She studied to be a classical singer but ultimately decided she was destined to be a composer. She credits her singing training with adding insight to her work. "My vocal studies not only inspired my writing of vocal music, it increased my sensitivity to composing for singers. I still sing every day to better understand my own music. I realized I could not succeed as a classical singer and made up my mind to become a composer. I was blessed to find a brilliant composer, Dr. Howard Cass, who was then teaching at Juilliard, as my-long term mentor."
On May 17, her work will be performed at Carnegie Hall, for the 7th time, in a multi-media concert featuring chamber orchestra, piano, choir and vocal soloists. The concert will include her new setting of Alice in Wonderland featuring Salvador Dali's paintings based on Alice. It will also include her new film Protopia which she is creating and setting to music. The third multi-media piece is called the Four Seasons, a time-lapse video of the seasons created on iconic New York terraces, set to her Piano Concerto. Her new song Let Us Gather in a Flourishing Way will also be performed.
"It is my first solo multi-media concert and will feature three premieres," she says. "Four works of mine will be performed by chamber orchestra, choir, and vocal soloists that evening."
The May 17 concert marks her fifth consecutive collaboration at Carnegie Hall with the Manhattan Contemporary Chamber Ensemble.
"Georgia has a true passion for poetry and music, and has composed musical settings for poems by some of the world's foremost poets, including T.S. Eliot, Dante, and Wallace Stevens," says Dr. Howard Cass, Musical Director & pianist of Ideation Productions. "Each of Georgia's past concert events has been enthusiastically received, and I am certain that this year's event, which features three premiere performances, will be received with equal enthusiasm and applause."
"Georgia Shreve is a unique voice in the world of contemporary music," says Richard Auldon Clark, Founder & conductor of the Manhattan Contemporary Chamber Ensemble created 30 years ago. "Her original settings combine vocal, choral and instrumental beauty with great literature and stunning images to create a new performance art for the twenty-first century."
"Richard Auldon Clark is an extremely talented violist, conductor and composer,' says Georgia. "He and his ensemble bring my work beautifully to life and it has always been a pleasure to work with him."
"The concert will include my setting of Alice in Wonderland accompanied by a montage of Salvador Dali's fascinating paintings inspired by the book."
Her new film Protopia will also have its debut at the concert. "I created the word Protopia to express a vision of the future which is coming to life today, that is positive, optimistic, idealistic and altruistic, positive progress in the making." We are bombarded with negative news that blinds us to all the awe-inspiring prosocial projects and accomplishments that are happening right now."
The 3rd multi-media piece which will be performed at the May 17th concert is called the Four Seasons. "It is my own version of the Four Seasons-a time-lapse video of the seasons from iconic Manhattan terraces-set to my four-movement piano concerto."
The concert will also feature a new song composed by Georgia entitled Let Us Gather in a Flourishing Way. "It is a setting of an exuberant poem by recent Poet Laureate Juan Herrera, whose parents were migrant workers, which expresses both joy and optimism."
Today, in addition to her composing, she finds time to write. She is in the process of putting the final touches on her novel, Spring Lake. "It is a first-person multi-family, multi-generational saga which reflects the narrator's lifetime fascination with water in all its forms."
Of all of her many creative works, she does have some favorites. "My favorite musical compositions are my setting of Dante's Paradise, and my oratorio - Portraits of the 20th Century, capturing the scope of the 20th Century. Both are multi-media pieces."
Georgia has also completed a number of plays and musicals. She goes about selecting the subject matter for her projects based on what fascinates her creatively. "My fascination with creativity has led me to write plays about Oscar Wilde and Wyndham Lewis, as well Chopin and George Sand," she says. "One of my newest pieces, Dialogues of the Travelers, is comprised of 18-mini-musicals on the subject of travel, which moves from realistic to surreal to supernatural. It features 10 actors playing 72 roles and performing 27 songs." Her plays and musicals have received numerous readings and workshops across New York. In the fall of 2018 Georgia's Rock Opera, Lovesick, will have its New York premiere.
The composer says that the biggest challenge she faces as an artist is that "I have multiple works in progress at the same time and allocating my focus and time can be tricky."
Georgia studied philosophy at Stanford. "I loved the European philosophers and was fascinated by the philosophy of time. I have been very influenced by the work of Aristotle, William James, Thoreau, and Lao Tzu."
She subsequently studied at Brown and received her master's in Literature and Creative Writing. "One of the great lessons I learned there was to aspire to find your own 'original voice,'" she recalls.
Georgia also attended Columbia Graduate School. She then went on to be an investment banker and a copywriter. She found that her work in the world of business helped her in terms of her work as an artist. "Finance and advertising are two other mental disciplines that trained my analytical and critical thinking skills," she observes. "I learned some precious things about writing from working as a copywriter at using works in terse, precise and imaginative ways."
She has several personal favorite fellow musicians whose talent she admires. "I adore the trumpet player Chris Gekker who sometimes plays with Sting; his sound is very moving and sensitive. I have worked extensively with Howard Cass, a brilliant pianist and composer. In opera, I adore Renee Fleming and Bryn Terfel and the emerging star Brandon Cedel whom I have followed for some time."
She has also been affected by several fellow writers. "I have been very influenced by British literature, especially Virginia Woolf and E.M. Forrester. But I have also admired Bill Styron and the poets Elizabeth Bishop and Richard Wilbur."
"My favorite of my literary works is, of course, my novel, Spring Lake, but also a short story about a composer (Enigma Variations) and a poem about light," she adds. "I studied for years with distinguished poet Molly Peacock and poetry requires an economy and precision of expression and use of imagery that has been translated into my fiction."
Georgia has served on the boards of the Academy of American Poets and American Composers Orchestra, as well as the Juilliard Council and the Madison Council of the Library of Congress. What advice does she have for aspiring artists based on her own experience? "The challenge for aspiring artists is to study and work with the best institutions, mentors and muses to hone their work."
She never stops searching and learning. "Last year, I participated in a retreat on Creativity in Music at the Imagination Institute at PENN. We all agreed that mastery is vital to imagination in music whether it is of an instrument or a technique. I am highly sensitive to images and color as well as sound and words and it is thrilling to combine them all in one work. I have learned that creative work brings me both joy and wisdom as well as demanding self-discipline."
Does Georgia Shreve have an artistic code that informs the process of creating her work?
"Imagination in music is quite different than with words" she observes. "It is far more abstract. I love my work, constantly trying to raise the bar, fueled by that challenge. I switch from words to music and back on a daily, even hourly, basis. Imagination is empowered by passion for your art form. I am a very positive person and strive to bring more beauty and joy into the world."