Reviewing THE VALIANT by Lesley Livingston, now in development for a series on THE CW!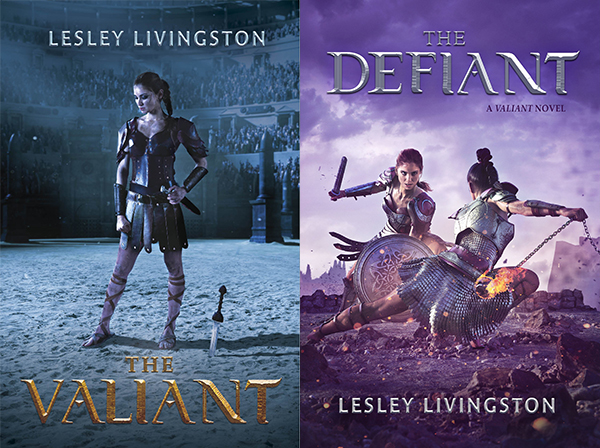 Yesterday, it was announced that The CW is developing Lesley Livingston's 2017 YA release THE VALIANT for TV.
Warner Brothers Television will produce the series. Laurie Arent (NCIS: New Orleans, The Client List) is the show's writer and executive producer, while Mary Beth Basile (October Road, Evil Men pilot) will also executive produce the series.
If the pilot is polished enough, The CW will pick up the series and add the one-hour drama to an upcoming line-up.
THE VALIANT was highly-buzzed about when it launched in early 2017 and its sequel,
THE DEFIANT, releases in early 2018 and continues where THE VALIANT left off.
To whet your appetite, here's my review of THE VALIANT:
"Let me give you a piece of advice...Rome only exists because of slaves. That's how it functions. We are its muscle, its brain, and most of all its secrets. You are now a part of that world. You are what your are, no matter what you once were. But there is power in such a position. Understand that. And learn to use it."
~THE VALIANT by Lesley Livingston
The first time I heard about THE VALIANT, it was hearing that the book was for fans of Sarah J. Maas and Cinda Williams Chima. If that wasn't enough to instantly intrigue me, the fact that the book is centered around female gladiators and set during the time of Julius Caesar and Cleopatra certainly did!
Fallon is the daughter of a Celtic King whose people have been conquered by the notorious Julius Caesar. Her sister died during the battle her father barely made it out of. Fallon has spent her whole life living in her sister's footsteps and trying to be an amazing warrior. On the eve of her seventeenth birthday, Fallon is certain that she's about to get everything she's ever dreamed about and step into her role as a member of her father's royal war band. Not only that, but she's finally exchanged confessed feelings with her childhood friend Mael, who wishes to ask her hand in marriage.
Her birthday celebration, however, doesn't go as planned. Rather than being invited to join the royal war band and possibly killed as her sister had been before her, Fallon's father instead announces that she will be married...to Mael's brother. Furious, Fallon swears that she will be the master of her own fate. If Fallon was to be exiled from her destiny to be a great warrior worthy of her Goddess Morrigan, she wouldn't let anything stop her. She decides to leave, knowing Mael will catch up to her, only to stumble across him brawling with his brother over her, a fight that results in his demise.
Horrified, Fallon flees and is soon captured by slavers and brought to Rome, home of her ancient enemy Julius Caesar. Thankfully, because she is a good warrior, she's sold not to a brothel or rich man looking to pad his house, but to the elite training school that will shape her into a female gladiator. She's thrilled to finally put her battle skills to use, even as she's horrified to be fighting in the name of Julius Caesar. This isn't the future Fallon envisioned for herself when she fled home, but if she wants to, she can still make a name for herself and embrace a new destiny.
This book was a lot of fun, and I enjoyed it a lot more than I imagined possible. I definitely see the comparisons to Sarah J. Maas, in particular THRONE OF GLASS. This is more historical fantasy than it is magical fantasy, but both books have main characters who are kick-ass females that know their way around a weapon and aren't afraid to wield their power. Both books have arena-style fighting as well, albeit in very different capacities. The two female leads differ at their core, however: Celana knows she is the best and is a trained assassin, whereas Fallon has the idealistic eyes of a warrior who has never been in battle and has romanticized it. Now that she's in Rome, she's no longer the best, and fighting is harder and more exhausting than she dreamed possible.
The only thing that bothered me about the book is the trope in so many fantasy novels where the story can't get going until the main female character is captured and sold into slavery. Thankfully for Fallon, she is recognized for what she is and winds up where she's best suited, but it could have gone so very, very badly. Plus, even though she's now a gladiatrix, and beginning to love the Sisterhood, she still isn't her own person and must play nice with the man who conquered her people.
The historical aspect of this novel was fun as well. The time period is unique, and I loved seeing snippets where Fallon interacted with Julius Caesar and Cleopatra. Caesar I'd been expecting. Cleopatra, well, I hadn't even considered the possibility, so I loved the surprise of seeing her on page!
Right before THE VALIANT released, Lesley Livingston and Penguin Razorbill announced in Publishers Marketplace that there would be a sequel novel entitled THE DEFIANT. The book releases in 2018 and continues where THE VALIANT left off. THE VALIANT stands on its own and has loose threads that can easily be picked up in a continuation, but can also be read on its own, so readers won't bash their heads in waiting for the next chapter. There's a little romance in THE VALIANT, but it's far from the centerpiece and likelier to be a more central aspect in the sequel. Now that Fallon has fully embraced her Sisterhood, I think there will also be a lot more emphasis on being a gladiatrix and that the book will continue in the captivate, engaging style that made its predecessor hard to put down!
THE VALIANT by Lesley Livingston was published by Penguin / Razorbill on February 14, 2017.
Related Articles View More Books

Stories
Bonnie Lynn Wagner has been a reader for as long as she can remember. Friends frequently come to her for book recommendations, and eventually, she (read more...)