Retirement Advice from an Expert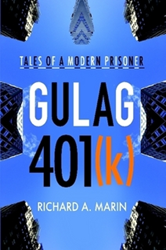 From the moment most Americans start working, the idea of retirement planning comes into play. The fact is many people are not sure if they will be able to retire when they want to, or how they want to.
In "Gulag 401(k): Tales of a Modern Prisoner," Richard A. Marin offers an insider's story about the path to retirement, as well as the existential crisis that comes along with the end of a self-fulfilling career.
"The 'retirement crisis' has two very real sides to it," Marin said. "It is most often and certainly about affording the American Dream of life on a golf cart in Florida, shrinking away into minimally-taxed oblivion. But it's also about the crisis that comes after a life of work and toil that defines many individuals at their core."
Marin has served as CEO for many businesses on Wall Street, worked in real estate development, been a clinical professor of finance at an Ivy League school, been director for many major, global companies and has lived and worked all over the world.
"I have a retirement focus, professionally and personally," Marin said. "These are my career stories, with a touch of humor, about the equally economic and psychosocial journey to retirement. Where better to plumb stories than in the troubled waters at the old, creaky end of the pier?"
"Gulag 401(k)"
By Richard A. Marin
ISBN: 978-1-4834-7876-0
Available at Lulu Publishing and Amazon
About the author
Richard A. Marin has been a finance industry executive for forty years. He is the CEO of Low Emissions Resources Corporation and Director and former CEO of New York Wheel, LLC. He was formerly chairman and CEO of AFI (USA), a major commercial property developer; formerly chairman and CEO of Bear Stearns Asset Management; a member of the Management Committee of Bankers Trust Co.; and chairman and CEO of Deutsche Asset Management. He is a founder and partner of Beehive Ventures, and is general partner of Green Visor Capital. He is also a clinical professor of the Johnson School at Cornell University. He earned an MBA from Johnson School and is a director of several private and public companies.
He is also the author of "Global Pension Crisis: Unfunded Liabilities and How We Can Fill the Gap" and "Mater Gladiatrix." For more about Marin or his book, visit: http://www.lulu.com/shop/richard-a-marin/gulag-401k-tales-of-a-modern-prisoner/paperback/product-23477341.html.
Review Copies & Interview Requests:
LAVIDGE - Indianapolis
Lindsey Gobel
317.435.2116
lgobel(at)lavidge(dot)com
Related Articles View More Books

Stories
More Hot Stories For You