Hamline University Professor Announces Publication of New Book on...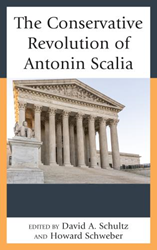 Hamline University professor
David Schultz
, noted expert on the Supreme Court, constitutional law, and American politics, announces the publication of his new book–The Conservative Revolution of Antonin Scalia. He argues that replacing Justice Kennedy with Brett Kavanaugh is far more consequential than when Neil Gorsuch replaced Justice Scalia. This is what makes the Kavanaugh confirmation hearings so important and political, especially given how close to the 2018 elections.
Published by Lexington Books, The Conservative Revolution of Antonin Scalia features chapters written by leading scholars on the Supreme Court. It assesses not only Justice Scalia's impact on the Court and law, but also the role that Neil Gorsuch has had and what significance other President Trump appointments such as Brett Kavanaugh might offer.
According to Schultz: "By the time of his death in 2016 it was unclear to what extent Scalia had effected the legal, institutional, or political revolutions that had been anticipated, hoped, or feared. While the Court did move to the right, Scalia's influence on constitutional law turned out to be far less than it could have been, and his ability to persuade other Justices to adopt his legal views—both substantively and methodologically—was less than many mainstream media accounts recognize."
Asked to assess the impact that Brett Kavanaugh could have on the Court, Schultz said: "Replacing Scalia with Gorsuch moved the Supreme Court in a different conservative direction but it did not change its balance of power, leaving it divided with four liberals and conservatives. Replacing Justice Kennedy with Kavanaugh will substitute a swing Justice with a conservative, potentially altering the balance of power. The one hope for liberals and Democrats is that Chief Justice Roberts may become a swing Justice, seeking to protect the Court from becoming more politically divided."
No matter when the confirmation hearings for Kennedy's replacement were going to happen, it was bound to be heated given the partisan divide in the Senate and the potential shift in balance of power on the Supreme Court, according to Schultz. "But these hearings are also coming in the middle of the 2018 midterm elections, and whatever happens will reverberate into the November elections and beyond. Look to see these hearings involve questions about abortion, whether the president can be criminally prosecuted, and how they set the stage for the general election in 2018 and perhaps 2020."
David Schultz is a professor of political science at Hamline University. He has taught classes on American government and election law for nearly 30 years. A three-time Fulbright scholar and winner of the Leslie A. Whittington national award for excellence in public affairs teaching, David Schultz is the author and editor of 35 books and 200 articles on American politics and law and is a frequently quoted political analyst in the local, national, and international media. His books on the Supreme Court and the law include: Constitutional Law in Contemporary America: Encyclopedia of the First Amendment; Encyclopedia of the United States Constitution; Encyclopedia of the Supreme Court; Encyclopedia of Civil Liberties; and the Encyclopedia of American Law and Criminal Justice.