Interview: Alexandra Bracken, Author of THE DARKEST MINDS

The first book in The Darkest Minds trilogy just became a movie--you can see it in theaters nationwide right now! This summer, author Alexandra Bracken also treated fans of the series to a brand-new novel set five years later, THE DARKEST LEGACY.
The series revolves around children who survived a mysterious illness and have now developed special abilities. Society fears what they can do and has locked them up, but they're fighting back and trying to take control of their own futures.
Curious to learn more? BroadwayWorld recently reviewed THE DARKEST MINDS trilogy. (You can also catch both movie trailers at the bottom of the review!)
Today, BroadwayWorld is thrilled to sit down with New York Times Best Selling Author Alexandra Bracken and ask her about the movie, her new novel, and what's next.
Congratulations on The Darkest Minds becoming a major motion picture! What has the process been like for you?
Thank you! If I could only describe the process of witnessing the book being adapted in one word, I'd pick surreal. But if I could use another, I would definitely add fascinating. I feel like I learned so much about how Hollywood functions, and I was really interested to see what aspects of the story the screenwriter, director, and the other crew members would draw out. Beyond talking with Chad Hodge, the screenwriter, and giving him my thoughts on the story and characters, I really wasn't involved with the production and creative decisions for it. I thought I would struggle with relinquishing control of the story, but ultimately I felt like it allowed the crew to space to tell the story they way they saw it, with their own fresh little spins on it. I'm still pinching myself and can't wait to see what everyone thinks of the film.
You made a cameo in the movie. What was that like?
So awesome, but probably a lot less glamorous than people are imagining! I play a doctor toward the end of the film, but I'm really just a blur of a white lab coat that passes by to reveal a character is still alive. I went through the whole process of getting fitted for a costume, getting my hair and make-up done... and then arriving on set to wait. And wait. There's so much standing around and waiting with moviemaking! I ended up having a funny conversation with the stand-in for the actor (they use stand-ins to help figure out the cameras and adjust lightning before the actual actor comes on set)-he started explaining the plot ofThe Darkest Minds to me without realizing I'd wrote the book.
I was a little sad that I didn't have a line at first, but I was so nervous on the day of shooting that I was glad that my only responsibility was to count to twenty in my head and then turn and walk away. I know that sounds a little pathetic on my end, but the walking away involved stepping through camera tracks and not getting hit by said cameras!
What was your favorite book scene to see brought to life in the movie?
The director, Jennifer Yuh Nelson, played one of the takes they did of the Virginia Beach story for me while I was visiting the set and it pretty much made me cry. The version that made it into the film is even better.
What was your favorite day on set?
I really only had two and a half days on set, one and a half during the main shoot, and then a visit out to the FOX lot where they were shooting additional scenes this past March. I loved the March video in particular because I got to spend a little more time with all of the actors.
You just released THE DARKEST LEGACY. What made you return to this world five years later?
The idea for the story that became The Darkest Legacy originated in the last novella that I wrote, Beyond the Night, back in 2015. I didn't have the space within the story to really explore an idea as it sparked and I thought it deserved some nuance and a bigger character story. That's where I stalled out for several years. Initially, I thought I might want to do a big time jump and go thirty, forty years into the future, but that never felt quite right to me. I had intentionally left smaller threads of the original trilogy open, and I wanted to address them-but I also wanted this story to stand alone, and feel familiar-but-fresh to readers. Basically, I didn't want to write The Darkest Minds 2.0, and it really wasn't until last spring that the pieces of Legacy's story finally fit together. The five year time jump ended up being a great gift as I was drafting the story because it let me layer in smaller mysteries of what had happened in during those years and sprinkle in some additional tension.
What kind of world-building did you do to bridge the five-year gap? What made you decide to center the new novel around Zu's journey?
I had made notes for myself at the end of writing that last novella about how I could set up their world going forward, but I ended up tossing all of those ideas and starting over because three years later, in 2018, they were too close to the actual suffering of real life groups of people. Some of the worldbuilding in this book was inspired by my observations during this last election cycle--how polarized politics had become, how entrenched everyone became in their beliefs, etc. but there isn't meant to be a direct parallel to the election results. Much like the characters themselves, I had to figure out a way to make their world recognizable but different enough to leave the reader intrigued and wanting to know more. I hope I succeeded!
The book didn't actually come together until I realized Zu needed to narrate it. My brainstorming for projects can be all over the place and borderline nonsensical, but I had this moment of clarify and wrote down "How we choose to use our voices." Zu begins The Darkest Minds traumatized by her experiences and, to exert some control over her chaotic life, she chooses not to speak. Her arc over the original trilogy is finding her voice, but it made perfect sense to me to continue that arc by exploring how she's going to use it going forward. The rest of the story and characters clicked into place around her, which is always exciting! Zu probably had the least amount of "screen time" in the original series of the core four-Ruby, Liam, Chubs, and Zu-and had such a different experience as the youngest member of that group. There are so many layers to peel back with her, and I loved discovering who she is now as an older, wiser person.
What has been the hardest part of returning to this world? The best?
The hardest part was trying to remember everything that happened in the trilogy! I ended up just re-reading them. The best was being able to write those group dynamics again. I really missed these characters!
So many of the fundamental building blocks in The Darkest Minds society reflect things happening or being talked about in today's society. What inspired your initial world-building process? Would you change anything about it based on where we are today?
I want to start off by saying that there's absolutely no comparing the suffering of fictional characters to the suffering that real people are facing in our world-I always hesitate to draw direct links for that reason. But, yes, there are some scary similarities. My initial worldbuilding for the series was centered on what it had felt like to be a freshman in high school when September 11th happened and watching how quickly the world could change in a few short years. By the time I graduated, it felt like nothing in our society had been left untouched by the fallout from that day. Fear makes us do things we would otherwise never agree to do, and people can be emotionally manipulated into believing something during times of great stress and tragedy. I had that in mind as I was trying to figure out the parents' justification for sending their Psi kids to "rehabilitation camps"-they were being told over and over again it was the only way they could save them, and "cure" them, and that it wouldn't be forever. The camps themselves were my best guess at a realistic response from our government, based on how they had interned perceived national security threats in the past (for example, the Japanese-Americans during WW2) and how they might try to initially quarantine the kids, believing there was some virus causing it. It might be the history major in me, but I look to the past when I try to construct my fictional futures. Looking back, I'm not sure I would change anything-except maybe give a stronger reason why the government wouldn't immediately try to use the kids as soldiers, which is a question I still get from readers today.
You've written several novels now. What do you feel is usually the most challenging part of the writing process? What part do you find to be most enjoyable?
I used to find the initial drafting process to be the most enjoyable, but now I think my favorite part is the first big round of edits. I've learned to really love revision over the years, and worked hard to build up my craft muscle to make my revisions less and less painful with each book. At that point, I feel more in control of the story and I no longer have to worry about if my editor is going to hate the book or if it's living up to the image of it I had in my head.
What are you working on now?
I recently wrapped up the sequel to my middle grade book, The Dreadful Tale of Prosper Redding, called The Last Life of Prince Alastor. It comes out next February! Aside from that, I'm waiting until the movie madness and book tour forThe Darkest Legacy passes before diving into the new YA I've been brainstorming for years now. I needed a break after being on non-stop deadlines since last spring!
ABOUT ALEXANDRA BRACKEN: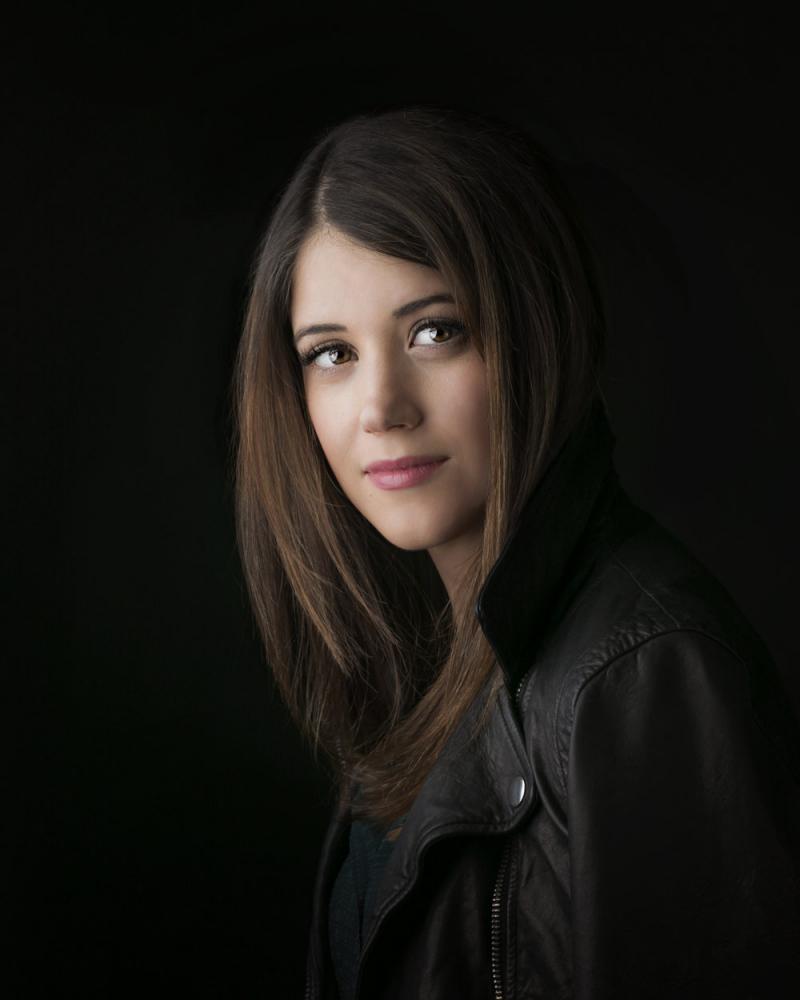 Alexandra Bracken was born and raised in Arizona. The daughter of a Star Wars collector, she grew up going to an endless string of Star Wars conventions and toy fairs, which helped spark her imagination and a deep love of reading. After graduating high school, she attended The College of William & Mary in Virginia, where she double majored in English and History. She sold her first book, Brightly Woven, as a senior in college, and later moved to New York City to work in children's book publishing, first as an editorial assistant, then in marketing. After six years, she took the plunge and decided to write full time. She now lives in Arizona with her tiny pup, Tennyson, in a house that's constantly overflowing with books.
When Ruby woke up on her tenth birthday, something about her had changed. Something alarming enough to make her parents lock her in the garage and call the police. Something that gets her sent to Thurmond, a brutal government "rehabilitation camp." She might have survived the mysterious disease that's killed most of America's children, but she and the others have emerged with something far worse: frightening abilities they cannot control.
Now sixteen, Ruby is one of the dangerous ones. When the truth comes out, Ruby barely escapes Thurmond with her life. Now she's on the run, desperate to find the one safe haven left for kids like her-East River. She joins a group of kids who escaped their own camp. Liam, their brave leader, is falling hard for Ruby. But no matter how much she aches for him, Ruby can't risk getting close. Not after what happened to her parents. When they arrive at East River, nothing is as it seems, least of all its mysterious leader.
But there are other forces at work, people who will stop at nothing to use Ruby in their fight against the government. Ruby will be faced with a terrible choice, one that may mean giving up her only chance at a life worth living.
ABOUT THE DARKEST LEGACY:
Five years after the destruction of the so-called rehabilitation camps that imprisoned her and countless other Psi kids, seventeen-year-old Suzume "Zu" Kimura has assumed the role of spokesperson for the interim government, fighting for the rights of Psi kids against a growing tide of misinformation and prejudice. But when she is accused of committing a horrifying act, she is forced to go on the run once more in order to stay alive.
Determined to clear her name, Zu finds herself in an uncomfortable alliance with Roman and Priyanka, two mysterious Psi who could either help her prove her innocence or betray her before she gets the chance. But as they travel in search of safety and answers, and Zu grows closer to the people she knows she shouldn't trust, they uncover even darker things roiling beneath the veneer of the country's recovery. With her future-and the future of all Psi-on the line, Zu must use her powerful voice to fight back against forces that seek to drive the Psi into the shadows and save the friends who were once her protectors.
From #1 New York Times best-selling author Alexandra Bracken comes a harrowing story of resilience, resistance, and reckoning that will thrill loyal fans and new readers alike.