Feature: DC ICONS: YA AUTHORS MEET DC SUPERHEROES at San Diego Comic-Con Panel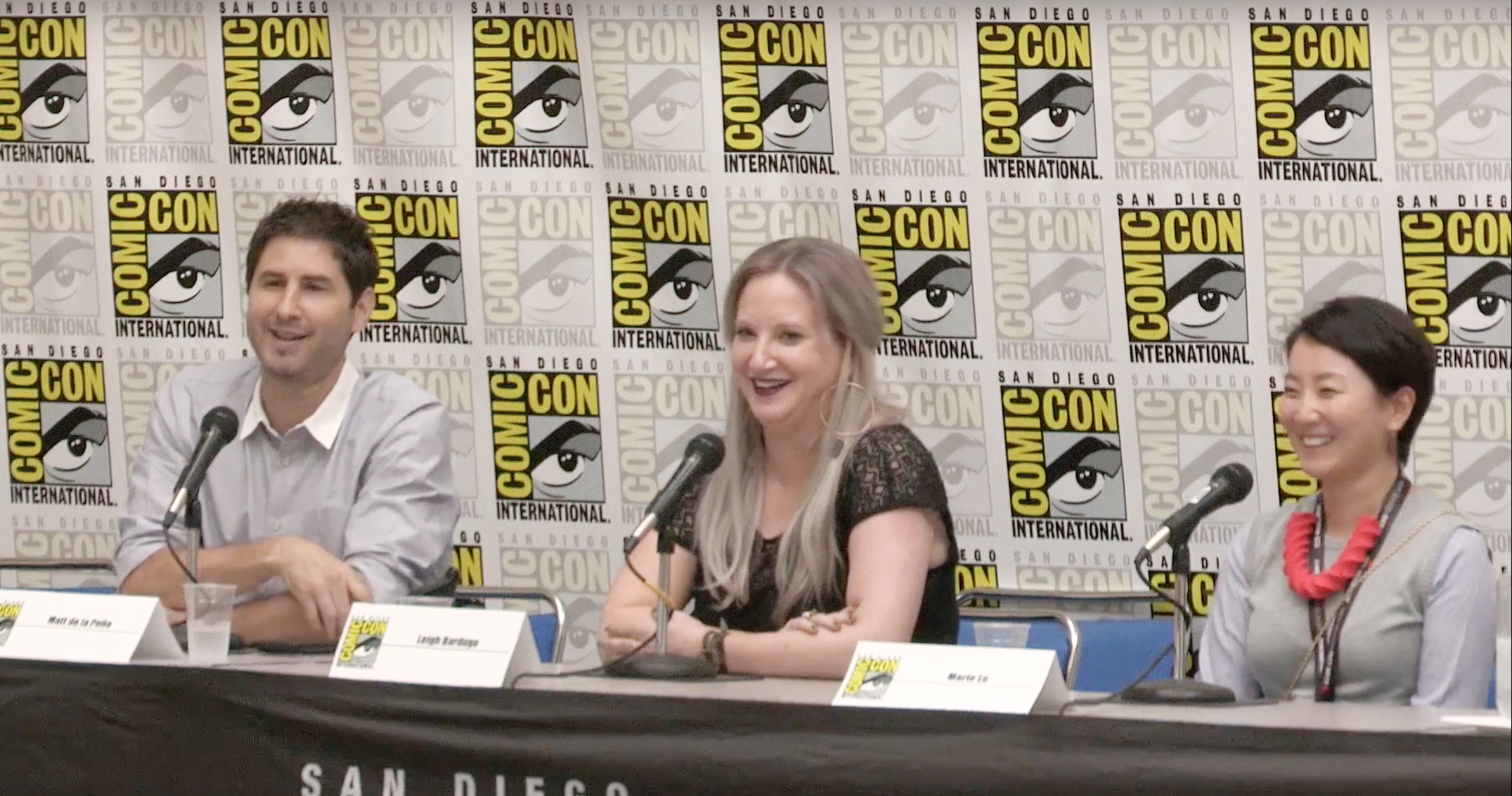 San Diego Comic-Con was last weekend, and Penguin Random House brought three authors for their DC ICONS: YA AUTHORS MEET DC SUPERHEROES panel. DC Superheroes are getting a reboot--this time as teenage superheroes. The first four books in the line will be written by powerhouse authors already well-known to YA readers, and the first three authors to release their titles were at SDCC.
The first book in the series, WONDER WOMAN: WAR BRINGER by Leigh Bardugo, comes out August 29th, followed by BATMAN: NIGHTWALKER by Marie Lu on January 2, 2018, then the still-to-be-titled/dated SUPERMAN book coming from Matt de la Peña later in 2018. The fourth book in the DC Icons line will be about CATWOMAN and written by #1 New York Times Best Selling Author Sarah J. Maas, also estimated to launch in 2018.
The SDCC panel featured de la Peña, Bardugo, and Lu, and was moderated by Mysterious Galaxy Bookstore owner Maryelizabeth Yturralde.
The authors talked about what thought went into creating their versions of the teenage superheroes as they began developing their personas and discovering their abilities. de la Peña always felt like he was trapped between two worlds growing up, and thought Superman might also feel a little alien in his own skin. Immigration is a hot topic at the moment, and Superman is "the ultimate immigrant." Bardugo was eager to weave some Amazon mythology and Ancient Greek religious beliefs/mythology into Diana's story. Lu wondered what a bored teenage billionaire orphan might do, and even got to create her own villain! She states that she knew Batman, but didn't initially understand Bruce Wayne as a character, so that's where a lot of her focus went.The book is more about Bruce Wayne than it is about Batman, because before he was a hero, Bruce was just a teen with no concept of who he would ultimately become.
Two of my favorite comments from the panel came from Lu. When asked why the authors continue to write YA, she stated,
The books that I read when I was a young adult are the formative books. There are no other books that can enter that special protective place in my heart. They shape who I become as a grown person. So it's an incredible honor for me to write for that age. For people who are finding themselves and trying to understand themselves and figure themselves out in the world. It's a very special and hard and intimidating time. I enjoy writing to that and remembering what it was like to be that age.
Lu also had some great feedback for struggling authors who feel that they'll never get their manuscript the way they want it, proving that even best-selling authors have their doubts:
My first drafts are incredibly rough. I don't really know that it's clicking it's not until i get to towards the end that I really start liking it. Sometimes, I don't really like my book until it's already out on shelves. I never really know when it starts working. Usually it's when the characters start to come to life on their own and have conversations with each other.
During the panel, the authors also discussed what superpowers they would like to have, their love/hate relationships with outlining, other characters they might one day wish to write, and took questions from the audience.
Check out the entire panel now on behalf of Penguin Random House!