Announcing the Official Book Release of 'A Woman's Fear'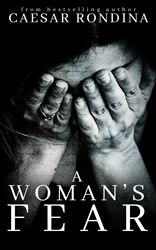 A woman may ask herself, what is a woman's fear? This is not your standard book about what women fear. Caesar Rondina has written a book about one of the most talked about topics globally today. The unthinkable. What no woman should ever have to endure. The wide range of subjects discussed in this book deal with domestic violence, physical and sexual abuse, emotional and verbal abuse, child abuse and sex trafficking. The primary theme throughout this book is PREVENTION and AWARENESS as true accounts told by women who have been victims of these tragic events, along with true story Caesar Rondina has been a part of during his years as a Paramedic.
When I spoke with Caesar Rondina, I asked him the story behind this book. As Caesar Rondina stated, "This is the single most passionate topic for me. I am sure that is because of what I have seen during my pre-hospital medical career, as well as my present involved with volunteering with women's support groups." Caesar Rondina added, "In my career, I have cared for 76,251 patients and delivered 13 babies. Many of what I experienced working the streets in an inner-city involved caring for women who have suffered the physical and emotional pain of the topics discussed in this book. I always wanted to write a book about this topic because awareness is the first step to prevention. My staff set out a poll to see if a book of this nature would have interest to readers, specifically women. We announced an estimated release date of November 2019. The response to this poll was shocking. Not only did we realize the interest was there, but I also received hundreds of emails asking if this book could be released sooner. The credit for this early release goes to my publisher and publicist's staff. They loved the initial manuscript. In their words; 'If you could get it written, we will get it out.' They did. It was a total team effort. My graphic designer had the covers ready in two days. This book was in its infancy. I was only in Chapter three. This book was completed, beta read by 24 beta readers, edited, and sent to post production and released in six weeks."
When I asked Caesar Rondina how could that be possible, he laughed and replied, "I didn't think it was. I was proven wrong. Any writer is only as good as the team they work with." When I read this book, it was easy for me to understand exactly why Caesar Rondina explained his passion regarding these topics. It is clear in every written word. With less than a week into its release, Caesar Rondina has already received requests for book signings and has talk show bookings. The book is still out for other book reviews, however, I fully agree with the book reviews received so far on this book. I asked Caesar Rondina, "What is the most popular question you have been asked when you have been interviewed about this book." Caesar Rondina stated, "The one question I am always asked is how could any man write about these topics being a man? I am sure some may have asked that as a trick question. There is no trick. I lived it for over 30 years. I have seen the pain, suffering, and horror that many times comes with these events. I am honored to have been able to help those I was able to and continue to when I received invitations from different women support groups to speak, which I gladly do and never charge a speaking fee. This is how this man was able to write this book."
Caesar Rondina makes it clear many times that names, dates, or locations are never referred to. The privacy of those who have had the courage to speak out and share their stories will always remain protected. Caesar Rondina stated, "It took a great deal of time to earn the respect of these women, and I am honored that they trust me." It is difficult to describe this writer in words. He never talks about making money, only his readers and people. Caesar Rondina stated, "Being writer is like a triangle. One side of the triangle is the link from the writer to the book. The next side is the link from the book to the reader. The triangle is complete when the reader feels a connection back to the writer."
If I had to describe Caesar Rondina, I would have to say this is a man that by only his presence in a room, brings a comforting feeling. As for A Woman's Fear, this is a book that is a must read by every woman and even men.
Related Articles View More Books

Stories
More Hot Stories For You