A Philosophical Memoir on Self-Exploration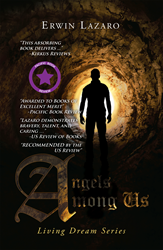 A genuine love story for family and life, "Angels Among Us" by Erwin Lazaro is a philosophical narrative-a memoir of one man's journey of finding answers to questions revealed along the way. Multidimensional in its telling, music intertwines and connects personal values, popular culture, and a timeframe spanning 23 years.
"In 1998, my personal life was in shambles, until I experienced a living dream," said Lazaro. "The Living Dream (prologue) that sparked my seemingly irrational actions in real life led to a destination I found only by discovery."
"Talent shows in the author's ability to share his dramatic story in a way that inspires young readers," stated the US Review of Books.
Lazaro's book is an introspective and physical journey that evokes a wide range of emotions through self-confrontation, revelations, and choices. From the first word to the conclusion of this first installment of the Living Dream Series, a desire to learn more will be in order.
"Angels Among Us: Living Dream Series"
By Erwin Lazaro
ISBN: 9781546204053 (softcover); 9781546204046 (hardcover); 9781546204039 (eBook)
Available at the AuthorHouse Online Bookstore, Amazon and Barnes & Noble
About the author
Erwin Lazaro is a 50-year-old dreamer and entertainer. After 20 years in architectural design, the dreamer has become an author, the CEO, and President of Lazaro Living Dream, Ltd. He will publish at least two more books in the non-fiction Living Dream series, a non-fiction book of short stories, and a realistic fiction series. When he is not entertaining on YouTube, Lazaro is making sure his family is doing everything to live life to the fullest. To learn more, please visit http://www.lazarolivingdream.com.
General Inquiries:
LAVIDGE - Phoenix
Bryan Beach
480-306-6554
bbeach(at)lavidge(dot)com
Review Copies & Interview Requests:
LAVIDGE - Phoenix
Kiersten Woglom
480-998-2600 x 586
kwoglom(at)lavidge(dot)com
Related Articles View More Books

Stories
More Hot Stories For You