Click Here to Visit the College Center

Blogs are the opinions of the authors and do not necessarily reflect the opinions of BroadwayWorld. BroadwayWorld believes in providing a platform for open and constructive conversation.

Student Blog: Musical Theatre Playlists for Marvel Characters: Part 1
"Doth mother know you wear-eth her drapes?"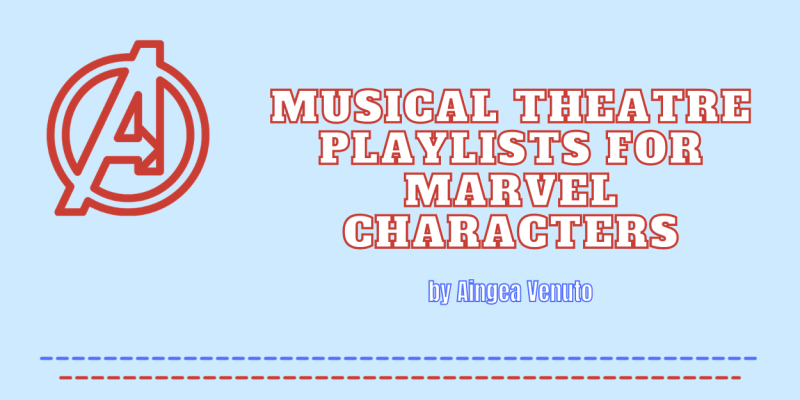 While Phase 4 of the MCU is currently rolling out, the world is watching with excitement - including me. And now that there are around 5 weeks in between The Falcon and the Winter Soldier finale and the Loki series premiere, I thought it was high time to make some mini musical theatre playlists based on Marvel characters, containing anywhere from 5-10 songs.
Of course, as a disclaimer, most of these song choices are based either on the lyrics, or the "vibes" of the song - and most of the time, they are taken out of context of the show. I am also making playlists for villains and anti-heroes as well as the heroes and the good guys - it doesn't change the fact that they are bad! I hope you enjoy.
WARNING: This article contains spoilers for various Marvel movies and TV shows.
1. Siberia (James "Bucky" Barnes, The Winter Soldier)
This was the first Marvel playlist I ever created - the connections I made to Bucky through these songs were itching in my brain, and are truly the reason I wrote this article.
With Bucky having a complicated past with trauma, neglect, and memories, I chose songs that would reflect that - like "Come Back" from Dogfight and "Flowers" from Hadestown (where Eurydice is slowly forgetting everything about her life above, calling out to Orpheus for help for the very last time). I also chose some songs that reflect Bucky's personality before being drafted: a fun-loving guy just looking to have a good time (like "How 'bout a Dance" from Bonnie and Clyde).
2. Vers (Carol Danvers, Captain Marvel)
If Woman from The Pirate Queen was on Spotify, this playlist would be perfect. But alas, it is not.
Carol Danvers, otherwise known as Captain Marvel, is taken from her home on Earth, given Kree blood to ensure her survival, and is brainwashed and trained to be a warrior. One of the most powerful Marvel heroes, she learns how to harness her power and turns against the Kree, helping the Skrulls find a new home.
Carol is strong and determined, and she is a pilot - hence the choice of "Me and the Sky" from Come from Away. I also used "Once upon a December" from Anastasia - a story where Anya notably suffers from amnesia and tries to remember her life.
3. Scarlet (Wanda Maximoff, Scarlet Witch)
After the triumph of WandaVision, I think every MCU fan has a newfound love for the Scarlet Witch herself, Wanda Maximoff. She has emerged into Phase 4 with a strengthened character arc, and a clear path for her future in the MCU. After exploring her trauma in WandaVision, I thought she was a perfect candidate for a playlist.
Wanda is kind and caring, but has inner turmoil - I wanted to capture her guilt and her feelings of responsibility for the deaths of those around her - I definitely think I achieved that by adding songs like "Monster" from Frozen.
4. Sceptre (Loki Laufeyson)
Loki is the first of many misunderstood Marvel villains, morphing from the cynical younger brother in Thor, to the source of evil and destruction in Avengers (2012), and eventually settling into the wisecracking, morally grey Loki that we know today.
For Loki, I decided to pick some fun and raunchy songs - with "Good n' Evil" from Jekyll and Hyde detailing the issues with good in the world, and that evil is not only easier, it's more lucrative and CERTAINLY more fun. I also have a soft spot for Loki's relationship with his mother, Frigga, so I decided to add "Mama, Let Me In" from 35mm.
5. Fur-Lined Coat (Baron Zemo)
I'm going to be completely honest: it was REALLY hard to find songs for Zemo. The newly-minted morally grey comic relief of The Falcon and the Winter Soldier, it is easy to forget that he broke up the Avengers in Civil War. I decided to balance both sides of the Sokovian Baron with songs about vengeance ("Epiphany" from Sweeney Todd) and songs about being a suave, uncaring rich man. This was REALLY hard, especially considering the man that blew up the UN is the same man who broke the internet just a few weeks ago with his goofy dancing.
6. Wings (Sam Wilson, Falcon, Captain America)
Last but certainly not least, we have Sam Wilson, our new Captain America. Sam may have been the most fun to make a playlist for! First introduced into the MCU in Captain America: The Winter Soldier, The Falcon has been one of my favorite Avengers throughout the MCU's years of making movies. He is kind, funny, and determined - qualities that we got to see shine through in The Falcon and the Winter Soldier. I chose songs that showcase his struggle with accepting the shield, and serving justice - like "King of the World" from Songs for a New World, and "Louder than Words" from Tick, Tick... Boom!
I hope to make a part 2 to this article, because these playlists are so much fun to make! I will also continue to add to these existing playlists as I continue to find songs that fit various characters. I hope you enjoy, and keep your eyes peeled for a part 2!
Images for playlists and article created using Canva, Icons8, and images from: Captain Marvel, The Falcon and the Winter Soldier, Captain America: The Winter Soldier, WandaVision, and Thor: Ragnarok. All Marvel images belong to Marvel.