Belgium Theater Reviews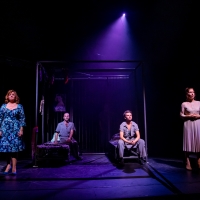 BWW Review: KISS OF THE SPIDER WOMAN at Fakkel Theater
by Patrick Honoré - September 10, 2019
From August 30 to September 15, Inteam Production is presenting the Belgian premiere of Kander & Ebb's masterpiece Kiss of the Spider Woman, based on the novel by Manuel Puig and the award-winning movie version in 1985.... (
more...
)
BWW Review: MY FAIR LADY at Festival Bruxellons
by Patrick Honoré - July 29, 2019
After successful productions of The Sound of Music, Evita, and Sunset Boulevard the three past summers, Festival Bruxellons! is this year presenting Frederick Loewe's and Alan Jay Lerner's musical masterpiece My Fair Lady in a new brilliant French adaptation by Stéphane Laporte, in collaboration wit... (
more...
)
BWW Review: TRISTAN & ISOLDE at La Monnaie
by Alexander Diaconu - May 06, 2019
Tristan and Isolde is a show that has no spectacular or theatrical value, however it does have a certain value if considered from a very closed conceptual vision perspective that has nothing to do with the wonderful richness of the story.... (
more...
)

BWW Review: THE GREAT GATSBY at Brussels - Secret Location
by Don Wilde - March 22, 2019
... (
more...
)
BWW Review: CATS at Palais 12
by Alexander Diaconu - March 21, 2019
For the first time in Belgium, the original version of CATS is as dynamic, rich, colourful and intense as it was in 1981 when it opened at The New London Theatre.... (
more...
)

BWW Review: CIRQUE DU SOLEIL - TORUK - THE FIRST FLIGHT at Sportpaleis Antwerp
by Don Wilde - March 15, 2019
Take a trip to the land of imagination in Cirque du Soleil's Toruk, a new light Inspired by James Cameron's Avatar.... (
more...
)
BWW Review: LA GIOCONDA at LA MONNAIE in Belgium
by Alexander Diaconu - January 31, 2019
Olivier Py's vision of Amilcare Ponchielli's opera La Gioconda is in the purest sense of the term a wonderfully vibrant and dynamic revival.... (
more...
)

BWW Review: FUNERAILLES D'HIVER at Rideau De Bruxelles
by Alexander Diaconu - January 12, 2019
"Funerailles d'Hiver" is a voyage into another world. A world where one can accept the existence of a soul gathering entity, a world in which a strong wind can take you from a beach to the highest tops of the Himalayas, a world in which people can: « defy space and time, remaining totally believable... (
more...
)

BWW Review: NEXT TO NORMAL at Karreveld Castle
by Patrick Honoré - January 05, 2019
After Sunset Boulevard last summer and before My Fair Lady next season, both at Karreveld Castle, Brussels is staying alive through the winter with the sound of musicals, this time with a much meatier choice by Tobiarts Productions, the Pulitzer Prize and triple Tony Awards winner Next to Normal.... (
more...
)

BWW Review: SUNSET BOULEVARD at Festival Bruxellons!
by Patrick Honoré - August 08, 2018
Innovatively set in the unique Chateau de Karreveld, the greatest attraction of the Bruexellons! Summer Festival is proving to be the very first French version of Sunset Boulevard, flawlessly translated and adapted by Jack Cooper and Simon Paco, and resourcefully supervised by Stephane Laporte, who ... (
more...
)

BWW Review: FLASHDANCE at Kursaal Oostend
by Donovan Wilde - July 31, 2018
The Broadway version of Flashdance has hit the stage! Be ready to take a trip back to memory lane where you get the storyline of a young girl who is a welder at a steel mill during the day and an exotic dancer by night.... (
more...
)